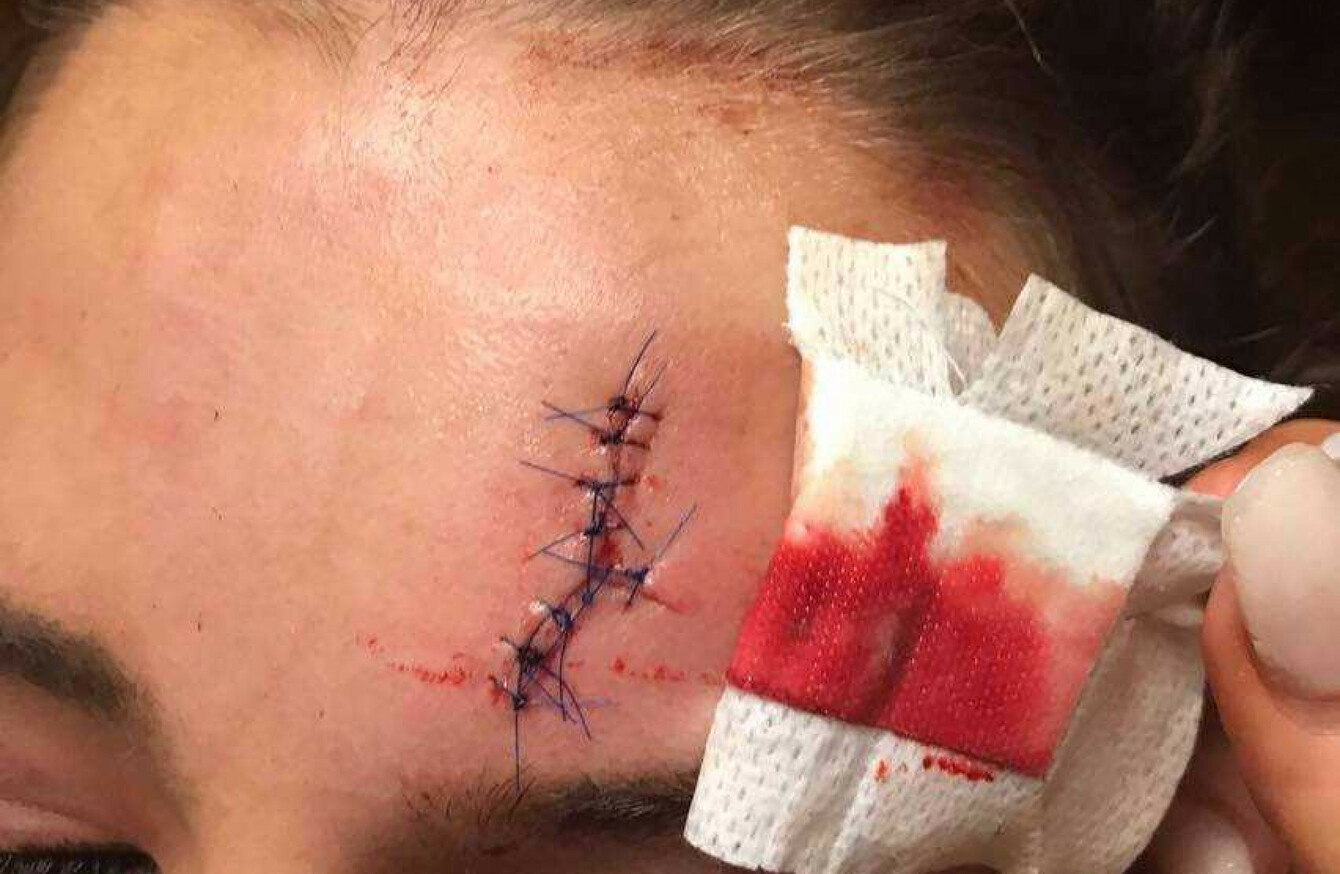 The injury the woman sustained.
Image: Today with Sean O'Rourke
The injury the woman sustained.
Image: Today with Sean O'Rourke
A CORK MODEL has said she fears for her career after her head was split open by a glass beer bottle during the Longitude festival over the weekend.
Katie O'Donoghue (24) was attending the gig with her boyfriend when she was struck by the bottle. The Miss Cork 2014 winner was at the Stomzy gig at the main stage when the bottle was thrown from the crowd and hit her.
Speaking on Today with Sean O'Rourke on RTÉ this morning, O'Donoghue said she now fears that the injury she received will now leave a permanent mark and impact her career negatively.
She said: "There was a glass beer bottle thrown from the crowd in front of me that caused a wound to open up on my forehead. I couldn't see out of my left eye as there was so much blood coming out.
"My boyfriend picked me up from the ground and hoisted me over the barrier to security. They were on scene quickly to try to stop the bleeding."
O'Donoghue, whose story first appeared in the Irish Examiner this morning, said she spent two hours at the medical tent where she received nine stitches to close the wound on her head.
She met with a plastic surgeon yesterday who told her there was nothing they could do for her until the swelling went down. Even then, she said, it could take up to 24 months before anything could be done.
She added: "I won Miss Cork in 2014 and I've always wanted to do modelling but after what happened on Friday, it's kind of impeded it.  It's a waiting game now to see how it progresses. I definitely say it'll affect my work in the long run."
In a statement to TheJournal.ie, Longitude organisers MCD Productions and Festival Republic said: "We are aware that unfortunately a woman sustained an injury to her forehead late on Friday night. The lady was treated on site by our medical team and returned to site at 5.30pm on Saturday for further check-up.
"We are pleased to learn the woman's injury did not prevent her from watching Saturday night's headline act The Weeknd who came on stage later that evening at 9.30pm.
We wish the woman a speedy recovery and will continue to assist An Garda Síochána with their investigation surrounding the circumstances of this incident, and therefore we cannot comment further as to do so, could impede such an investigation.
Security measures on all aspects of the festival are carried out in consultation with An Garda Síochána based on intelligence, risk and safety assessments.