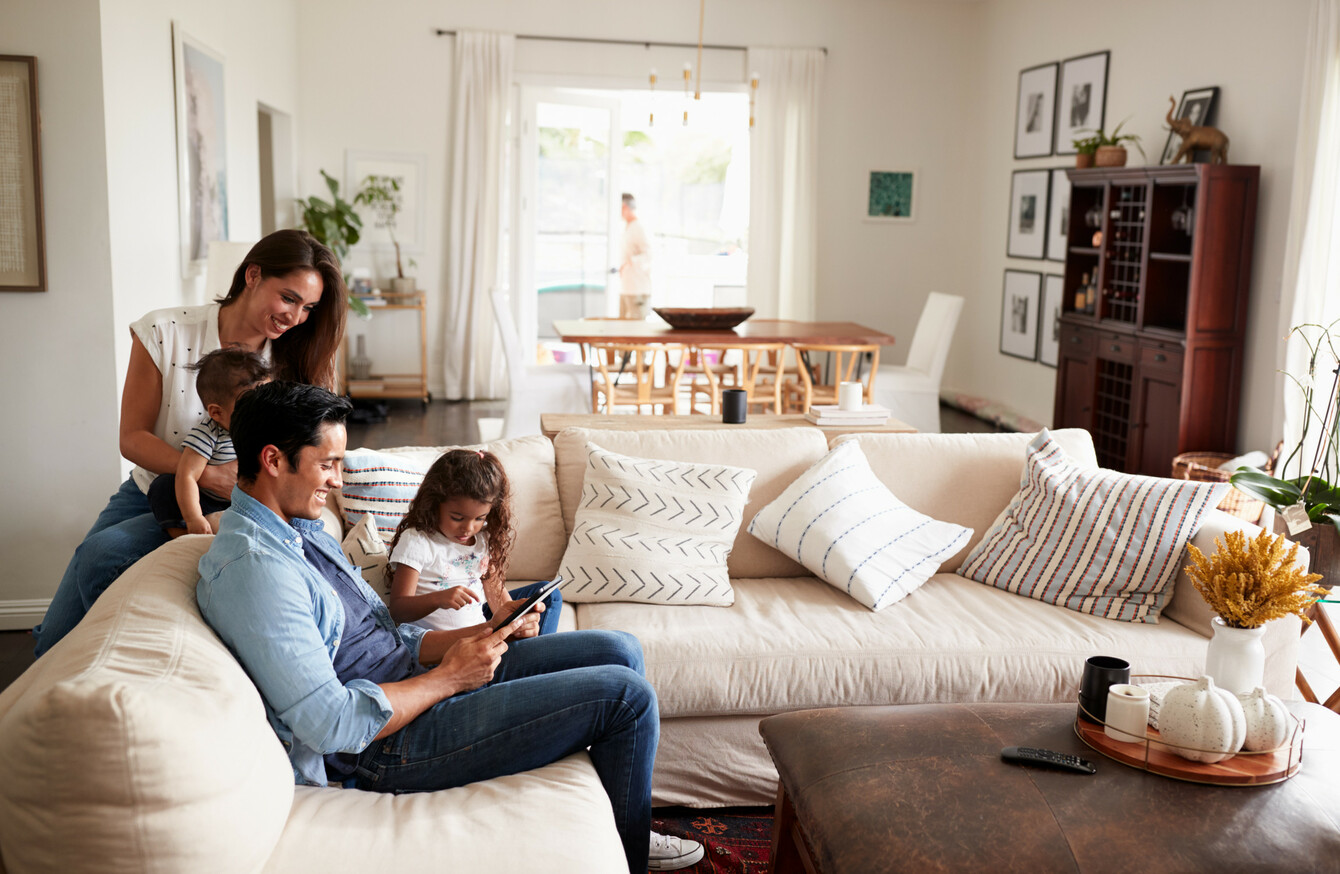 Image: Shutterstock
Image: Shutterstock
FROM SOCIALISING OVER dinner to lounging in front of a great movie to tackling that day's homework, we ask a lot of our living spaces today.
Long gone is the single function 'good room' – nowadays living areas are expected to work for everything. So what should you do when you've moved into your new home and have a blank canvas to work it?
We spoke to two interior designers to hear their expert advice for creating a living space that works for you. Here's what they had to say…
1. Think about your specific needs
For Denise O'Connor, architect and interior designer at Optimise Design, she advises starting with putting some thought into how you use the space. "When you're starting from scratch, the first thing to do is imagine how do you want to live in the space," she says.
"Everybody's family is a little bit different. People have different needs, they're at different stages of life. Think about things like, if you have kids, do they need to be doing homework here? Do you work from home? Is this the kind of space you'd like to sit in? Do you entertain often?" Once you've put time into doing that, says Denise, then it'll be easier to think about the layout. 
2. Choose future-proof furniture and fittings
If you'd like this space to be multifunctional both now and as your needs change, picking the right kind of furniture is "critical", says Denise. "For example, opt for a dining table that can extend. That will give you greater flexibility. Look at the legs on the table as well and think about how many chairs you're putting around it."
Denise also recommends avoiding "very specific fixed" pieces of furniture or fittings. "If you're looking to create a space that's flexible, you want it to to be able to adapt and change as you need. You don't want items that are stuck there that are going to get in the way. People might put a pendant light in a particular spot, but that means then their dining table is stuck there, for example. Look at ways that you can move bits and pieces around."
3. Pay close attention to accessories
With a multifunctional space, it can sometimes be difficult to separate the different areas from each other. However, a few small design tricks can help with this, says Denise. "Rugs are brilliant to create specific zones. They're also good because you can move them around and interchange them as needed. Or if you have an open plan living area and kitchen, you might use a floor lamp and a table lamp in the living area and just light there in the evenings and leave the lights off in the kitchen.
Accessories can help you define different areas quite nicely.
4. Get creative when it comes to storage
For interior architect and designer Aoife Tobin of Style So Simple, good storage is key to having a multi-purpose living area. "Everyone in the family is in the one space now, so I think one of the main things is to have storage with purpose because that can really differentiate each area. 
An easy example, she says, is using a storage bench for seating on one side of a dining table. "It's a great place to store kids toys, and allows that dining area to turn into a play zone very quickly. 
"Even in the hallway, put baskets underneath the console table. In those baskets there could be shoes, toys or chargers, but we don't see them. Everything that's pretty should have some function."
5. Invest in joinery, if you can
To take your storage to the next level, Aoife recommends investing in bespoke joinery, if your budget allows it. "When you're going into your new home after the build, the next thing to look at after you have your core features like flooring and wall finishes, would be joinery."
Doing this means your storage will be optimised and bespoke to your space, allowing you to easily change everything around it if and when you need, says Aoife. "It's so important to get your joinery right because, I think, if you go into a living room that has no built-in joinery or anything like that, you will be spending money in terms of putting a dresser in or buying open shelves. But if you take the time to say, 'okay, how do I actually want to use this space?', it gives you more function within the space in the future as your needs change."
At Glenveagh Homes, our vision is that everyone should have the opportunity to access great-value, high-quality homes in flourishing communities across Ireland. We understand that buying a home is possibly the biggest decision you will ever make in your life – but we want to make it your easiest. Click here to find out more about Glenveagh developments.