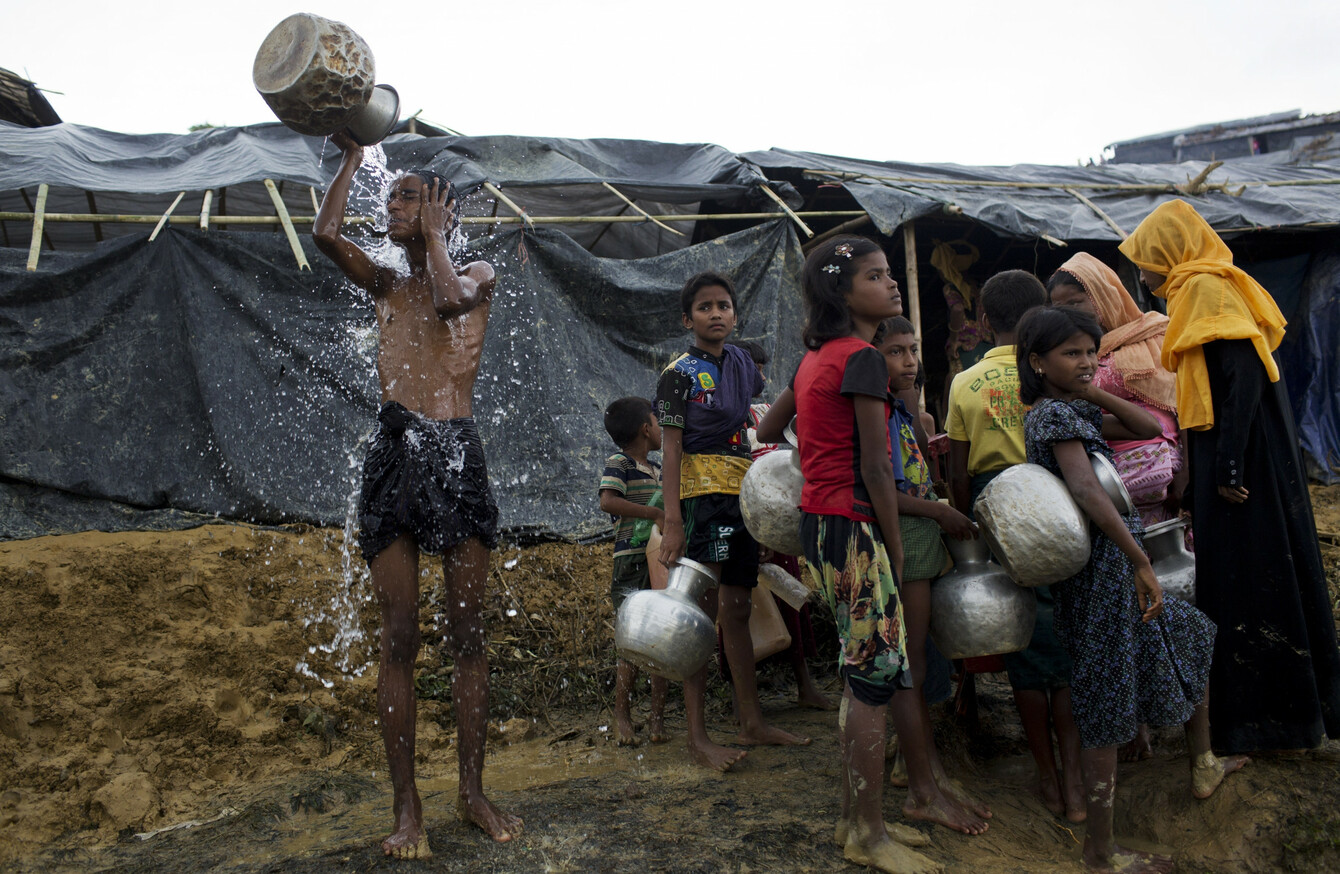 Newly arrived Rohingya in Bangladesh.
Image: Bernat Armangue via PA Images
Newly arrived Rohingya in Bangladesh.
Image: Bernat Armangue via PA Images
THE UN HUMAN rights chief has this morning slammed Myanmar's apparent "systematic attack" on the Rohingya community, warning that "ethnic cleansing" seemed to be underway.
In the southeast Asian nation of Myanmar, hundreds of thousands of the Rohingya minority have been fleeing across the border in recent weeks to escape ethnic violence, including torture and killings.
"Because Myanmar has refused access to human rights investigators the current situation cannot yet be fully assessed, but the situation seems a textbook example of ethnic cleansing," Zeid Ra'ad Al Hussein told the UN Human Rights Council.
According to the UN, an estimated 294,000 bedraggled and exhausted Rohingya refugees have arrived in Bangladesh since the militant attacks on Myanmar security forces in neighbouring Rakhine state on 25 August sparked a major military backlash.
Tens of thousands more are believed to be on the move inside Rakhine after more than two weeks without shelter, food and water.
Why is this violence happening? 
The Rohingya are a stateless Muslim minority in Myanmar, formerly known as Burma. There is an estimated 1.1 million of them in Myanmar, where the majority of its 52.9 million people are Buddhist.
Most of them live in the western coastal state of Rakhine.
The Rohingya are denied citizenship in Myanmar and are denied social and political rights including education and work. Their own language is not recognised by the state and they are left off a national list of 135 recognised ethnicities.
In 1982, the Rohingya were able to apply for citizenship if they could speak an officially recognised language and could prove their family lived there before independence. Most did not have the paperwork to prove this, effectively rendering them stateless.
In 2013, the UN described them as one of the world's most persecuted minorities.
While the Rohingya, viewed as illegal immigrants by many in the country, have frequently suffered violence and discrimination in the region, the violence has, in the past three weeks, become more severe and systemic.
Reports of rape, torture and killings have emerged from Myanmar, with Human Rights Watch releasing images of villages burnt to the ground and survivors in Bangladesh recounting stories of shootings and beheadings.
"The operation… is clearly disproportionate and without regard for basic principles of international law," Hussein said.
"We have received multiple reports and satellite imagery of security forces and local militia burning Rohingya villages, and consistent accounts of extrajudicial killings, including shooting fleeing civilians," he said.
Aung San Suu Kyi criticism
Suu Kyi has come under fire for essentially blaming fake news for these accounts. She said in a statement that misinformation was "calculated to create a lot of problems between different communities" and to promote "the interest of the terrorists".
That kind of fake information which was inflicted on the deputy prime minister was simply the tip of a huge iceberg of misinformation calculated to create a lot of problems between different communities and with the aim of promoting the interest of the terrorists.
In April, Suu Kyi denied that security forces were carrying out ethnic cleansing.
Zeid has hit back at Suu Kyi's accusations.
"I call on the government to end its current cruel military operation, with accountability for all violations that have occurred and to reverse the pattern of severe and widespread discrimination against the Rohingya population," he said.
He said he was particularly appalled by reports that Myanmar authorities had begun laying landmines along the border with Bangladesh to prevent those who fled from returning.
Zeid also criticised official statements that refugees who have fled the violence will only be allowed back if they can provide proof of nationality, pointing to the 1982 Citizenship Law.
"This measure resembles a cynical ploy to forcibly transfer large numbers of people without possibility of return," he said.
He urged the Myanmar government to "stop pretending that the Rohingyas are setting fire to their own homes and laying waste in their own villages".
This complete denial of reality is doing great damage to the international standing of a government which, until recently, benefited from immense good will.
Zeid called on authorities to allow his office access to investigate the situation in the country.
A number of Dublin City Councillors have said they believe Suu Kyi should have the Freedom of dublin award rescinded.
Almost 400,000 people have signed a petition calling for the Nobel Peace Prize Committee to take back the prize it awarded to Suu Kyi.
With reporting by Sinead Baker and © AFP 2017