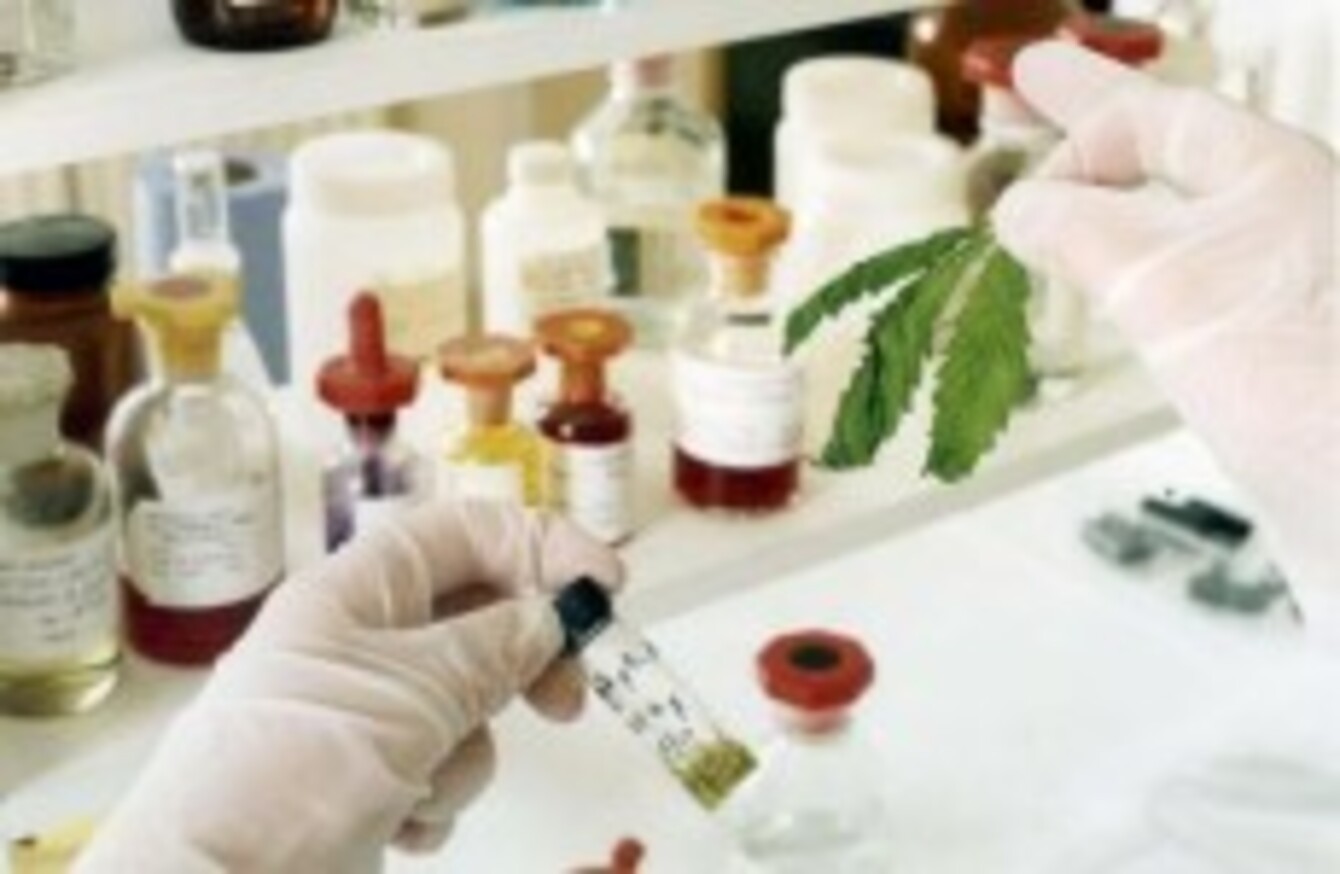 File photo.
Image: PA Archive
File photo.
Image: PA Archive
THE DEPARTMENT OF Health is still exploring how a cannabis-based painkiller could be legally prescribed for use in Ireland amid increasing approval for the drug's availability in the EU.
The drug Sativex is administered as an oral spray and used to treat spasticity among people with MS. It is also being trialled for the alleviation of cancer pain.
MS Ireland has called for the drug Sativex to be made available in Ireland to MS patients.
The oral delivery prevents the medication from entering the bloodstream too quickly and minimises the development of unwanted psychotropic effects, according to information provided by MS Ireland.
The drug is already available in the UK, Germany, Spain and Denmark and manufacturers GW Pharmaceuticals are preparing to launch the cannabinoid painkiller in Italy, Sweden, Austria and the Czech Republic. Under the EU's mutual recognition procedure for the approval of new drugs, the product is first authorised in one EU country according to that state's national procedures. Authorisation is then sought from other EU countries who can approve the medication on the basis of that first state's approval rather than carrying out their own review.
On 8 May, the company announced that under the mutual recognition procedure, Sativex has met regulatory requirements for approval in ten more European countries, including Ireland.
However, the Irish Medicines Board has confirmed to TheJournal.ie that although the EU mutual recognition procedure for Sativex "recently reached a positive conclusion and the national authorisation phase is now in progress", the drug cannot be placed on the Irish market until the Misuse of Drugs legislation has beeen altered to allow for its legal sale.
Under the Misuse of Drugs Act 1977, the manufacture, production, preparation, sale, supply, distribution and possession of cannabis or cannabis-based medicinal products are unlawful except for the purposes of research.
"I am aware that claims have been made in respect of the possible health benefits of cannabis-based medicinal products, such as Sativex, for patients suffering from certain conditions such as Multiple Sclerosis," Minister for Health James Reilly recently said in response to a parliamentary question from TD Sean Kyne.
Reilly said he is aware that the drug is currently available on prescription in other countries, and that his department is currently examining how it and other cannabinoid medicines may be legally prescribed in Ireland for the treatment of MS.
Following UK approval of the drug, Minister of State at the Department of Health Shorthall said in February that the department was looking into issues surrounding the provision of Sativex in Ireland, however the relevant legislation has not been amended to allow for its legal sale in Ireland.
Spokesperson for MS Ireland Tara Donohoe told TheJournal.ie that she met with officials from the Department of Health in December to present the society's position on the new drug and why they believe it should be made available to people with MS.
"We are thankful that they are considering [making it available] but the process is quite slow," she said. "From our perspective, it's not about making cannabis legal. The research [on Sativex] has been quite positive – for treating spacisity in particular."
"If some of the other European countries can make it available, then why can't we?"