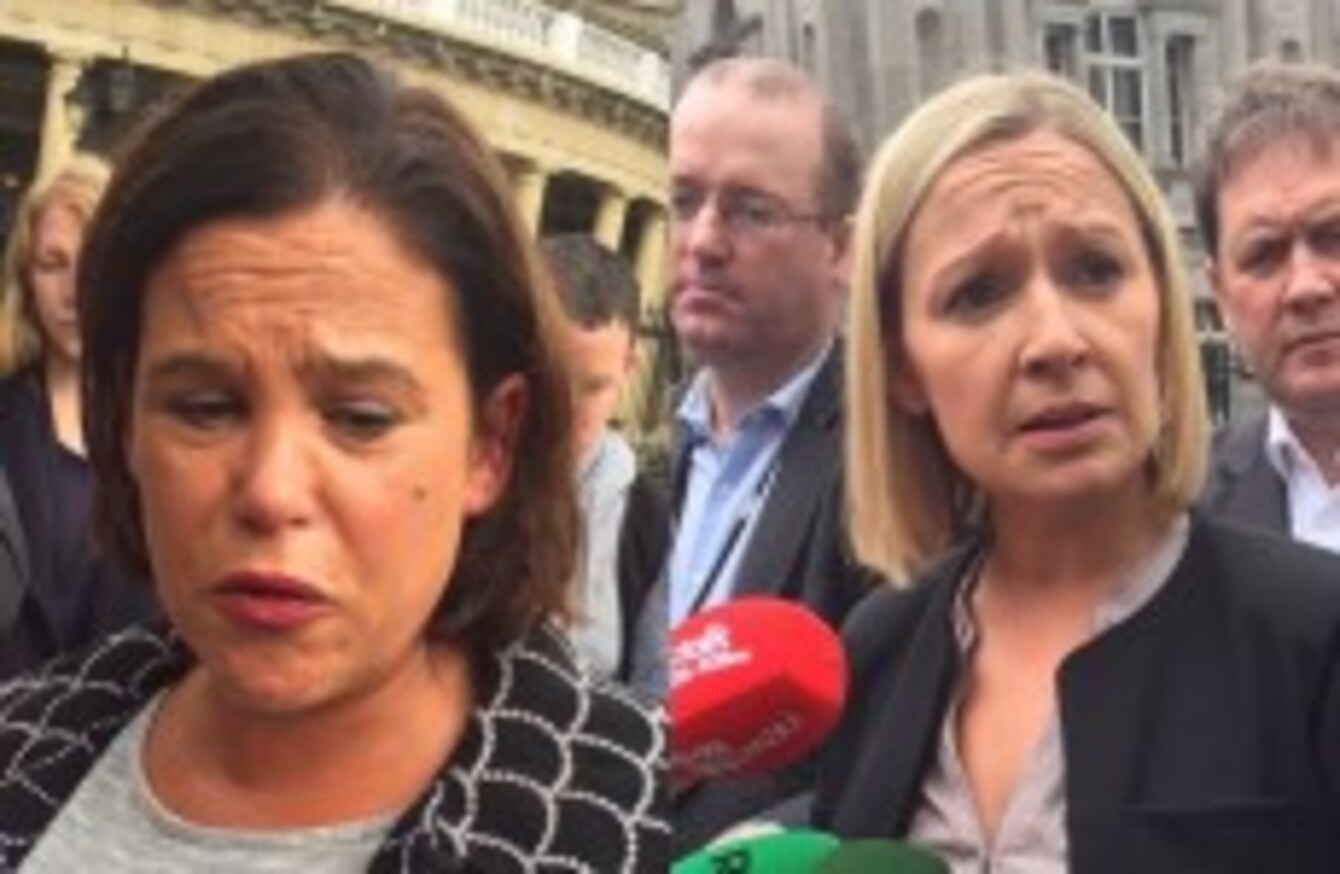 Mary Lou McDonald and Lucinda Creighton at Leinster House today.
Image: Hugh O'Connell/TheJournal.ie
Mary Lou McDonald and Lucinda Creighton at Leinster House today.
Image: Hugh O'Connell/TheJournal.ie
A WAR OF words has broken out between Lucinda Creighton and Mary Lou McDonald after the Renua leader called for Sinn Féin president Gerry Adams to resign.
Last Thursday, Creighton said Adams should resign unless he can provide definitive evidence that there is no Sinn Féin or Provisional IRA involvement in crime.
"It would be better for communities on both sides of the border if he were to resign," she said in response to the ongoing political crisis in the North over the status of the PIRA.
Asked about Creighton's comments at Leinster House today, McDonald hit back saying it was difficult to prove a negative – "to prove that something doesn't exist".
She continued: "I can tell you, and Lucinda might bear this in mind as a party, because, unlike the others, we're actually organised nationally so we're scrutinised North and South
"In fact in the North there's a legal obligation to publish your annual accounts. We also are scrutinised in terms of funds raised in America by the State Department and let me tell you that scrutiny is very exacting and that's as it should be."
So I would suggest to Lucinda and to her Renua party that in fact of all the political parties in Ireland we are the most scrutinised and we have the most oversight.
I don't know if Lucinda is suggesting that I, for instance, have a link to criminality. She might like to come out and say that if that's her belief. I can assure you that that's not the case and I can assure you that's not the case in terms of my colleagues.
She concluded that she would have expected more from the party that was set up last March on the promise of new politics and reform, adding:
As a party that is called Renua I would have expected something 'nua', and something a bit different, rather than rehash of the same tired, abusive slurs that I am listening to since I first ran for election which is sadly now quite some time ago.
A short time later, Creighton emerged onto the same Leinster House plinth to launch Renua's proposals to provide funding to small businesses through a network of not-for-profit banks.
But journalists wanted to know what she made of those stinging 'nothing nua about Renua' remarks. The former Fine Gael minister responded:
Well, we're hearing something very different from senior members of An Garda Síochána and when it comes to the simple question of who do you trust? Who do you believe? Is it An Garda Síochána or is it Sinn Féin? I have to say that I certainly would side with An Garda Síochána.
The Dublin South-East TD called for a "speedy resolution" to the current political crisis in the North and said that leadership is needed but "absolutely lacking" from Sinn Féin.
Later in the press conference she hit out at the Sinn Féin's water charges policy, saying she was becoming more and more confused by the party position.
I don't think Sinn Féin is seriously contemplating government, full stop. I think Sinn Féin enjoys being a party of protest, a party of opposition and it's an easy place to be – to sit on the fence.
Creighton claimed Sinn Féin would not uphold what it says in opposition if it went into government and said the party was not interested in providing governance for the country.
This one could run.