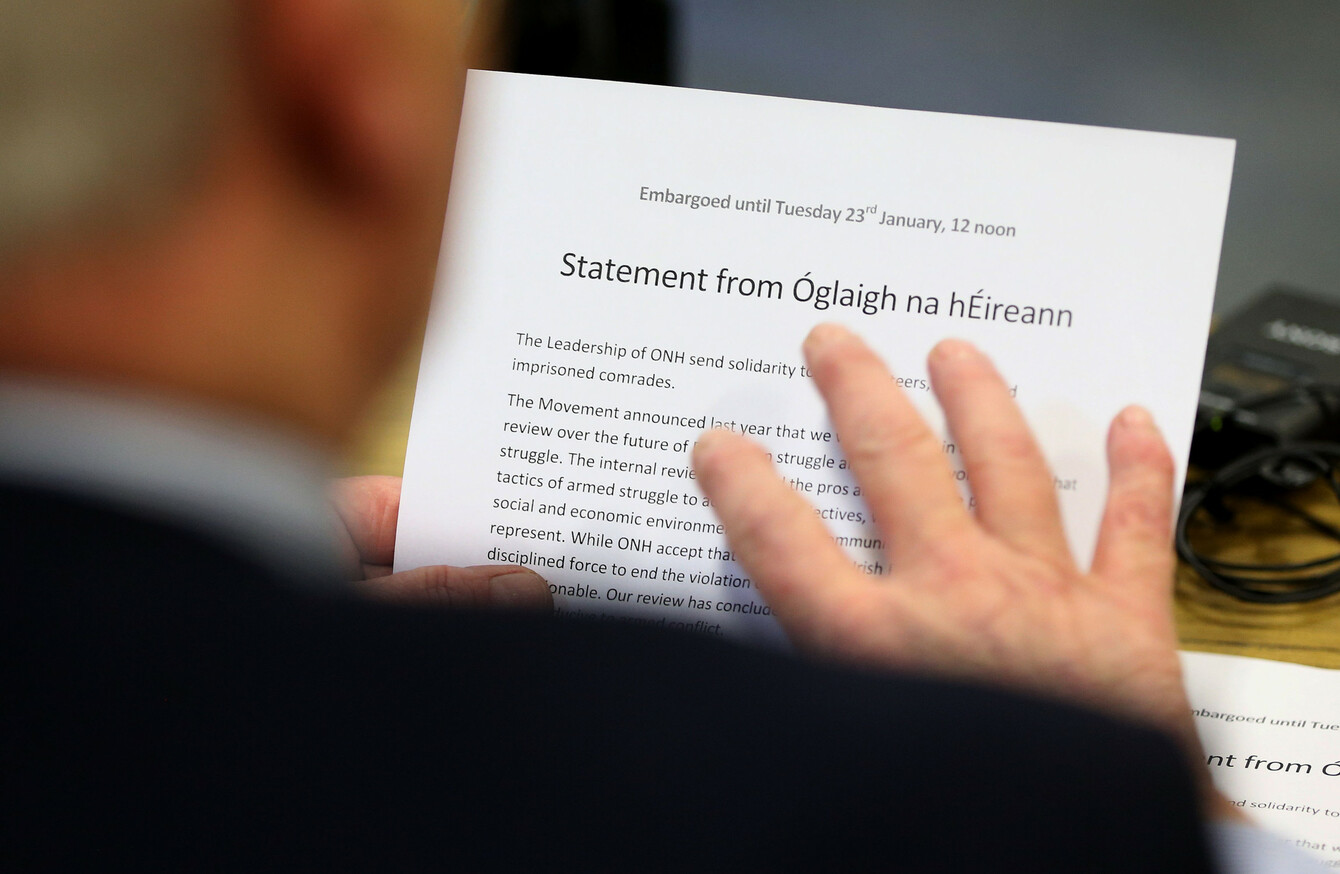 A statement from Oglaigh na hEireann read out at a press conference at the ICTU building in Belfast.
Image: PA Wire/PA Images
A statement from Oglaigh na hEireann read out at a press conference at the ICTU building in Belfast.
Image: PA Wire/PA Images
Updated at 3.45pm
A DISSIDENT REPUBLICAN group styling itself as 'Óglaigh na hÉireann' has announced a ceasefire, it has been confirmed this afternoon.
The news was initially reported by the Belfast-based Irish News this morning. Trade unionists who carried out negotiations with the dissident group made the official announcement in Belfast this afternoon.
The group has been responsible for a number of attacks, including the attempted murder of Catholic PSNI member Peadar Heffron in 2010.
Today's development was not unexpected. The group had recently hinted it may end its armed campaign.
"The leadership of Óglaigh na hÉireann are announcing that with immediate effect we will suspend all armed actions against the British state," a statement from the group published in The Irish News said.
The leadership of ONH remain unbowed and unbroken. We will continue to protect our membership and base as we move forward in a spirit of united determination to achieve our political aims.
The group, which included former members of the Provisional IRA, carried out its first attack in 2009.
Members have been linked with extreme violence against people living in their own communities, the PSNI said today – including brutal beatings and shootings, as well as acts of intimidation.
The organisation suffered a major blow recently when one of its leaders, 63-year-old Seamus McGrane, was jailed for 11-and-a-half years for directing the activities of a terrorist organisation.
The non-jury Special Criminal Court found last October that McGrane, of Little Road, Dromiskin, Co Louth, had discussed an operation involving explosives in the run-up to the State visit of Prince Charles two years ago.
Fianna Fáil TD Éamon O Cuív, who participated in talks with the group, made this afternoon's announcement at the ICTU building in Belfast, alongside trade unionists Peter Bunting and Conal McFeely.
"I note the statement from the group who call themselves Óglaigh na hÉireann issued this morning," Foreign Affairs Minister Simon Coveney said in a statement.
The commitment to a ceasefire with immediate effect is welcome. There is no place and no justification for violence and I call on all other dissident groups to follow suit.
We hope and anticipate that this ceasefire will be proven to be definitive and comprehensive in word and in deed.
Taoiseach Leo Varadkar also welcomed the ceasefire announcement in the Dáil during Leaders' Questions and thanked those involved in the negotiations.
'Organised criminality'
PSNI Assistant Chief Constable in charge of Crime Operations Stephen Martin said that the declaration "indicates that some violent dissident republicans are at last starting to recognise that violence is not a bargaining chip for peace in today's society".
Our communities do not want to live in fear of violence and my challenge to ONH is to meet people's expectations and cease using violence immediately. This includes all types of organised criminality within communities.
The group has announced it is to suspend all actions against the 'British State', however, for years now, members have been heavily involved in extreme violence against people living in their own communities, including carrying out brutal beatings and shootings, as well as menacing acts of intimidation to create fear and control.  These vicious attacks must also be consigned to the past.
It will be deeds that count ultimately, not words.
Uppermost in my mind today are those who suffered, often most grievously, at the hands of ONH over the last decade.
I urge ONH to live up to its commitment and also to take the further steps I've outlined. I would say to other groups involved in violence and criminality to follow suit and also stop immediately.
I would like to reassure everyone living in Northern Ireland that the PSNI will continue to actively pursue and investigate those involved in acts of terrorism, violence and criminality and place them before the courts in order to protect society and keep people safe.
Sinn Féin leader Gerry Adams thanked those involved in the talks, adding:
There can be no excuse or justification for the continued existence and operation of armed groups either unionist or republican.
Their continued existence leads only to hardship, loss, bereavement and imprisonment.
There is a peaceful and democratic way forward to resolve political differences and to work towards an agreed and united Ireland.
Meaningful change will only be advanced through commitment to political and democratic programmes & full participation in the peace process.
I call on all groups engaged in violent actions to desist, disband and to embrace the path of peaceful politics.
Attempted murder
Peadar Heffron was a ten-year veteran of the PSNI when a bomb exploded under this car in 2010.
He was on his way to work at Grosvenor Road Station in West Belfast, and had driven about a mile from his home.
He spent ten months in hospital and was left with horrific injuries as a result of the attack. His leg was amputated and he now uses a wheelchair.
Oglaigh na hÉireann has also claimed responsibility for the planting of other bombs and pipe-bombs in recent years, including the planting of devices at community centres and police stations.
It claimed a 2010 attack in which a police officer suffered serious injuries after a grenade was thrown by a cyclist in West Belfast.
- with reporting by Órla Ryan