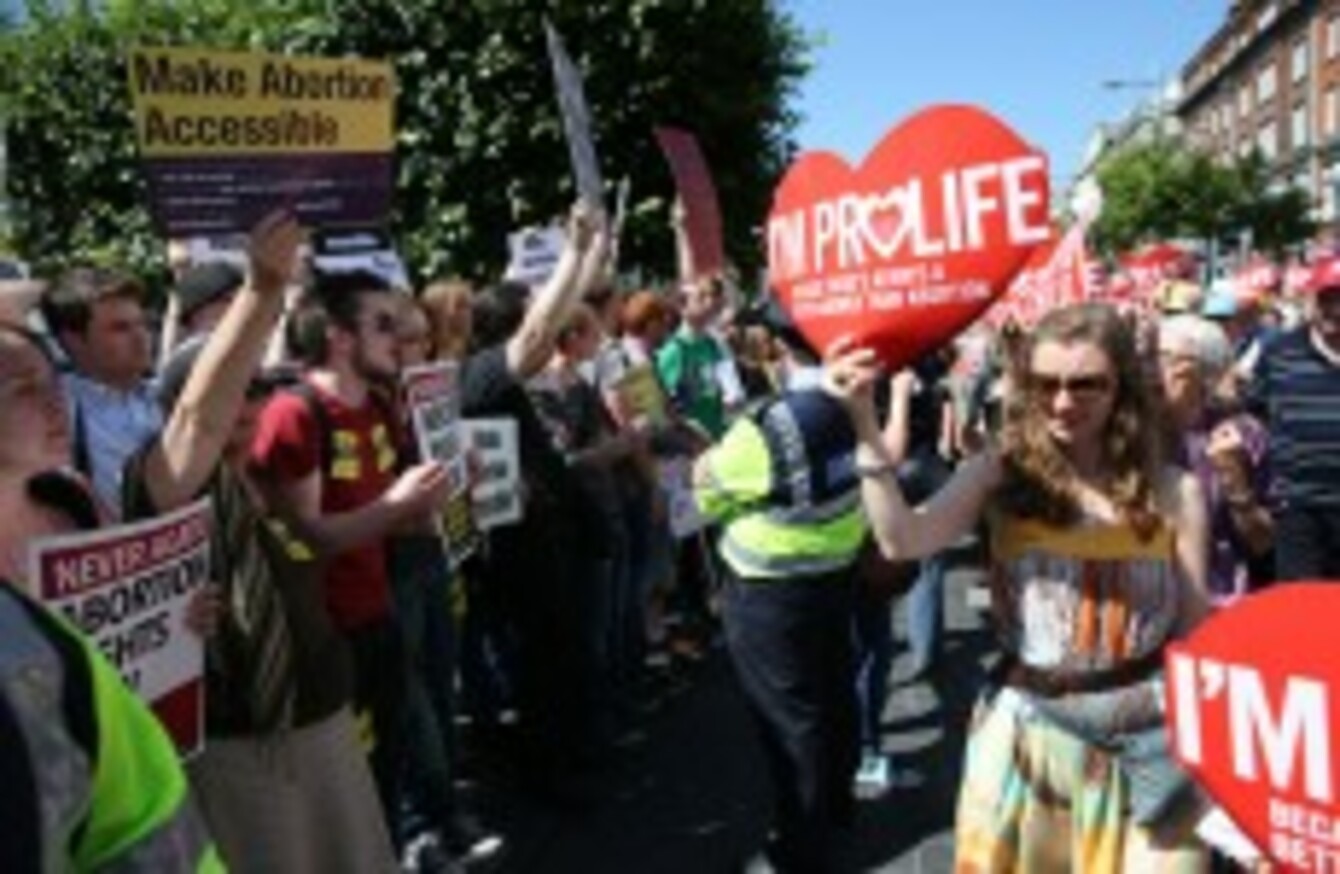 Pro-choice and pro-life protestors meet in the street last weekend. The Seanad takes up the debate on the Protection of Life During Pregnancy Bill 2013 today.
Image: Sasko Lazarov/Photocall Ireland
Pro-choice and pro-life protestors meet in the street last weekend. The Seanad takes up the debate on the Protection of Life During Pregnancy Bill 2013 today.
Image: Sasko Lazarov/Photocall Ireland
WHAT ARE OUR politicians doing in the halls of Leinster House?
TheJournal.ie lets you know with our guide to what's coming up in the Dáil, Seanad and various Oireachtas committees today.
DÁIL
The planned schedule for the day has been thrown out the window after the late night/early morning sitting of the Dáil on the Protection of Life During Pregnancy Bill so it's all change in Leinster House. This is what we know so far but anything could change in the next few hours – but we'll keep you up to date.
Kick-off is at 12.30pm for Leaders' Questions and Order of Business before a quick motion on the Smithwick Tribunal (no debate) and a look at revised estimates for the staff bill of departments (debate – but only for 1 hour 5 minutes, max).
Then it's on to a vote on a bill sponsored by Deputy Patrick Nulty – who you will remember resigned from the Labour Party last month, 18 months after losing the whip for voting against Budget 2012 – which amends a Residential Tenancies Act from 2004 to ensure rent supplements are paid only on properties that are properly registered with the Private Residential Tenancies Board. (That is, if this hasn't been concluded in Dáil business yesterday).
The Construction Contracts Bill 2010, which came from the Seanad, also enters final voting – it tightens up the requirements of construction contracts and what happens when one party goes under in bankruptcy. It's worth a read here.
At 4pm, the Court of Appeal Bill 2013 was due to whisk through all stages, with a cut-off time of three hours. That one amends the Constitution to allow for the establishment of a Court of Appeal – should we decide in a referendum in early October that one should be established. It should help clear the backlog of appeals before the Supreme Court if it goes through in that referendum.
However, that might be put to one side as we know the debate on the proposed abortion legislation has been scheduled to resume at about this time (either at 4pm or 5pm).
Then the initial schedule for 7pm included four topical issues from selected TDs and at 7.48pm (to 9pm) there was supposed to be questions for Phil Hogan, Minister for the Environment, Community and Local Government. These tasks could also be kicked to the kerb for more abortion debate.
SEANAD
After Order of Business at 10.30am, the senators will discuss sitting on Friday of this week (where they could still possibly discuss the Protection of Life During Pregnancy Bill if it manages to pass through the Dáil today).
At 11.45am, they have their first vote on the Ministeries and Secretaries (Amendment) Bill 2012 which deals with putting a ceiling on Government and ministerial expenditure.
At 1.30pm, the abolition of Seanad Éireann debate continues – at committee stage this time – unless the Seanad has its chance to get its teeth into the Protection of Life During Pregnancy Bill 2013 for the first time. If it does, that discussion could also spill over into Friday, considering the tension and heightened feelings around the content of the bill.
COMMITTEES
Committee hearings have also been impacted by the overnight with some meetings delayed and others cancelled.
Bord Iascaigh Mhara – the fisheries board – brings its annual report for 2011 before the committee of Agriculture, Food and Marine in room 4 at 12.30pm. (Watch here.) This was initially scheduled for 9.30pm but was delayed because of the late sitting of the Dáil last night.
Over in room 2, Children's Ombudsman Emily Logan was to speak to the Health and Children committee about the plight of young people in detention. That, however, has been cancelled until further notice. The issue of conditions and appropriate holding places has been in the news recently with criticism and the closure of St Patrick's Institution for example. Our reporter Christine Bohan spoke to senior prison officers in the wake of that closure – they warned of the gangs that young inmates will be exposed to in adult prisons.
The Public Accounts committee had a few 2011 items to get through and were due to meet from 10am in room 1, to vote on allowances for retired members and changes to the office of the Minister for Public Expenditure and Reform. That hearing has also been cancelled. No date for a reschedule yet.
We'll be hearing an update on how cross-border co-operation on education is working from the Northern Ireland minister for employment and learning, Dr Stephen Farry. He's speaking in front of the committee on the Implementation of the Good Friday Agreement in room 4 at noon. (Watch here.)
At 2.30pm in room 3, Lithuania's ambassador to Ireland, Vidmantas Purlys, pops in for a chat with the European Union Affairs committee. Should be a friendly meeting. (Watch here.)
Once we have a finalised schedule from the Oireachtas folk, we'll bring it to you. Additional reporting by Christine Bohan and Sinéad O'Carroll.