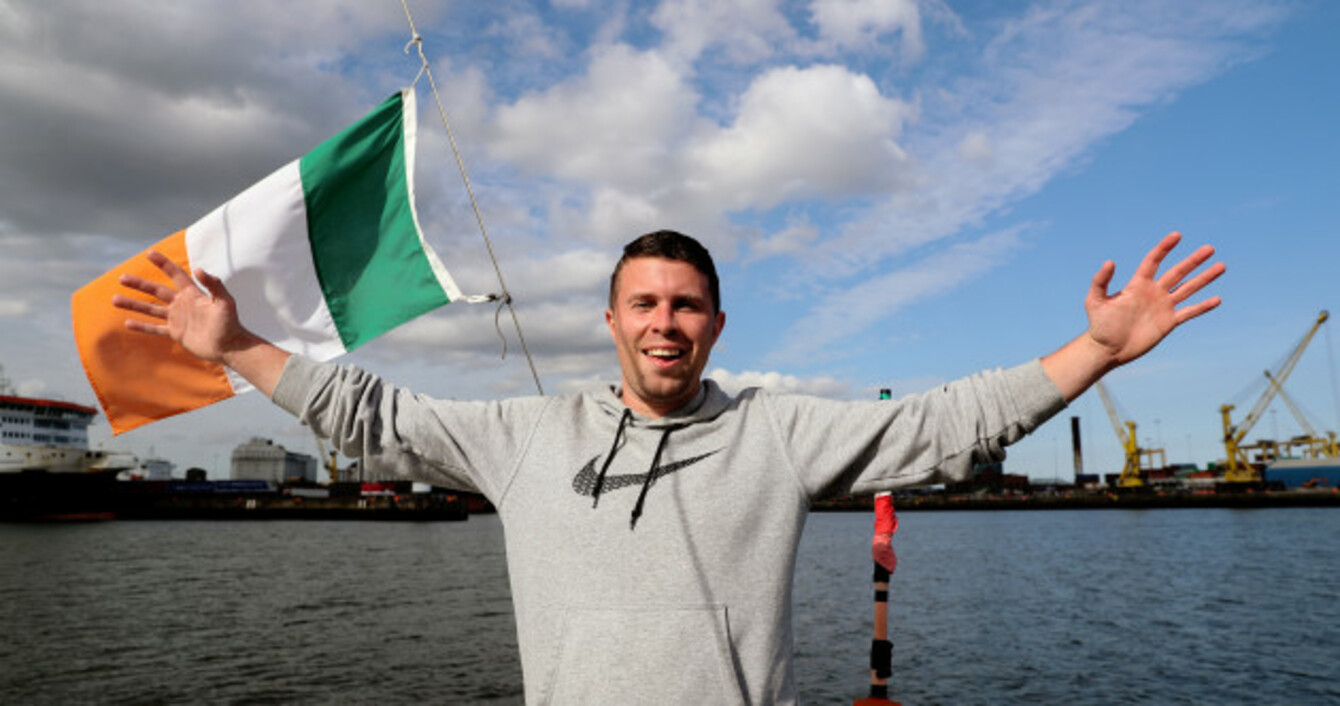 David Mannion
Image: MAXWELLS_DUBLIN
David Mannion
Image: MAXWELLS_DUBLIN
"THERE'S NOTHING IN addiction for me except pain and misery, sailing showed me that there's a completely different way of life out there."
David Mannion has spent most of his 29 years addicted to drugs. He has also served many sentences for crimes committed to feed his addiction.
He's currently in Coolmine Lodge, where he's part of the therapeutic community receiving treatment.
This week he took part in Sailing into Wellness along with eight others who are currently recovering from addictions at Coolmine.
It's part of a Voyage of Recovery programme which provides opportunities for those with drug and alcohol problems to develop skills and build confidence through sailing.
Mannion told TheJournal.ie, "It was an unbelievable experience to be honest. It was so calm and brilliant.
It felt like the world didn't exist – like there were no problems and our world was out at sea.
Mannion had never sailed before and said he was "panic stations before we left" and was worried he'd be sick but knew "we were well able for it" once they got on the yacht.
"Once we got the hang of it after a couple of hours we were flying. We were all taking turns and getting a few hours sleep.
"I also looked at the staff different, in treatment there can be conflict but we were all the same out there, we were all working together and everyone was loving it.
The group sailed from Dunmore East, Waterford departing at 5.45am on Monday morning and pulled into Greystones at 9.30 that night. "We left in the dark and came back in the dark."
The next morning the group had a swim at Greystones before returning to Dublin Port.
It was unreal – it was like something you'd see in a film. I can't describe how it felt. The sea was so blue and the sun was shining down on us.
"I often hear that saying 'very surreal' but this was surreal.
It's a way of life I never thought existed – it was a better adrenaline and high than any drug would ever give you.
"There were no problems out there, it just shows what's out there for you, what's there if you want it. I was heartbroken getting off it."
Life without addiction 
The Irish voyage is organised by the Cork-based Sailing into Wellness organisation, established by James Lyons, one of Ireland's most experienced sail training professionals and Colin Healy from Mallow who overcame addiction and mental health problems through sailing.
Healy said that sailing can open doors to a life without drink and drugs.
Sailing into Wellness helps reduce the risk of relapse, deepen engagement with treatment and encourage participants to think about living.
Speaking about Healy, Mannion said: "Looking at fellas like that who've been through it is great. He's a proper captain and he was taking pride in his work and smiling all the time."
Back in 2013 Mannion went to Coolmine but it didn't work out. As he was let out of prison to go to Coolmine, he had to return to finish his sentence when he relapsed.
In May this year he asked Coolmine to help, speaking about his previous relapse, Mannion said:
"I was just after going 25, I was after being in prison a lot of my life and my head wasn't in the right place."
He also said he has since lost friends to drugs and his father died last year.
"My whole attitude to life is different now. I'm the oldest brother of four and I feel a responsibility to them even though they're in their 20s. I feel more mature and like an adult."
Mannion says he wants to give back and work in Coolmine in the future, "This is the life I want to live."
He added that he was so grateful to the Coolmine staff and Sailing into Wellness.
"I'm still wobbling, I never thought in a million years I'd take so much enjoyment out of sailing.
"I can't stop thinking about it. It also makes me think – there's a completely different way of life out there and you can live without addiction."