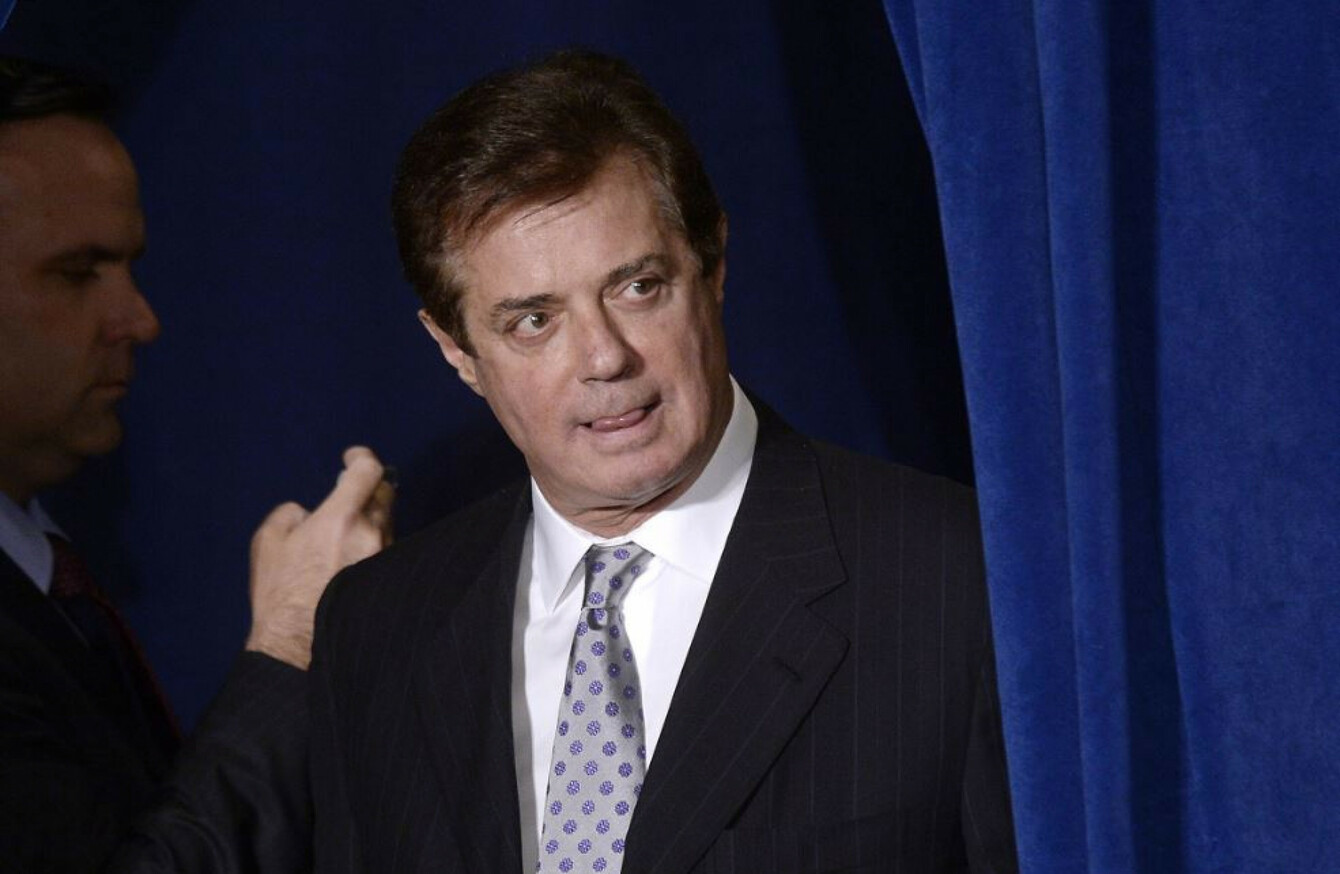 Paul Manafort pictured in Washington DC in April 2016.
Image: Olivier Douliery/Zuma Press/PA Images
Paul Manafort pictured in Washington DC in April 2016.
Image: Olivier Douliery/Zuma Press/PA Images
DONALD TRUMP'S FORMER campaign chief Paul Manafort will today become the first member of the US president's election team to face trial on charges stemming from the probe into Russian interference in the 2016 vote.
Manafort (69) has pleaded not guilty to 18 counts of bank and tax fraud related to his lobbying activities on behalf of the former Russian-backed government of Ukraine.
The indictment was brought by special counsel Robert Mueller, the former FBI director who is looking into Russian meddling in the presidential election, but the charges are not connected to Manafort's time as Trump's campaign chairman.
Selection of a 12-member jury for "USA vs Manafort" begins at 10am (3pm Irish time) today before US District Court Judge TS Ellis in Alexandria, Virginia. The trial is expected to last about three weeks.
Manafort, a veteran Republican political consultant, served as chairman of Trump's presidential election campaign for three months in 2016 before being forced to step down amid questions about his lobbying work in Ukraine.
He is charged with five counts of filing false tax returns for not reporting bank accounts he held in Cyprus and other countries in a bid to hide millions of dollars in income from activities on behalf of Ukraine's former pro-Russian leader Viktor Yanukovych.
Manafort is charged with failing to report the existence of foreign bank accounts to the Internal Revenue Service and bank fraud related to several multi-million-dollar loans he obtained from various banks.
Prosecutors plan to produce nearly three dozen witnesses during the trial, including Manafort's former associate Richard Gates, who is cooperating with the government after pleading guilty to lesser charges in February.
Immunity 
Five witnesses have been granted immunity from prosecution to testify against Manafort.
Mueller has indicted a total of 32 people so far in connection with his probe into whether any members of Trump's election campaign colluded with Russia to help get the New York real estate tycoon into the White House.
Trump has repeatedly denounced the special counsel's investigation as a politically motivated "witch hunt" and denied there was any collusion with Moscow to defeat Democratic presidential nominee Hillary Clinton.
While Gates and others, including former national security advisor Michael Flynn, have pleaded guilty, Manafort has refused to strike a deal and has insisted on having his day in court.
Comments are closed for legal reasons.