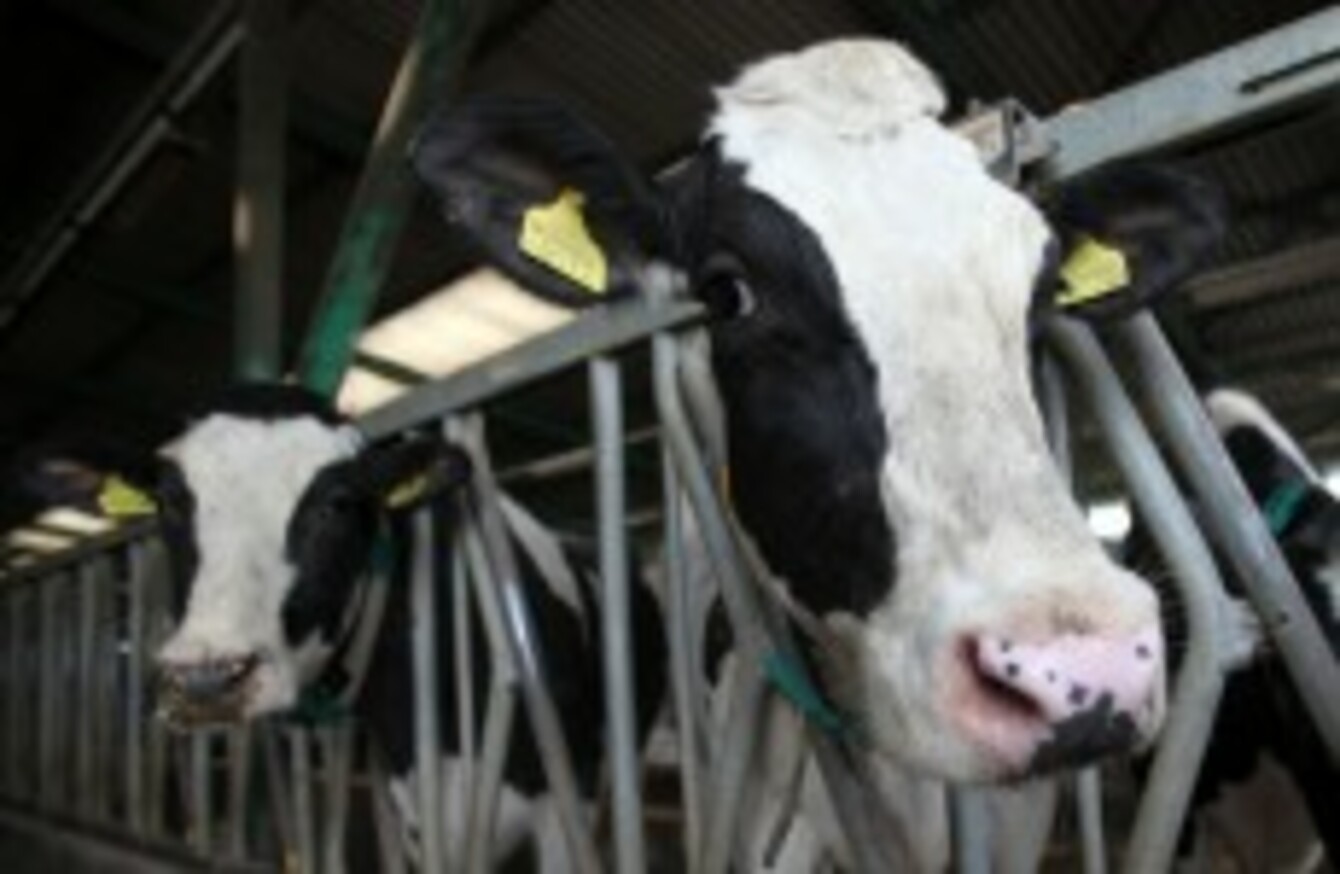 Image: Darko Vojinovic/AP
Image: Darko Vojinovic/AP
FARMERS HAVE BLAMED a "perfect storm" of rising production costs and falling market prices for a drop in milk production in January.
Figures produced by the Central Statistics Office yesterday showed that the volume of milk taken in by Irish creameries and pasteurisers in January was 11.8 per cent lower than the amount in the corresponding month of 2012.
While the relative impact of the fall is small, given that the bulk of Irish milk production takes place in late spring and early summer, the falling production also reflects what has been a difficult winter for dairy farmers.
The fall in the January production follows a drop in production across 2012, when milk production stood at 5.23 billion litres – down by 2.7 per cent on 2011.
Catherine Lascurettes of the Irish Farmers' Association said the background to the continued drop in production was three-fold.
"Prices fell around the time that peak production usually happens – usually between March and July – so farmers were affected all the more," she said, explaining that prices recovered later in the year when the volume of milk production was far lower.
She added that production costs like the price of grain and feeds had risen, as a result of a drought in the United States ("the granary of the world," Lascurettes said) – while the miserable weather last summer had taken its toll on the quality and quantity of silage that could be used as food during the winter.
This poor weather had continued into January, making it more difficult for dairy farmers – who need to take milk from freshly-calved cows to be supplied to supermarkets – to maintain high production. "All of these factors will fairly restrict production," Lascurettes said.
The drop in milk production during winter – when milk is produced by only a small fraction of Ireland's dairy farms, for use in the 'liquid milk' sector which provides products to supermarkets and shops – was further compounded by a drop in the market price for milk.
Farmers losing 7 cent for every litre produced
Farmers who specialised in 'liquid' milk production during the winter months, when production was more expensive, needed to sell milk for about 40 cent per litre to cover their costs – but creameries were currently paying 33 cent a litre.
"Margins are going to the wrong people," Lascurettes argued, explaining that many winter milk producers were bound by contracts to supply a fixed quantity of milk over the winter, irrespective of price. "They're being wrongly distributed and farmers can't recoup their costs."
She added that retailers were "putting the squeeze" onto the production chain, which ultimately meant that farmers were hit hardest. "If it doesn't pay you as a farmer to produce milk, you're not going to push too hard," she said.
Farmers now hope that improved weather in Ireland, a slight mitigation in the market price of milk, and falling production costs can encourage production rates later in 2013 to match those of previous years.
On Wednesday the IFA held a demonstration in central Dublin trying to raise awareness of the difficulties being experienced by dairy farmers whose produce goes onto supermarket shelves during the winter months – where milk was given away to passers-by to illustrate the losses being incurred by producers.
While there are about 18,000 dairy farmers in Ireland, only about 2,000 are involved in the liquid milk market. The rest, who peak their production in the early summer months, produce milk for use in butter, yoghurts and cheeses – many of which are then exported.