Image: Olli Rehn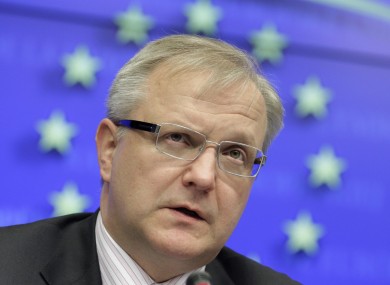 Image: Olli Rehn
EUROPEAN ECONOMICS COMMISSIONER Olli Rehn has insisted that the European Union's troubled economies of Ireland and Greece cannot become financially overburdened – and asked the stronger ones to look kindly on requests to amend the terms of their bailouts.
The Wall Street Journal quotes an interview given by Rehn to the Handelsblatt newspaper in Germany in which he said he feared "a danger that we might overburden both countries [Ireland and Greece] with overly strict credit conditions."
The Eurozone should, therefore, "lower the credit terms for Greece and Ireland."
Though no obvious suggestions were made about amending Ireland's bailout terms, Rehn suggested the Greek loans should be extended from 3.5 years to 7.
The comments are being interpreted as a call for Europe's stronger economies to look favourably upon requests from the weaker countries to amend the terms of their funding, ahead of a summit with the 17 Eurozone heads of government this Friday.
The interview is published just days ahead of Friday's meeting of the 17 Eurozone member states, to agree the basis of a "comprehensive package" of reform measures, when Merkel is likely to further call for such reforms.
The summit in Brussels will prove a major baptism of fire for Enda Kenny, who will be representing Ireland in one of his first official engagements as Taoiseach.
Rehn has previously said, however, that burden-sharing with sovereign bondholders is a no-go area – and the programme for government makes no mention of seeking to negotiate an orderly default with them.
Germany's chancellor Angela Merkel, in particular, has been outspokenly sceptical about the chances of renegotiating bailout terms without the weaker countries agreeing to introduce constitutional amendments limiting future borrowings.
Merkel's comments have been driven by domestic political needs, with state elections in five of the country's 16 provinces due at the end of the month.