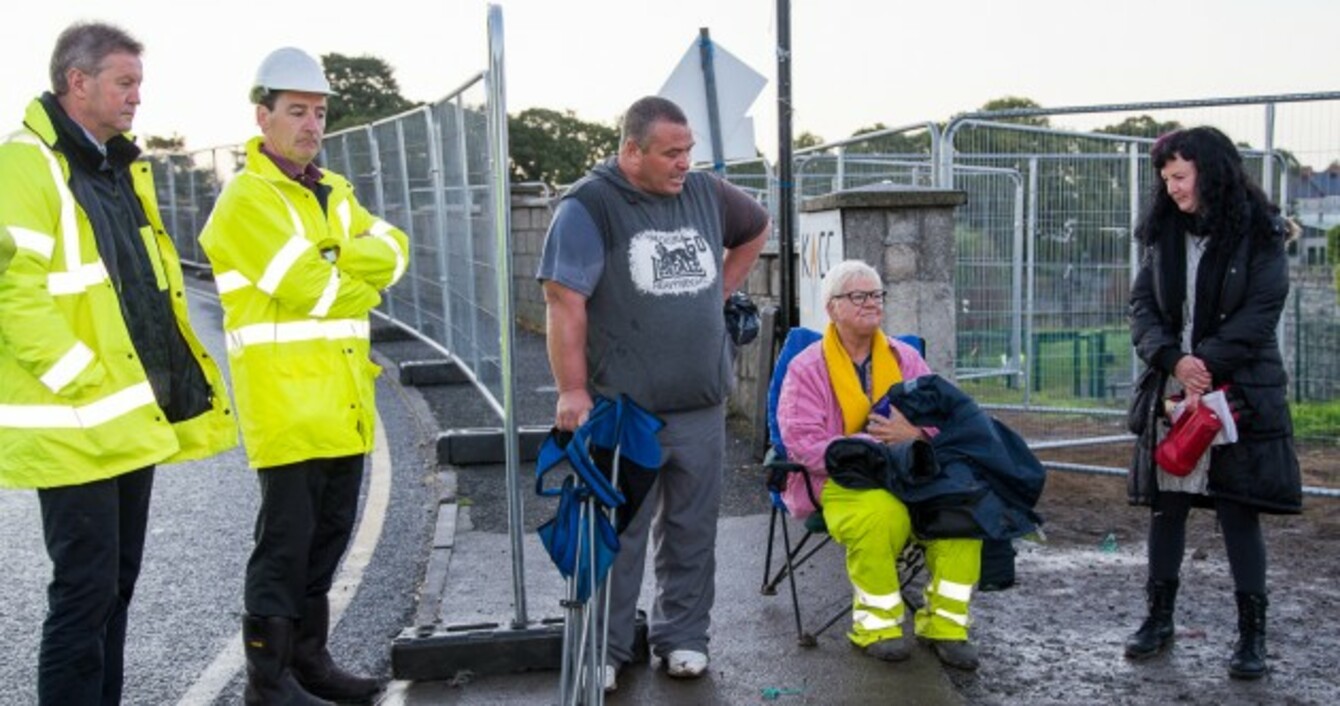 Kilkenny County Council Assistant Director of Services Simon Walton (L) and Director of Services John McCormack (2nd L) stand with the last remaining Kilkenny bridge protesters, (L-R) Donal Coyne, Kay Brennan, and Aisling Hurley
Image: Vicky Comerford
Kilkenny County Council Assistant Director of Services Simon Walton (L) and Director of Services John McCormack (2nd L) stand with the last remaining Kilkenny bridge protesters, (L-R) Donal Coyne, Kay Brennan, and Aisling Hurley
Image: Vicky Comerford
GARDAÍ IN KILKENNY this morning removed a group from the camp they had occupied for several weeks in protest at the construction of a new bridge over the rive Nore.
The operation, at around 6 am, cleared the site next to the Greensbridge project, where three people had been camping.
One protester from the "Save Kilkenny" movement told TheJournal.ie this morning that local authorities were attempting to "silence" them.
It his horrendous that citizens of Kilkenny go out and protest out of concern for their city, and get moved along like this..
They must be really afraid of us, or uncomfortable with the questions we're asking if they would go to these lengths to silence us.
In a statement sent to TheJournal.ie, Assistant Director of Services for Kilkenny County Council Simon Walton said the protests had been "disruptive" and costly.
This morning, Kilkenny County Council, with the assistance of An Garda Síochána, extended the site boundary for the Kilkenny Central Access Scheme.
This extension included the removal of an encampment which has been established on Council-owned land in recent weeks.
Two protesters were present at the site when the encampment was removed…
Disruptive protests have, to date, cost the Council €419,000 over and above the contract value.
In this video, protester Kay Brennan recounts how the site clearance was conducted this morning, including claims that there was some minor destruction of property.
Source: DarraghBVideo/YouTube
After weeks of protests, Kilkenny County Councillors on Monday voted down a motion from three members to temporarily suspend works on the Greensbridge site.
Subsequently, Council Chairman Pat Milea appealed for an end to the 24-hour protest, after figures claiming it had cost local authorities €419,000 through time delays and the need to hire private security at the site.
Reacting to this morning's site clearance, Pro-CAS campaigner Adrian Shanahan, who is in favour of the bridge, told TheJournal.ie the time had come for an end to divisions among the people of Kilkenny, after what has at times been a fractious debate.
What happened this morning is a positive, but unfortunately necessary step.
I'm not jumping for joy, though. Nobody really wins from this.
There's no doubting everyone's commitment and passion for Kilkenny, on all sides. And the time has come now for a reconciliation among Kilkenny people.
"Save Kilkenny" protester Darragh Byrne, however, said the economic argument was undermined by what he called "overkill" during the clearing of the camp this morning.
There were only two protesters there, and yet there were six vehicles, 30 Gardaí, and 15 workmen on site to remove them.
So if cost is really so important, why was there such an overspend this morning?
A representative from the Garda Síochána did not respond to requests for comment in time for publication.