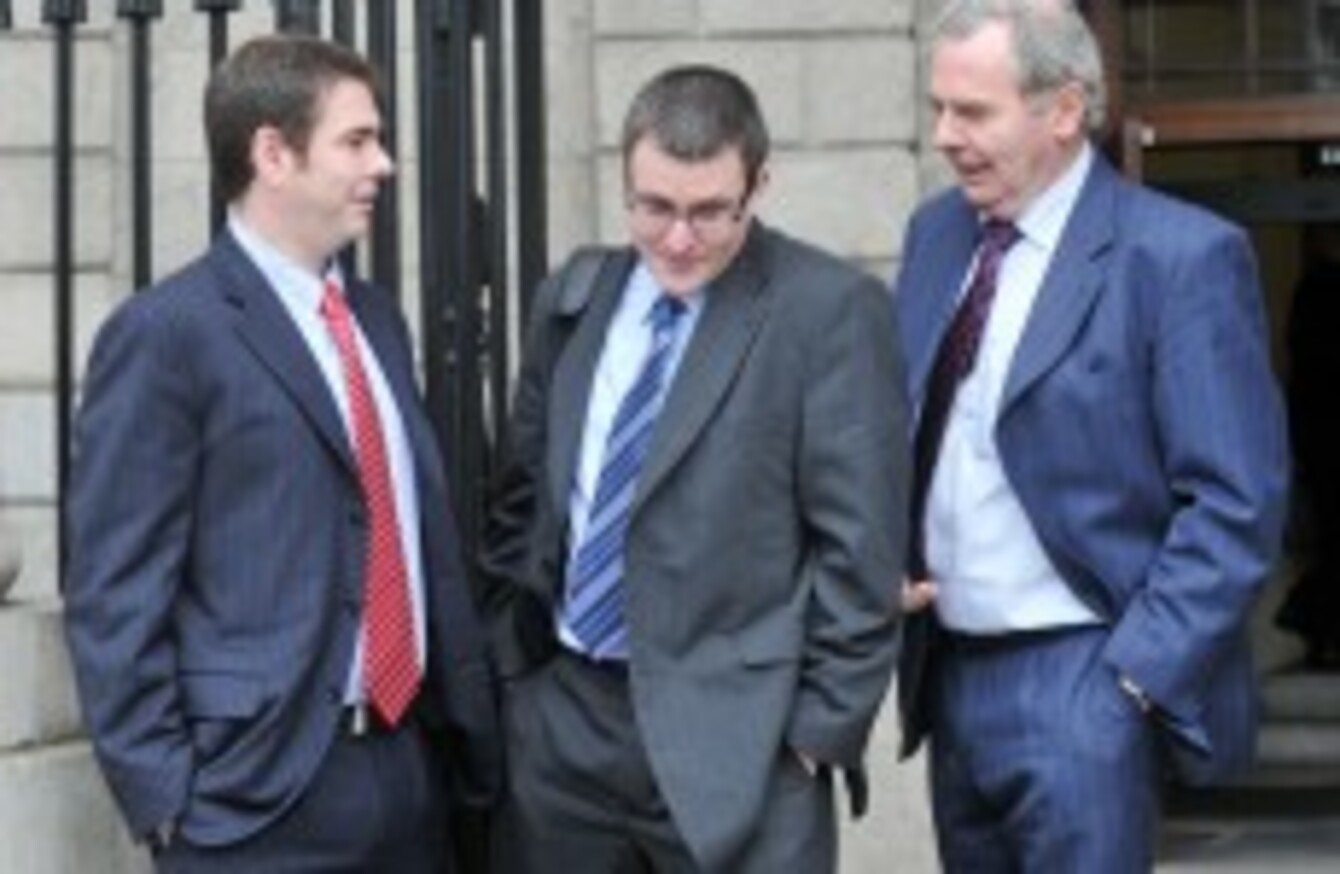 Sean Quinn Jnr, Peter Darragh Quinn, and Seán Quinn Snr
Image: Laura Hutton/Photocall Ireland
Sean Quinn Jnr, Peter Darragh Quinn, and Seán Quinn Snr
Image: Laura Hutton/Photocall Ireland
PETER QUINN, THE father of Peter Darragh Quinn who is on the run from a prison sentence, has defended his son's decision to flee to Northern Ireland.
In an interview this morning, Peter Quinn said that there is no split in the family over the sentences handed down to his son and to Seán Quinn's son for not purging their contempt of court.
Seán Quinn Jnr is currently serving three months in Mountjoy prison in Dublin while Peter Darragh Quinn has been pictured several times in his native Fermanagh attending GAA matches.
"No, it's not dividing the family," Peter Quinn told BBC Radio Ulster this morning. "There's one thing about the Quinns. We have never split on any issue and we won't split on this issue".
"The Quinns do not fight. We're probably one of the closest families in the country in terms of how we get on together".
Sure Peter's north of the border, Sean's in jail. They both made the decision to go. Sean was asked by his father if he was going to go to jail, he said he would go to jail if that's what was in the best interests of the group. Peter was asked if he'd go to jail,  he said he didn't see any reason why he should go to jail.
Peter Quinn said that his son had made an attempt to purge his contempt by contacting Anglo and asking for their help but Anglo had not responded.
"Anglo could have helped him [but] Anglo didn't want to help him because they wanted blood, and they wanted his blood as part of it, and they got Sean's", said Peter Quinn.
Peter Quinn rejected the suggestion that the Quinn Group had made mistakes and blamed the financial regulator Matthew Elderfield for penalising the company for not holding enough money in reserves.
"The Quinn Group never went wrong. The Quinn Group continued to be profitable right up until the end," said Peter Quinn.
The fact is we were not by a long stretch the worst offender in the Irish market at that stage. The VHI didn't even have half of our level of reserves. There were other companies that were well below our level of reserves but of course, no adminstrators were appointed to them because for some reason or another Elderfield decided to target the Quinn Group.
The Quinns have "absolutely no reason" to apologise for the 2 per cent levy which has been added to almost all insurance policies in the Republic of Ireland to pay for the losses of Quinn Insurance because "we're not responsible for that levy," Peter Quinn said.
He said that if the administrators and people running the Quinn Insurance business now had been able to follow Sean Quinn's model and make the business profitable then there wouldn't have been any need for a levy.
Dishonesty
Peter Quinn said that Anglo had acted illegally by lending money to customers in order to support the value of the company's shares, and that he believes the courts should hear a case against Anglo before the Quinns are put on trial.
He said that there had been "absolutely no dishonesty" about how Seán Quinn and family members had acted and said it was "perfectly reasonable" to transfer money from the insurance group to other parts of the business. "It was always done. That's the way groups operate," he said.
Seán Quinn's actions of taking €230 million out of the business was "imprudent, he shouldn't have done that, but in terms of dishonesty, there was no dishonesty involved".
Peter Quinn said that his brother had been "very taken" with the Anglo model and had read many reports which had suggested that Anglo was one of the best banks in the world.