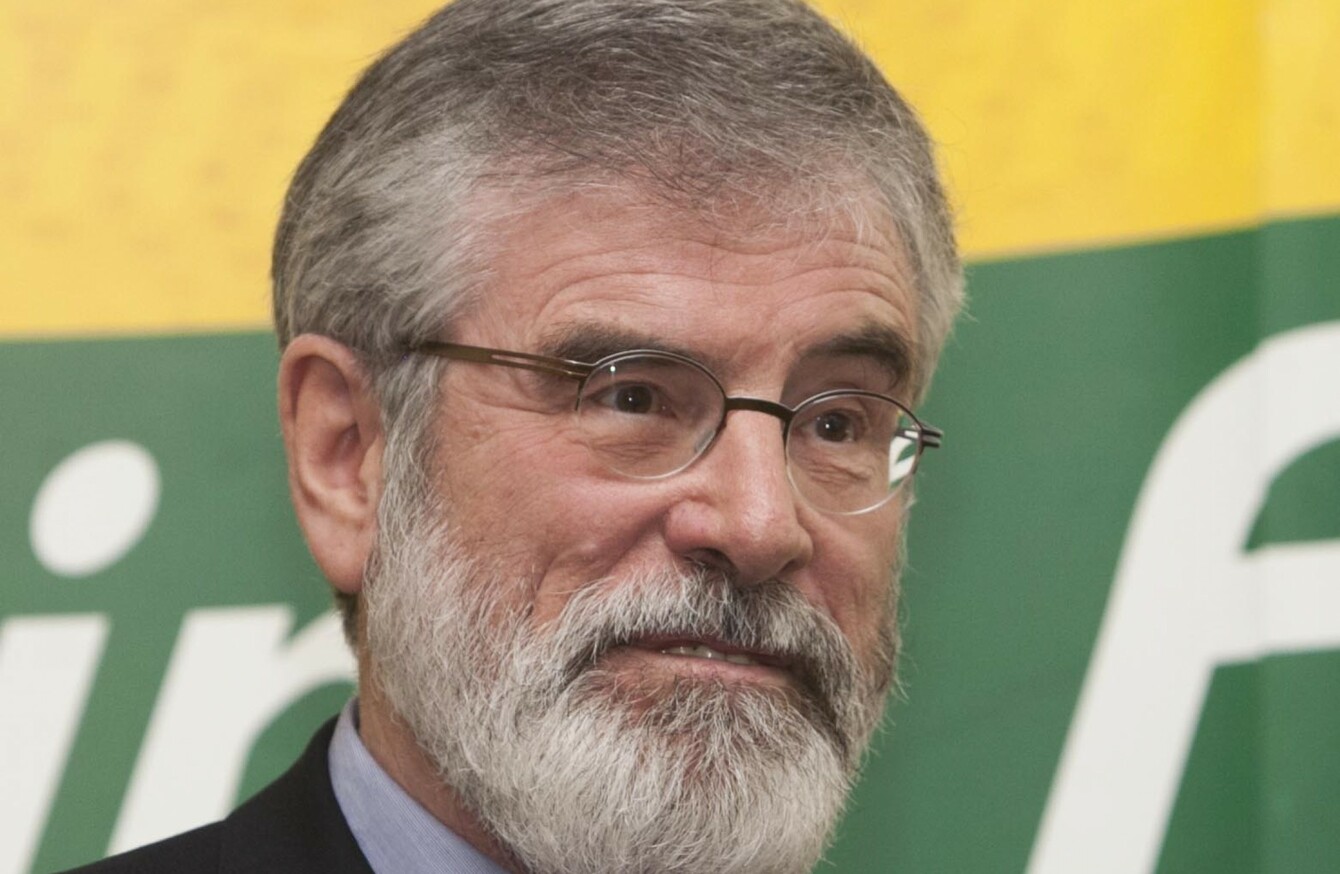 Gerry Adams
Image: RollingNews.ie
Gerry Adams
Image: RollingNews.ie
SINN FÉIN HAS called on Fine Gael and Fianna Fáil to end the sham fight and form a grand coalition.
Gerry Adams accused the two largest parties in the new Dáil of "engaging in a sham fight over forming a government" nearly three weeks after the general election.
Fine Gael and Fianna Fáil continue to engage in talks with smaller parties and independents about the possibility of forming a minority government.
This is despite a widespread belief that the two parties will eventually have to discuss governing with each other in some shape or form.
"The two largest conservative parties are using the bogus excuse of civil war divisions and politics as each tries to outflank the other to get the spoils of government positions and power," Adams said today.
Adams pointed out that Fine Gael and Fianna Fáil have worked together on local councils in recent years with the two parties currently controlling 11 of the 31 local authorities.
He said the two parties and Labour had stopped Sinn Féin tabling a motion to debate scrapping water charges when the Dáil sat last Thursday, which he said proved "the establishment will join together when their self-interest demands".
Despite Adams calling for the two parties to come together, newly-elected Sinn Féin TD Eoin Ó Broin struck a slightly different tone at Leinster House today when he insisted that Sinn Féin is not pressuring the two parties.
"We haven't been calling for a Fianna Fáil/Fine Gael coalition. The numbers suggest that's the only viable coalition other than minority, but that's a matter for those parties," he said.
He reiterated that Sinn Féin will not support a government led by either party and would not welcome an approach from either.
Sinn Féin whip Aengus Ó Snodaigh said he doesn't "fancy going into government" at the present time because of the make-up of the Dáil.
If the electorate had given a greater mandate for those on the left, in the Right2Change, then like every politician I would relish the ability to bring about the change from that mandate. It didn't deliver it, so now it is up to us to represent that, by the looks of it, on the opposition benches.
Ó Broin also insisted that while talks on a government are continuing the Dáil can still pass legislation as Sinn Féin today published a bill on preventing homelessness and providing rent certainty.
He said: "What the people we represent want is they want to see action on the urgent issues facing us today and again I repeat:
Next week, the Dáil could come in and introduce the emergency legislation that could provide greater protection for the families for example in Cruise park 

out in Tyrrelstown

. I think that's what people want to see.
Fianna Fáil is due to hold talks with the Green Party and the Social Democrats today, while the two small parties will meet with representatives from Fine Gael tomorrow.
Five independent TDs are meeting with Fine Gael today including Denis Naughten, Noel Grealish, Mattie McGrath, Dr Michael Harty and Michael Collins. All five abstained on the votes for Taoiseach in the Dáil last week.