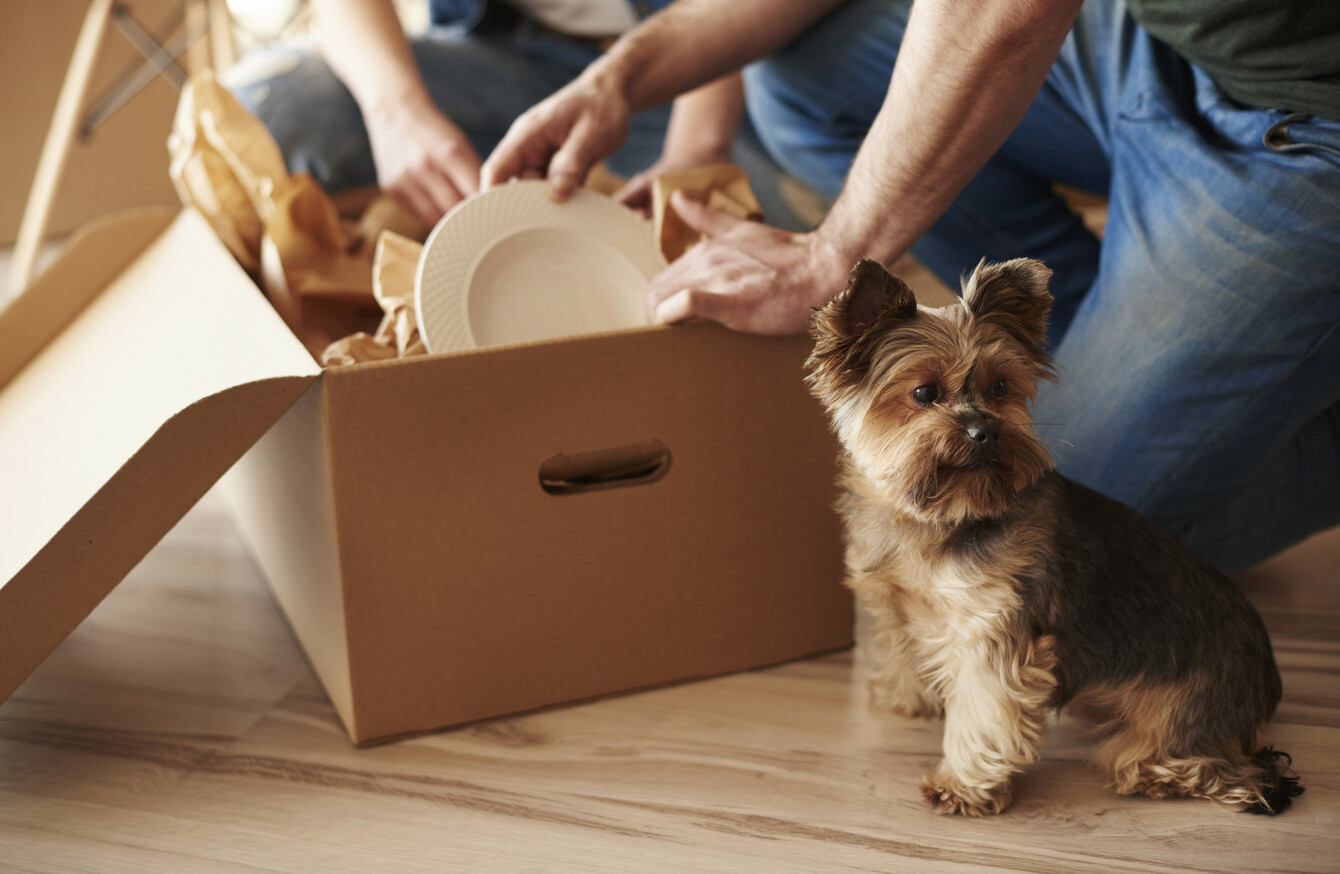 Image: Shutterstock
Image: Shutterstock
MOVING HOUSE CAN be a stressful experience, to say the least – and that's without the added pressure of a global pandemic and working from home. 
Whether you're a first-time buyer or you've done this before, the thought of having to pack up all of your belongings, organise things like TV and broadband, and get settled into a new place is enough to send anyone into a cold sweat.
While there's no magic potion for switching from one home to another overnight, there are clever tips and tricks that can make the process as easy as possible – the most important one, of course, being getting organised. 
"Moving houses is one of the most stressful things – if not the most stressful thing – that you do in your life. So the easier you can make it on yourself, the better," says organisation expert Sarah Reynolds from Organised Chaos.
"I do believe a huge part of that is down to organisation. The more you can do before you've moved, the less stressful this whole process will be."
From what to do in advance to keeping things simple on moving day to unpacking when you arrive, Sarah shared her expertise for moving house like a pro.
First things first, declutter
Before you start throwing things into boxes or suitcases, Sarah says the best thing to do is to filter through what you do and don't need.
"Decluttering is just essential," she says. First of all, it's going to make the move so much easier because you will have less to organise in your new home, it'll cost less for your move with the moving company, and then you also know that you're bringing exactly what you want need to the new house."
To get a head start on decluttering, Sarah recommends beginning the process as soon as you know that the sale is going through. "We don't usually give the activity of decluttering enough time. The more time you can give yourself, the better in the lead up to the move."
Pack whatever you can as soon as you can
After you've decluttered, it's time to start packing. "As as soon as you know that this move is on, get packing. Again, it's eases the stress. There's plenty that you could be doing prior to the day of the move."
Sarah advises dedicating a room in your current home to packing, if you can, or even just a corner. "There are lots of things that can be packed ahead of time; photo albums, frames, ornaments, china and delph that are never used. It makes you feel as if you are getting the process going and getting things underway."
You can also declutter and pack at the same time and kill two birds with one stone.
Keep on top of tech with a list
For many modern movers, having WiFi and broadband set up in the new house is a priority. Plus, you can pre-order your Sky TV and Ultrafast Broadband install with Sky and make sure its up and running on for your move in day. 
When it comes to packing up existing tech and gadgets, making a list of everything you need will be your saving grace, says Sarah. 
"Think about what tech you need to switch in House A to House B, like WiFi, TV and your phone line. Make a list of the tech that you need to set up, the associated companies, their phone numbers, and the number of your new accounts.
"In terms of keeping cables and wires and cables tidy, pop them into different zip lock bags and label them."
Separate what you'll need for the first few days
It's all well and good having everything packed away neatly before the move, but what do you do when you realise you've no cutlery to eat dinner with or a change of clothes for the following day? The key here is making an "essentials" box, says Sarah.
"Pack up everything you'll need for the last three days in the old house and the first three days in the new house in your luggage, like you're going away on holiday. This includes your technology, your chargers, the food that you might need for the last few days and the first few days, the delph, the toiletries, and all those sorts of things." Sarah also advises packing for one extra day than you think you'll need on either side of the move to keep you covered if there are any complications along the way.
Don't delay when it comes to unpacking
Moving day has arrived and you just want to leave the boxes wherever, sit back and relax, right? As great as the temptation may be, Sarah says making a few clever decisions on the day can make things easier for you in the long run. 
"When the movers bring in the boxes from the van into your new house, make sure that the relevant boxes for each room go in the right room. I have seen so many moves where half of the time is spent putting boxes into the right room before we can even start to unpack, and that is just so laborious and so, so annoying."
"Once you have the boxes in the relevant room, make sure you try to unpack as quick as you can. Generally a lot of people don't unpack because they're waiting for the perfect piece of furniture, the perfect cabinets, the perfect storage, so the boxes just remain, but it would be better if those boxes were empty and the stuff that was within them just sat floor for now. It might seem like a mess, but once you've unpacked, these items are out in your house reminding you to get these jobs done."
What it comes down to, really, says Sarah, is making small, clever decisions every step of the way. "It's all about making this as easy, straightforward, and as time efficient as possible." 
Once that's done, then it's time to put your feet up, turn on the TV and pop the champagne. 
Tick one big thing off your list before you move in with Sky's exclusive new home offers and get your Sky TV and Ultrafast Broadband setup for your move in day. Find out more here. Terms and conditions apply.