The Italian parliament of Mario Monti includes the highest earners of any parliament in the EU.
Image: Pier Paolo Cito/AP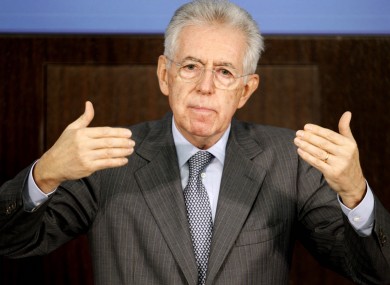 The Italian parliament of Mario Monti includes the highest earners of any parliament in the EU.
Image: Pier Paolo Cito/AP
Updated, 19.28
MEMBERS OF THE ITALIAN parliament are the best-paid of any parliamentarians in Europe, according to a study published by the Italian civil service ministry.
The study – overseen by the head of the country's national statistics bureau – aggregates the salary and expenses claimed by MPs in major European countries.
While the study does not include Ireland – where a TD's salary begins at €92,672, plus expenses – it shows that Italians are by far the best-paid public reps in Europe – with a basic salary of over €135,000 for members of the lower chamber of deputies.
In addition to this, MPs can also claim over €3,500 to claim travel expenses – which they don't need to spend on train, air or sea fares, or motorway tolls, because MPs are exempted from all of those fares.
By comparison, the lowest-paid MPs covered in the survey – those of Spain – have a gross salary of little over €33,000, and receive only modest office expenses (though they are each given a free iPad and mobile phone).
MPs in France earn over €85,000 gross per year, plus over €76,000 in office expenses; those of Belgium earn €88,488 a year but only receive €22,000 in office expenses. MPs in the Netherlands earn a touch over €100,000, but make do with less than €2,500 in office expenses.
Italy's Corriera della Sera newspaper said the report – though delivered before its deadline – was heavily delayed over disputes as to what precise expenses could be included in the survey.
In some cases, it said, the compilers struggled to find details for foreign equivalents of Italian institutions because many of them simply didn't exist.
The survey is likely to force the new prime minister Mario Monti to tackle political wages as part of forthcoming austerity drives; he had already pledged to tackle the rights of parliamentarians when he came to power in November.
He was quickly rebuffed by MPs who said it would be up to parliamentarians to vote through a reduction to their salaries, as the parliament is self-governing and not under the authority of the government itself.
In Ireland, TDs' salaries are supplemented by a 'public representation allowance' of up to €25,700 a year, to cover expenses incurred in the course of their duties.
TDs are also paid travel expenses of between €8,400 and €36,150 per year depending on the distance they must travel to Leinster House – meaning a TD could accrue a total of €154,522 per year – €12,877 a month – on top of allowances of they hold positions like committee chairmanships.
Author's note: This piece was amended after an interpretive error in the original data came to light. Apologies for any confusion.