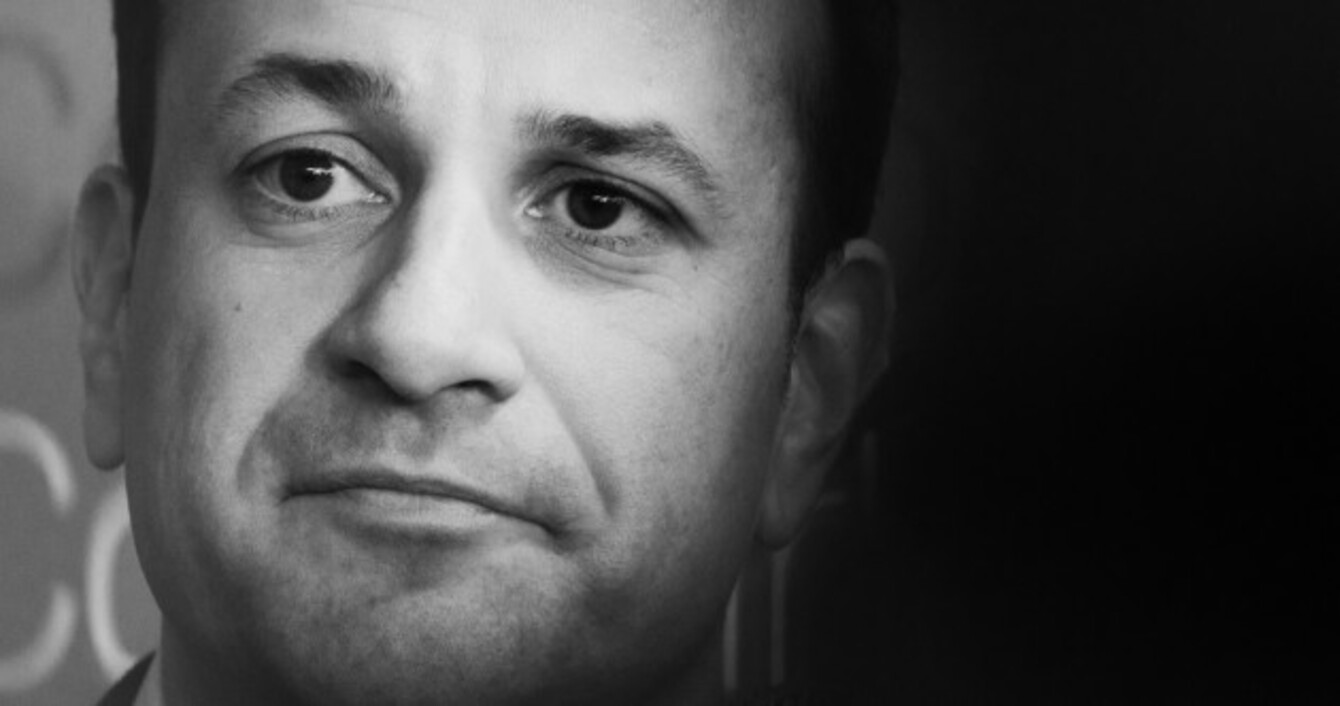 Taoiseach Leo Varadkar is to meet with Micheál Martin this evening.
Taoiseach Leo Varadkar is to meet with Micheál Martin this evening.
Updated 1.20pm
TALKS BETWEEN TAOISEACH Leo Varadkar and Fianna Fáil leader Micheal Martin will continue this evening in a bid to avoid a general election.
The pair spoke through the weekend but no deal has yet been forthcoming. A meeting between them last night has been described as constructive.
Varadkar is due to meet with Martin again in Dublin this evening.
Speaking to RTÉ Radio One this lunch time, the Taoiseach said no resolution has been reached "at this stage".
He said it is fair to say that neither Fine Gael or Fianna Fáil want an election, with the Taoiseach stating that he and his party are not trying to protect anybody in this situation, but called for due process.
Fianna Fáil has sought to force Tánaiste Frances Fitzgerald into stepping down after it was revealed that she ignored an email sent to her in May 2015 regarding garda whistleblower Maurice McCabe.
Varadkar has stood firm on his support of Fitzgerald. On Saturday he said that she has "done nothing wrong", while on Friday, he said that he would not throw Fitzgerald under the bus. Today he stood by his previous remarks.
The Taoiseach said both parties are "trying to find a way" to avoid the people having to go to the polls in late December.
"I'll do everything I can to come to a resolution," he added.
Speaking on RTÉ's Sean O'Rourke show this morning, Foreign Affairs Minister Simon Coveney struck a more conciliatory tone, stating:
"Fianna Fáil do have genuine concerns."
He said he understood the party wanted political accountability, stating that the talks between Fine Gael and Fianna Fáil are attempting to figure out a way that this can be achieved.
Avoiding an election
It's understood some progress was made during the crunch talks yesterday, with reports that solutions are on the table. These include a possible commitment from government that a major overhaul of the Department of Justice will take place in the new year, with the possibility of the department being split in two between home affairs and policing and security.
However, when this idea was floated over the weekend it was ruled out by Fianna Fáil.
Other solutions could see Frances Fitzgerald answering further questions in the Dáil while also offering an apology.
However, it is unclear whether this would be enough for Fianna Fáil to row back from their position of calling on the Tánaiste step aside.
Coveney called for "cool heads" and reiterated the point that a general election did not make sense. He also said Fitzgerald has been "unfairly treated".
He said discussions are ongoing today, but said Fianna Fáil and Fine Gael have failed to "finalise a package of proposals" that would avoid an election.
"There is no attempt here to hide anything or protect France Fitzgerald from the exposure of truth – quite the opposite," he said.
The minister said the Charleton tribunal will begin assessing the matter in early January.
While serious issues are at play today – there was one gaffe on Twitter that had people in a spin.
John Concannon, the head of the Taoiseach's Strategic Communications Unit, sent out a cryptic tweet – "#GE17″.
He quickly issued a correction, stating that he had hit the wrong button in error.
#Open journalism No news is bad news Support The Journal

Your contributions will help us continue to deliver the stories that are important to you

Support us now
Political accountability 
Speaking earlier today on Morning Ireland on RTÉ Radio 1, Fianna Fáil's Finance Spokesperson Michael McGrath said Fianna Fáil does not want an election but that there must be political accountability.
He the situation has arisen because of a "catastrophic failure of judgement by the Tánaiste".
Minister of State Damien English said, "A general election is not what we want in this point in time."
We're trying to keep a government together. I believe Michael Martin and Leo Varadkar are making every effort to keep this government together because it's quite clear from anyone you talk to, no matter who they support, they do not want a general election.
Explaining Varadkar's point of view, he said: "He believes it would be wrong for Frances Fitzgerald to resign over this because she didn't do anything wrong."
Meanwhile Labour leader Brendan Howlin said: "When she was Minister for Justice she failed in her ministerial responsibility on this crucial issue of protecting a whistleblower when it was public policy that Maurice McCabe needed to be protected.
There was an underhand under the radar move by the Garda Commissioner to destroy that man that was made known, we now know, to the department and the Minister and she didn't act.
If the vote goes before the Dáil tomorrow, Howlin said the Labour Party will support the motion of no confidence.
Fianna Fail's motion of no confidence is scheduled for tomorrow night and if a solution is not found before then, a Christmas election is inevitable.
Documents 
Over the weekend, the Taoiseach handed over documents to Micheál Martin in an attempt to convince him that Fitzgerald had acted appropriately.
Opposition parties are calling for the documents which outline Department of Justice correspondence in relation to Fitzgerald's knowledge of a garda legal strategy against McCabe to be made available to all parties.
Labour's Alan Kelly has said that it's vital that the documents are given to opposition parties. He has put forward numerous Parliamentary Questions requesting correspondence with Department of Justice in relation to the legal strategy, but his requests have all come to no avail.
A trawl of documents at the Department of Justice will continue this morning, with any further evidence set to be delivered to the Disclosures Tribunal.
Yesterday afternoon a government spokesperson confirmed to TheJournal.ie that Fitzgerald will allow her name to go forward for the Dublin Mid West general election convention on Tuesday.
With reporting by Christina Finn