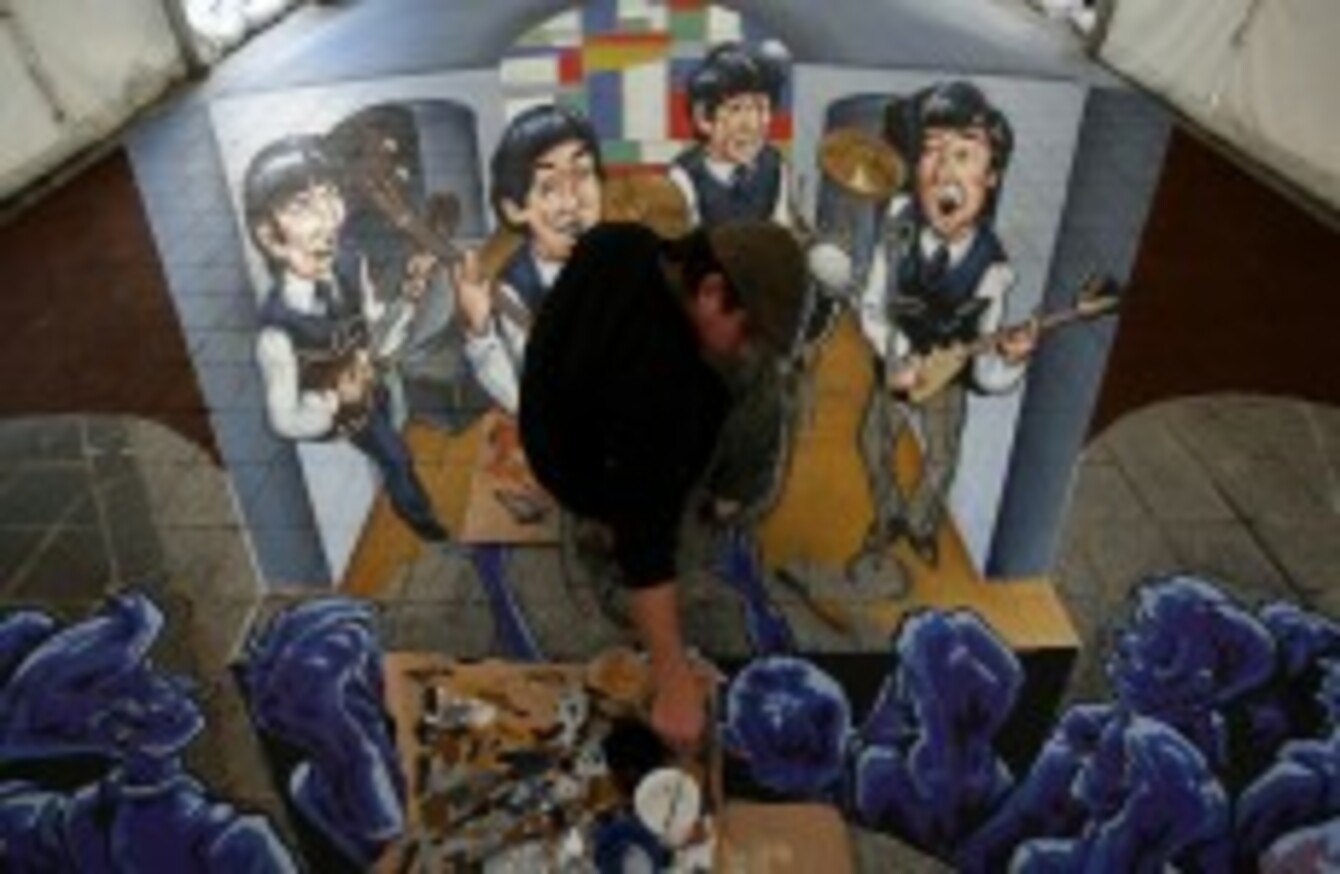 3D street painter Juandres Vera from Mexico works on his image of The Beatles in Liverpool.
Image: Dave Thompson/PA Wire
3D street painter Juandres Vera from Mexico works on his image of The Beatles in Liverpool.
Image: Dave Thompson/PA Wire
EVERY EVENING, TheJournal.ie brings you a round-up of the day's biggest stories, as well as the bits and pieces you may have missed.
David Norris lead the race for the presidency in the latest Red C opinion poll with 21 per cent of support, as Labour's Michael D Higgins stays out in front among the confirmed candidates. The poll was carried out for tomorrow's Sunday Business Post. Meanwhile, Sinn Féin's Martin McGuinness has struck back at criticism questioning his fitness to act as Ireland's president and says he won't resort to "petty attacks" on other candidates.
Amid continuing fears over a Greek debt default, the IMF has called for immediate action from world leaders to avoid another global recession.
Galway University Hospital has appealed to the public not to present at its emergency department unless it is a genuine emergency because of "extreme pressure" on the hospital. The HSE told TheJournal.ie earlier today that 32 patients were awaiting beds at the hospital this morning.
Further suicide awareness and prevention courses are being planned for members of the Oireachtas after just one TD and one senator showed up to the first scheduled course yesterday.
It's not for the faint-hearted: wingsuit diver and general daredevil Jeb Corliss has succeeded in pulling off this incredible stunt in China. After jumping out of a helicopter, Corliss used his special suit to glide through a gap in a mountain:
The Department of Health is considering allowing the introduction of a cannabis-based drug used by MS sufferers in the UK, Spain and Canada.
The bill for travel, subsistence and clothing for District and Circuit Court judges in Ireland topped half a million euro last year, according to figures released in response to a Dáil question recently.
Former Russian president and current prime minister Vladimir Putin is set to run for the presidency again next year. What does current president Dmitry Medvedev make of the plan? According to Putin, Medvedev can be prime minister.
One man was arrested in Germany this morning after firing an air rifle at security guards near where Pope Benedict was due to say mass. The service went ahead and police said that no one was seriously injured in the incident. Meanwhile, Pope Benedict met with victims of clerical sexual abuse from across German parishes last night.
An investigation is underway after a woman and five of her children, aged between two and 14 years, died in a house fire in north-west London early this morning.
Former Bishop of Derry Edward Daly says his lasting memory of 1980 visits to the infamous Long Kesh prison (later known as The Maze) is of the stench of the cells and the haggard, sunken appearance of the prisoners.
In an opinion piece for TheJournal.ie today, the manager of animal rights group PETA explains that the organisation feels it has to use graphic imagery and provocative campaigns in its push for the ethical treatment of animals. PETA is about to launch an X-rated not safe for work site to expose animal cruelty.
Some good news on the weather front – temperatures are set to rise up to 24 degrees next week as forecasters promise us an Indian summer.
The search for the final resting place of a US satellite which plunged to Earth this morning continues, although NASA says it the satellite's debris most likely landed in the Pacific Ocean. In our poll today we asked if you thought space exploration was worth the money it costs and at the time of writing almost three-quarters (73 per cent) said 'yes'.