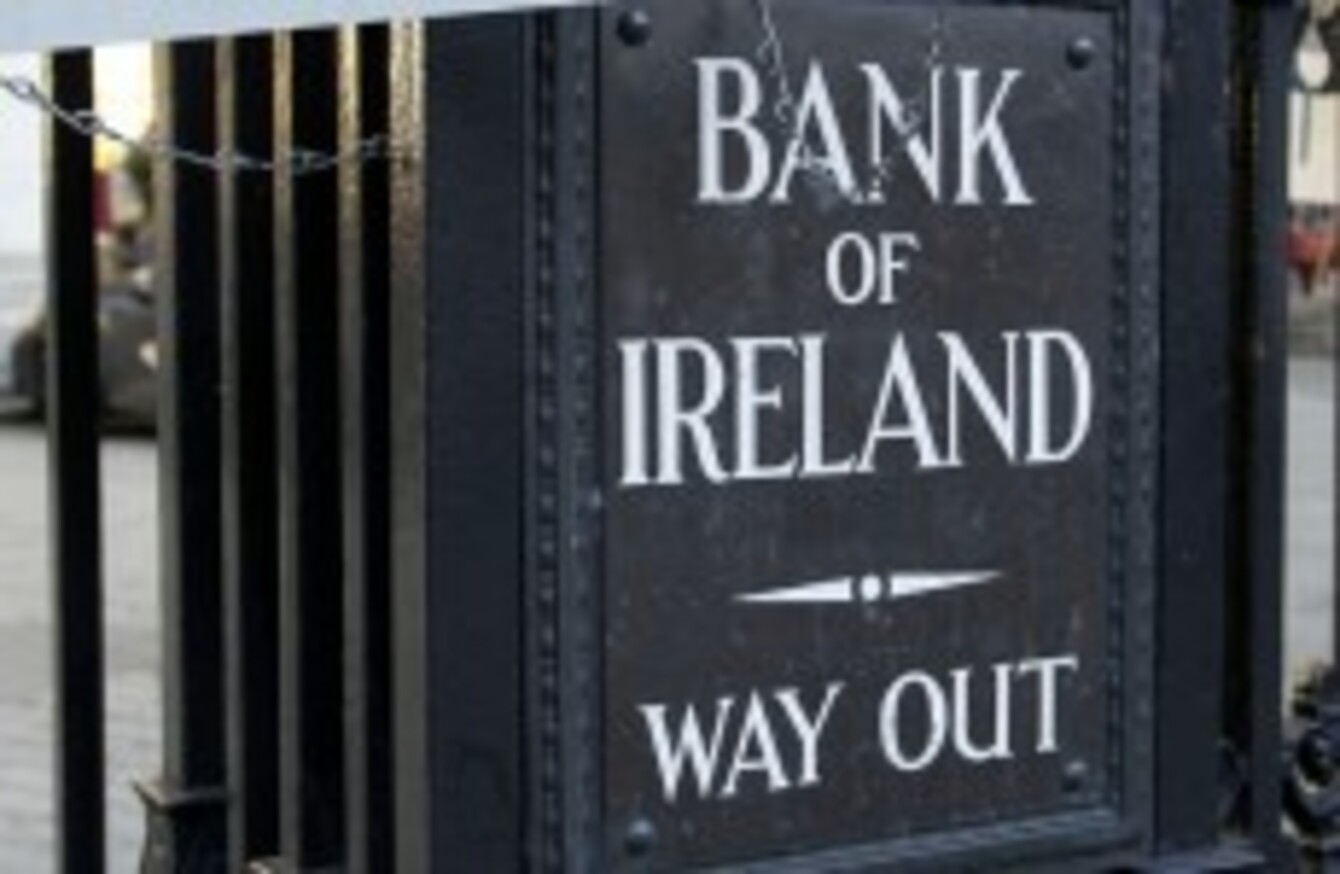 Image: Peter Morrison/AP
Image: Peter Morrison/AP
THREE IRISH BANKS will require €9bn in new capital between them, according to preliminary results of the latest round of stress tests due tomorrow.
Leaked results of the tests, results of which are expected to be made public tomorrow, indicate that the volume of capital required by the six institutions covered by the government guarantee will ultimately mean that all six will have been taken into majority state ownership, with many fully nationalised.
Bloomberg's Joe Brennan said early results of the stress tests which are due to be made public tomorrow, said that Bank of Ireland would be shown as needing another €5bn in capitalisation.
That figure had been offered by no fewer than five people familiar with the matter, Brennan added.
That level, if true, would see Bank of Ireland fall into majority state ownership, with the taxpayer already controlling 36 per cent of the bank from previous capitalisations.
Irish Life & Permanent, the only Irish bank covered by the state guarantee, will also require a major public cash injection – with up to €3bn of taxpayer funds required to plug the hole in the bank's assets.
That injection would see the life assurance company and mortgage lender taken entirely into state ownership, dwarfing the current price of the institution on the market – with IL&P only worth €112m on the Dublin stock exchange before trading in its shares was suspended this morning.
EBS Building Society, meanwhile, will also require €1bn – more than doubling the amount already put into the institution by the taxpayer.
The volume of capital needed by EBS, if the report is correct, would explain the decision of finance minister Michael Noonan earlier today to cease the state's negotiations with Wilbur Ross's Cardinal group, which was set to take the already-nationalised building society off the state's hands.
There was no indication in the leaked report of the level of capital that Allied Irish Banks would need, nor were figures for Irish Nationwide or Anglo Irish Bank given.
In the latter's case, little new capital is likely to be needed, with the latest round of stress tests understood to focus more on each institution's exposure to the domestic mortgage market.
The exposure of AIB or Irish Nationwide – both of which are already in state control – to the domestic property markets, however, would mean that each institution could also be in need of billions more in taxpayer funding.
This evening the Central Bank said that shares in AIB and Bank of Ireland would be suspended from trading tomorrow, pending the public release of the stress test results.