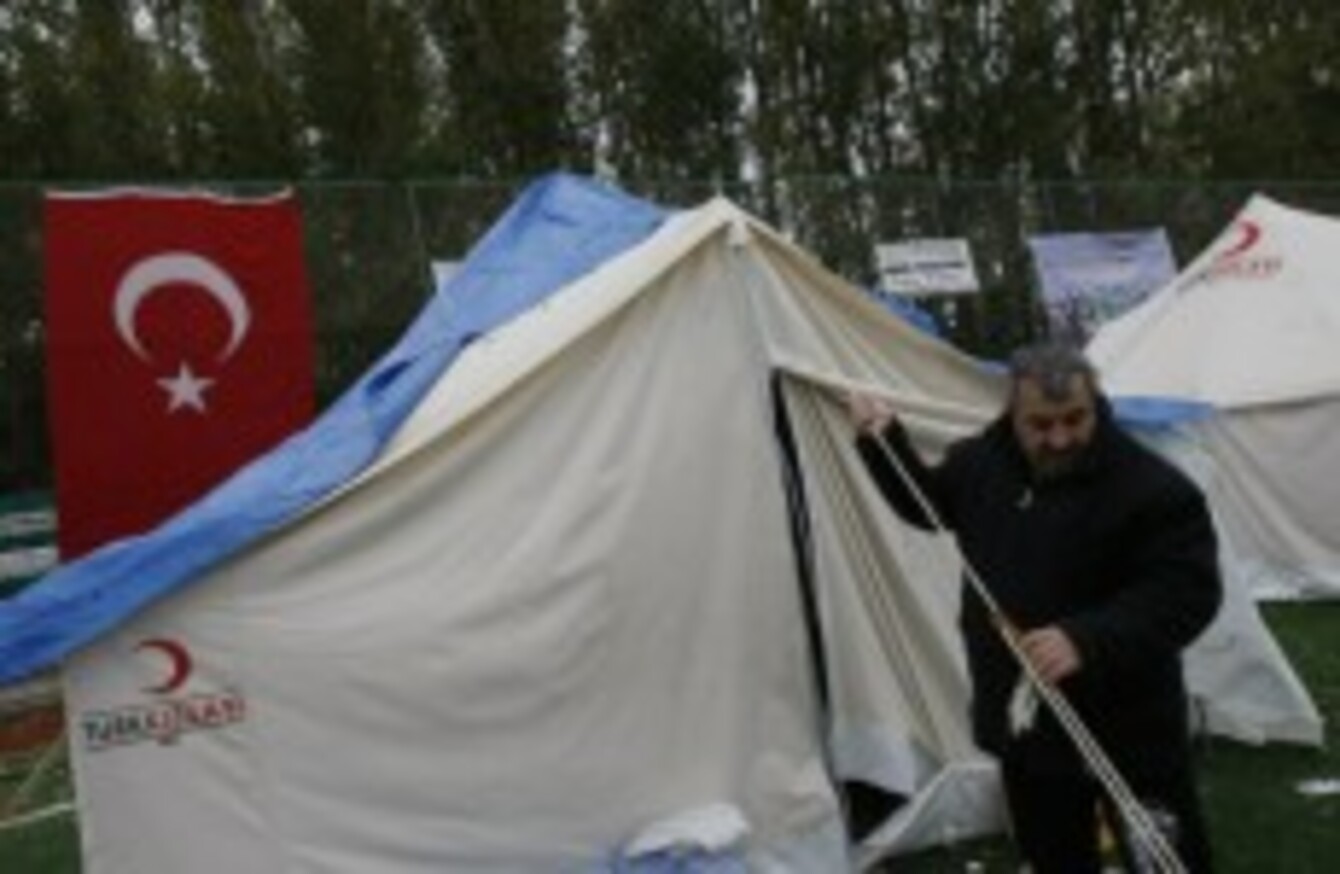 An unidentified earthquake survivor fixes his tent in a tent city set up in a soccer field in Ercis, Van.
Image: Burhan Ozbilici/AP/Press Association Images
An unidentified earthquake survivor fixes his tent in a tent city set up in a soccer field in Ercis, Van.
Image: Burhan Ozbilici/AP/Press Association Images
THE TURKISH GOVERNMENT has said the death toll from last Sunday's devastating earthquake has risen to 534.
Another 2,300 people have been injured but at least 185 have been rescue from the rubble, the prime minister's centre for crisis and emergency management said.
The BBC reports that hundreds of people are still missing under collapsed buildings.
However, inclement weather – including rain and snow – has made life more difficult for rescue teams, as well as the thousands of now-homeless citizens.
Turkey's weather agency predicted intermittent snowfall for the next three days.
Earlier today there were reports that a 19-year-old was pulled alive from the rubble but according to the Associated Press, that rescue happened on Tuesday.
Missing
Searchers continue to sift through piles of debris, recovering more bodies. Yesterday, they included two dead teenage sisters and their parents who were holding hands, and a mother clutching her baby boy, according to media reports.
Two teachers and a university student were rescued from ruined buildings yesterday, but there were no signs of survivors elsewhere and excavators were clearing debris from some collapsed buildings. One of the teachers later died in hospital, NTV reported Thursday.
Meanwhile, a moderate earthquake, measuring 5.4 according to Turkey's Kandilli seismology center, hit the neighbouring province of Hakkari today, sending people rushing out of buildings in fear and panic. No damage was reported but NTV television said some people were slightly injured while trying to escape through windows.
It was centred 150 kilometres south of the epicentre of Sunday's devastating quake.
Turkish authorities delivered more tents after acknowledging initial problems in the distribution of aid for survivors of the 7.2-magnitude quake that shattered at least 2,200 buildings on Sunday.
Survivors have been complaining about getting sick and being short of accommodation and other basic needs.
Foreign aid
Foreign assistance also began arriving after Turkey said it would accept help to house survivors through the winter.
Ireland is to provide €300,000 emergency aid, the Department of Foreign Affairs said.
Israel, which has a troubled political relationship with Turkey, sent emergency housing units, blankets and clothing.
However, the humanitarian gesture will not improve the relations between the two countries, according to Turkey's Foreign Ministry. The New York Times reports the department noted Turkey's appreciated but reiterated its stance on the strained relationship.
More than 50 countries offered assistance immediately after the quake, including Germany, the UK, Russia and the Ukraine.
More than a dozen television stations organized a joint aid telethon, amassing just under 62 million Turkish Lira in aid for the region.
-Additional reporting by AP