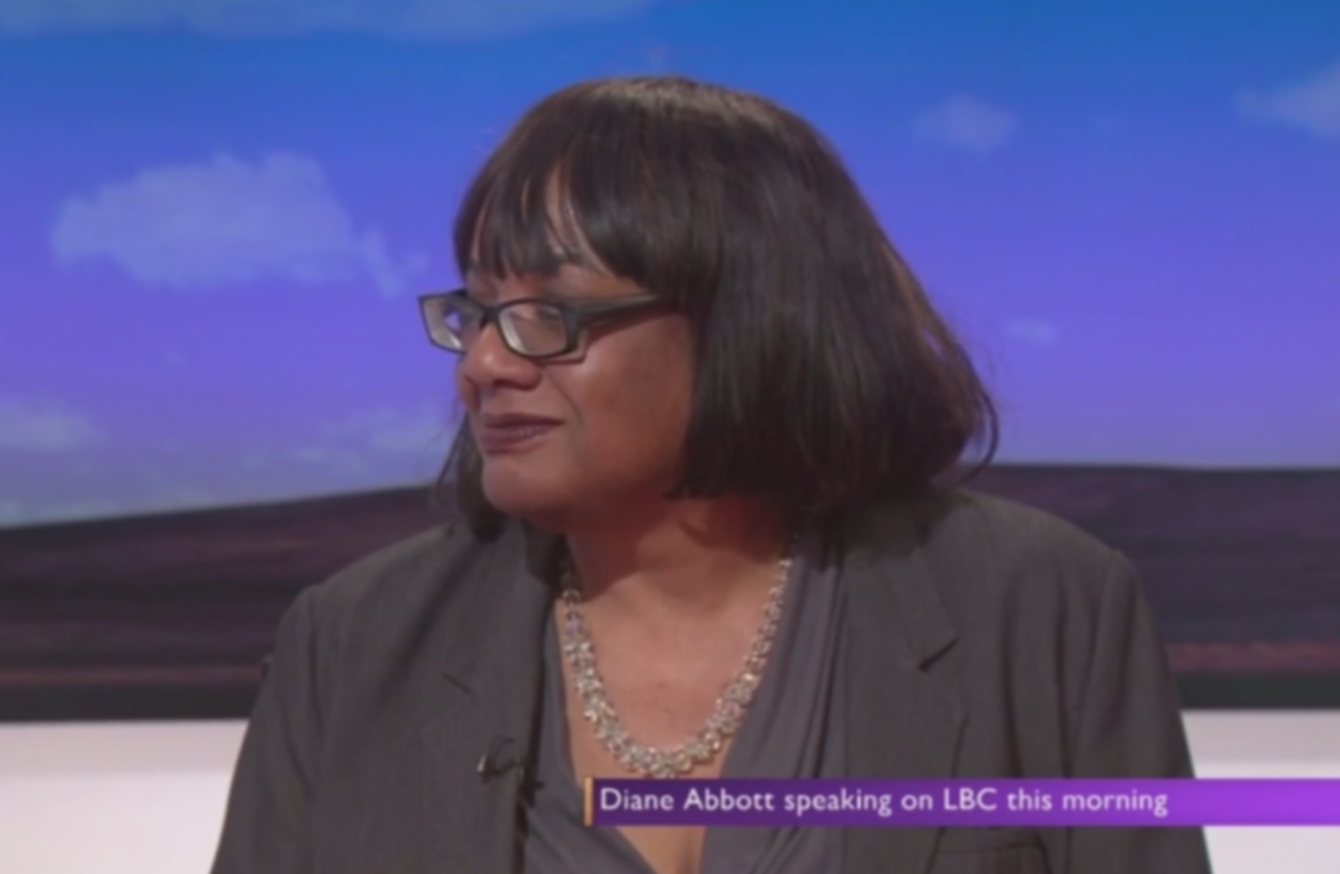 Image: BBC/Independent.co.uk
Image: BBC/Independent.co.uk
A SPOKESPERSON FOR the Labour party in the UK is being criticised after conducting a disastrous radio interview where she repeatedly mixed-up the cost of hiring new police officers.
Diane Abbott, Home Secretary spokesperson, was speaking on LBC radio when she was asked how much 10,000 new police officers would cost.
She said that it would cost £300,000.
"£300,000? For 10,000 police officers? What are you paying them?" the presenter said.
If those figures were right, they'd be paid £30 per officer, and that's a recruitment process 'over a four-year period', according to Abbott.
"Sorry," Abbott said. "They will cost… they will, it will cost, eh, about… about £80 million."
(You can listen to the full interview here.)
We get to that figure because we anticipate recruiting 25,000 extra police officers a year at least, over a period of four years and we're looking at both what average police wages are generally, but also specifically police wages in London.
After saying that the money they'd use to recruit those police officers has already been spent by Labour in other promises, presenter Nick Ferrari returned to that €80 milllion figure, because again – it just didn't add up.
"But I don't understand, if you divide £80 million by 10,000, you get £8,000. Is that what you're going to pay these policemen and women?" he asked.
Source: gemini48/YouTube
The rest of the exchange wasn't any clearer.
Abbott: We will be paying them the average…
Ferrari: Has this been thought through?
Abbott: Of course it's been thought through.
Ferrari: Where are the figures?
Abbott: The figures are that the additional costs in year one when we anticipate recruiting about 250,000 policemen will be £64.3 million.
Ferrari: 250,000 policemen?
Abbott: And women.
Ferrari: So you're getting more than 10,000? You're recruiting 250,000?
Abbott: No, we are recruiting 2,000 and perhaps 250.
Ferrari: So where did 250,000 come from?
Abbott: I think you said that, not me.
#Open journalism No news is bad news Support The Journal

Your contributions will help us continue to deliver the stories that are important to you

Support us now
"No, no," Ferrari said, glancing at the production team with a smile. "I can assure you, you said that figure because I wrote it down."
The interview ended with this final comment from Abbott, after finding seemingly firmer footing on these figures:
What I'm saying about the costs is in year one, obviously, we're getting ready to recruit. But in year two, the cost will be £64.3 million. In year three, the cost will be a £139.1 million, year four, the cost will be £217 million and year five, the cost will be £298 million. And that can be amply covered by reversing the cuts to Capital Gains Tax.
During an interview with the BBC's Daily Politics show, the interview was played back to Abbott while she grimaced and smiled.
It was put to her that she didn't just "misspeak" (as she claims), but that she 'doesn't know her figures and is not on top of her brief'.
"If I didn't know my figures," Abbott replied, "Why was I able to do six other interviews and give the figures correctly? You need to ask why the Conservative party is so anxious to move the debate away from the 20,000 police officers."
Today is the official beginning of the UK election campaign, as the UK's parliament dissolves two weeks after the snap election was called.
Prime Minister Theresa May called the elections in a bid to strengthen her political position in the lead-up to Brexit talks. But EU leaders are also hoping she gets a strong mandate, giving her more leeway to compromise on issues and reach a deal.
Polling day is 8 June – until then, Brexit talks in Europe and Assembly negotiations in the North are on hold.