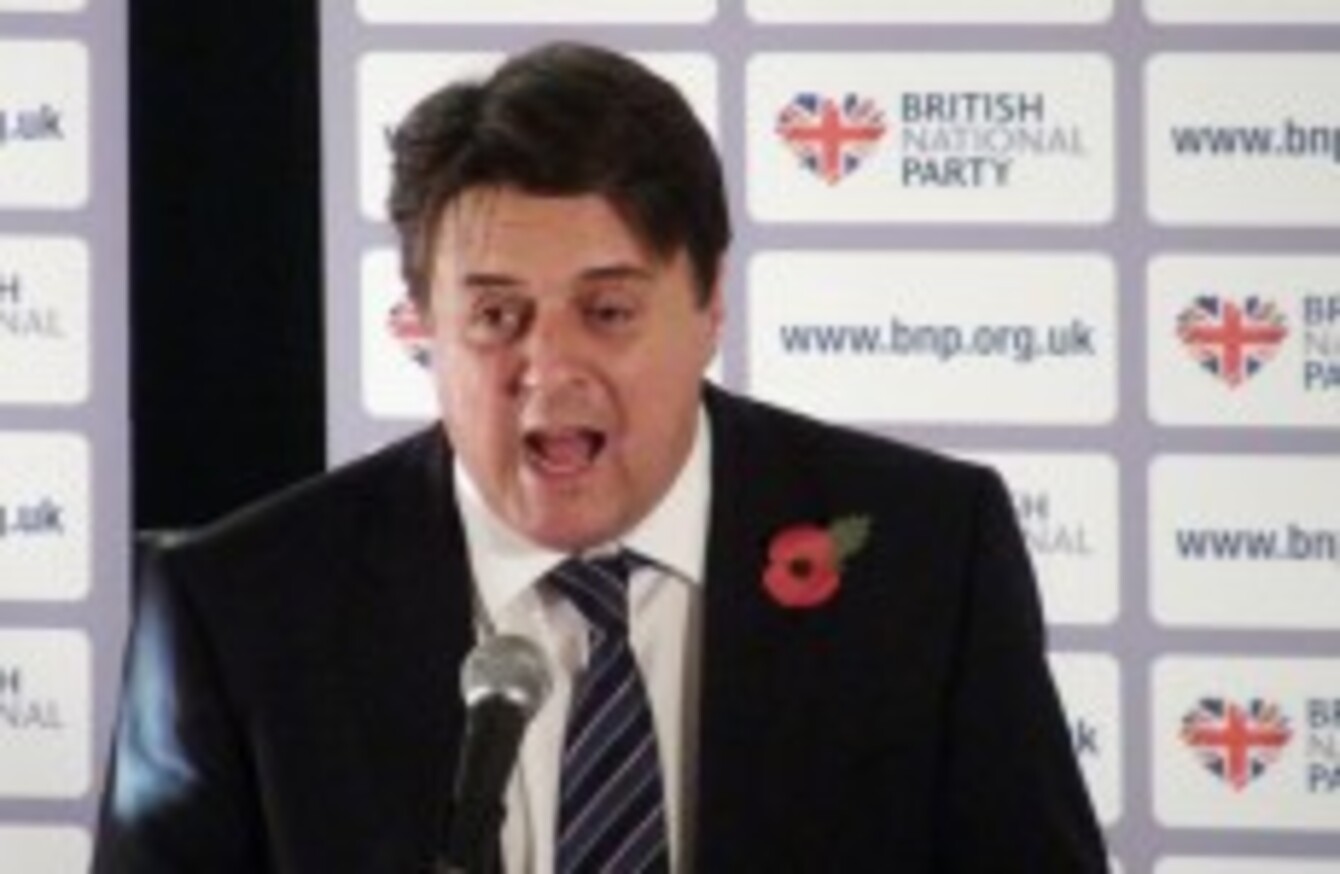 Image: Mike Hornby/PA Archive/Press Association Images
Image: Mike Hornby/PA Archive/Press Association Images
CAMBRIDGESHIRE POLICE HAVE launched an investigation into alleged comments made by the British National Party (BNP) leader Nick Griffin concerning a gay couple the centre of a landmark legal case.
The MEP is alleged to have tweeted the address of Brampton couple Michael Black and John Morgan and called for a demonstration outside their home.
Black and Morgan had gained media attention for bringing a legal case against a B&B owner who had refused to allow them to stay in a double room together in 2010.
The couple sought damages against Susanne Wilkinson, owner of the Swiss Bed and Breakfast in Berkshire, after she refused to allow them to rent the double room they had booked – and left a deposit for – because of her religious beliefs. It was claimed that Wilkinson had treated the men "less favourably than she would treat unmarried heterosexual couples in the same circumstances".
A court awarded the couple £1,800 each for "injury to feelings" but accepted that Wilkinson has also stopped unmarried heterosexual couples sharing a bed in her establishment.
Alleged tweets
Police are now investigating alleged tweets posted on Nick Griffin's account (@nickgriffinmep) concerning the case.
One of the alleged tweets reportedly stated:
So Messrs Black & Morgan, at [the couple's home address]. A British Justice team will come up to Huntington & give you a…
…bit of drama by way of reminding you that an English couple's home is their castle. Say No to heterophobia!
Another tweet allegedly read:
We'll hold demo… for rights of all home owners, gays included, to rent or not rent rooms to whomsoever they wish.
Following this, Griffin's account was briefly suspended before being reinstated without the tweets in question.
A spokesperson for Cambridgeshire Police said they had received "a number of calls" in relation to the tweets and would look into the allegations, according to the BBC. Police officers will also be visiting Black and Morgan as part of their inquiries.
'Fenian bastards'
Meanwhile, a statement from Griffin's Constituency Office has been issued to explain his use of the phrase "fenian bastards" on Twitter.
Griffin said he meant no offence to Catholics in general or the Catholic religion in using the controversial term, and insisted that the BNP was "most definitely not anti-Catholic or anti-Irish".
The statement read: "We are the only party speaking up in defence of traditional Christian values and recognise that the Catholic Church has been more faithful to those values than the Church of England."
It continued:
While we are staunch advocates of the Union and the right of Ulster's loyalists to maintain their unity with the rest of the United Kingdom and to celebrate their vibrant culture and their Protestant Faith, we are most definitely not anti-Irish. Working class Irish communities in England have been among the biggest victims of mass Third world immigration designed to lower wages and remake our society on specifically anti-Christian lines.
We are appalled to see Ireland being turned into a Third World Islamic slum even more rapidly than Great Britain, and we urge the peoples of the island of Ireland to bury the old sectarian divisions, to recognise the existence, culture and value of both native traditions, and to work together to reverse the tidal wave of immigration that, unchecked, will make them all foreigners in their own land.
Unlike the anti-Irish hypocrites of Sinn Fein, our position is both principled and logical. Keep Ireland Irish. Keep Britain British. Eirinn go Brach and No Surrender!