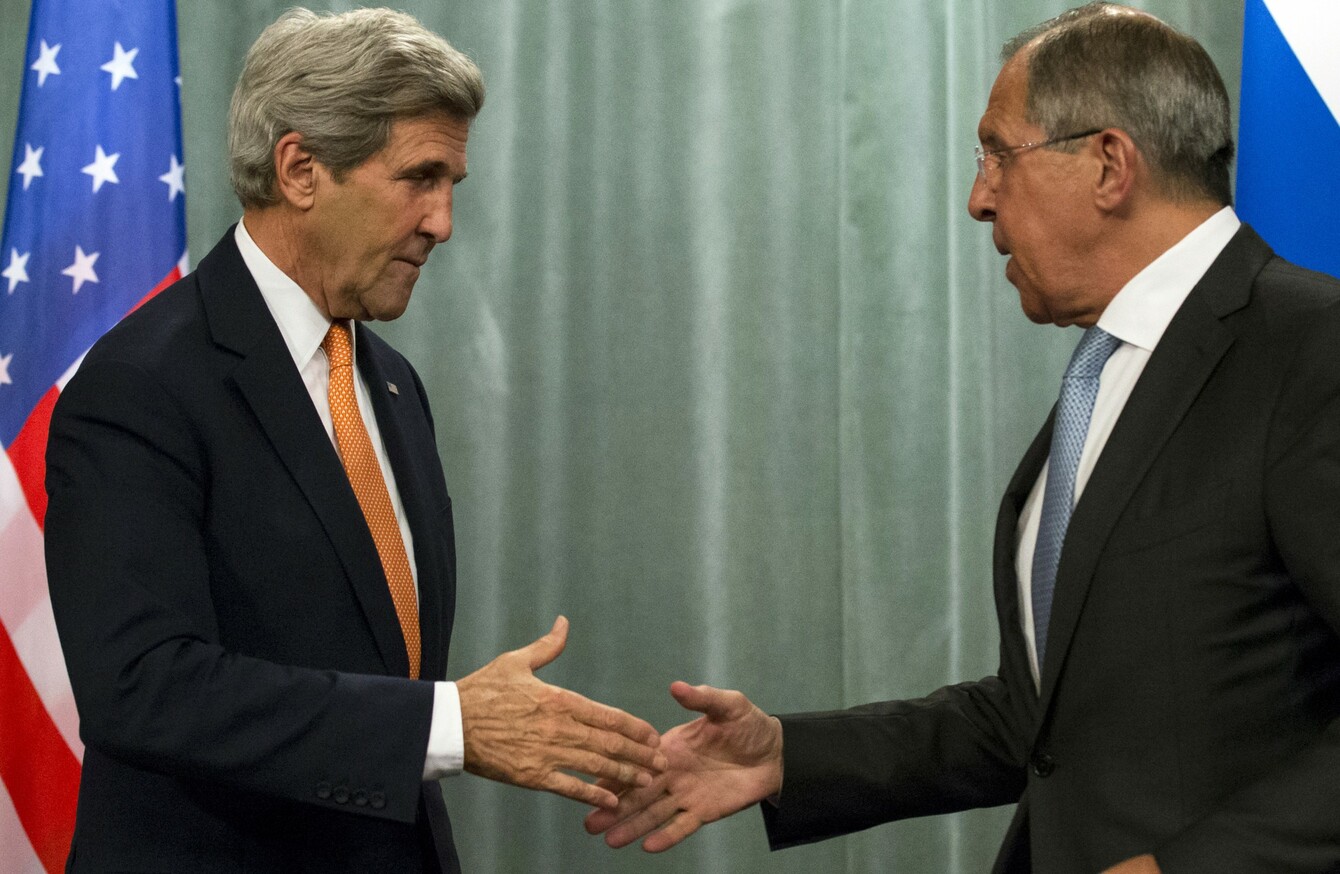 US Secretary of State John Kerry, left, and Russian Foreign Minister Sergey Lavrov, who agreed a ceasefire peace deal earlier today.
Image: PA
US Secretary of State John Kerry, left, and Russian Foreign Minister Sergey Lavrov, who agreed a ceasefire peace deal earlier today.
Image: PA
Updated 5.51pm 
SYRIA'S GOVERNMENT HAS approved a ceasefire deal brokered by its Russian ally and the US to end fighting in the war-ravaged country, but the main opposition group was more cautious.
The landmark deal, reached after marathon talks in Geneva yesterday, could also lead to the first joint military operations by Moscow and Washington against jihadists.
But even as diplomats touted the agreement as a path to peace, a barrage of airstrikes on the northwestern city of Idlib killed 24 people and wounded dozens.
The Syrian Observatory for Human Rights said it was not immediately clear who carried out the raids, and said some bodies "were burned beyond recognition".
The truce deal negotiated by US Secretary of State John Kerry and Russian Foreign Minister Sergei Lavrov is set to enter into force on Monday, the first day of the Muslim holiday of Eid al-Adha.
Syrian state news agency SANA reported that the "government has approved the agreement, and a cessation of hostilities will begin in Aleppo for humanitarian reasons".
Citing "informed sources", it said "the entire agreement was reached with the knowledge of the Syrian government".
The opposition High Negotiations Committee said it had yet to receive the deal's "official text", however.
Leading HNC member Bassma Kodmani told AFP that her group "cautiously welcomed" the deal but was sceptical that Damascus would comply.
We are waiting for Russia to persuade the regime that it is necessary to commit to this agreement.
'Best chance'
Both Kerry and Lavrov said the complex plan is the best chance to end the five-year war that has killed 290,000 people and seen millions flee to neighbouring countries.
Under the deal, fighting would halt across the country at sundown on Monday and Syria's air force would stop attacking rebel-held areas.
A "demilitarised zone" would be established around the Castello Road leading into the battered second city of Aleppo so desperately needed aid can be delivered.
In turn, Washington must get opposition groups it backs to separate themselves from the Fateh al-Sham Front, which changed its name from Al-Nusra Front after renouncing its ties to Al-Qaeda.
If a cessation of hostilities holds for one week, the US and Russia — which back opposing sides in the war — could start joint operations against those jihadists.
Lavrov said Washington and Moscow agreed on zones in which joint "strikes against terrorists" would be conducted.
The HNC's Kodmani said the rebels would break ranks with the jihadists if the truce held. It said:
The moderate groups will reorganise and distance themselves from the radical groups. We will do our part.
The question of Assad's fate remains a key sticking point: the HNC repeated its demand this week that he leave power, but Russia continues to back him.
'Window of opportunity'
And Syria expert Charles Lister said mainstream opposition fighters had not indicated a willingness to break their alliance with powerful hardliners, which they see as "a military necessity".
The rebel-jihadist alliance is most pronounced in Idlib province, site of Saturday's deadly air strikes.
The Observatory said that in addition to the 24 dead at least 90 were wounded in the raids on various neighbourhoods of Idlib city, including a market.
#Open journalism No news is bad news Support The Journal

Your contributions will help us continue to deliver the stories that are important to you

Support us now
An AFP photographer in Idlib saw men clambering over rubble, in just slippers or sandals, to help evacuate wounded and dust-covered residents from a collapsing building.
Others tried to lift a bloodied shopper who had collapsed on the ground as a fire raged in an open-air clothes market.
A UN-backed truce agreed in February has been repeatedly broken by both sides.
The final hours of the US-Russia talks in Geneva dragged out as Kerry contacted the White House to get approval for the plan, but the top diplomat said both governments stand by it.
British Foreign Minister Boris Johnson welcomed the deal but said it was "vital that the regime in Damascus now delivers on its obligations".
Key rebel backer Turkey also backed the deal, adding that it was essential that the fighting stop and aid start flowing from day one of the ceasefire.
UN Syria envoy Staffan de Mistura said that the deal provided a "window of opportunity" and that he would begin consultations on a relaunch of peace talks.
German Foreign Minister Frank-Walter Steinmeier said: "Everything now depends on rapid implementation."
The truce deal follows heavy fighting around Aleppo in recent weeks during which the rebels fought unsuccessfully to break the government siege.