Image: Sasko Lazarov/Photocall Ireland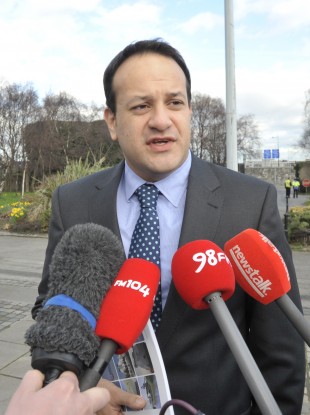 Image: Sasko Lazarov/Photocall Ireland
TOURISM MINISTER Leo Varadkar has warned that it would be "foolish" to think that Ireland could retain access to European Union bailout facilities if it did not vote 'Yes' in the forthcoming referendum on the Fiscal Compact.
Speaking on RTÉ's The Week in Politics last night, Varadkar said Ireland could not expect to be given access to the European Stability Mechanism – the new permanent bailout fund expected to come into effect in July – if it did not ratify the compact.
The terms of the compact mean that access to funds from the ESM is restricted to countries which ratify it – and Varadkar says Ireland should not expect to be given an exception to this.
"Nobody has a crystal ball… increasingly it looks like we won't need a second bailout, because we're meeting our targets," he said, before going on to compare an Irish 'No' vote to a household without home insurance.
Varadkar also insisted that it was not in the government's interest to deliberately link the ratification of the treaty to the Irish government being given a deal to restructure the Anglo Irish Bank promissory notes.
"It would be a very bad idea for us to overtly and publicly link the issue of promissory notes to the referendum," he said, because Ireland did not have a veto on the treaty, as it comes into effect as soon as 12 eurozone members ratify it. "If we vote No, we're just left out."
Seeking any special concessions from Europe as a bartering chip for the deal meant Ireland would be "rebuffed".
"If we were given a special concession on this matter, then every other country would have to be given special concessions too," the minister said.
Varadkar also denied that there was "fury" within the cabinet at the comments of Joan Burton, who last week had repeatedly linked a deal on the bank debt to a Yes vote.
Yesterday's Sunday Business Post, and today's Irish Times, both reported considerable anger within the government parties at Burton's comments, which went against those of senior ministers including Enda Kenny, Eamon Gilmore and Michael Noonan.