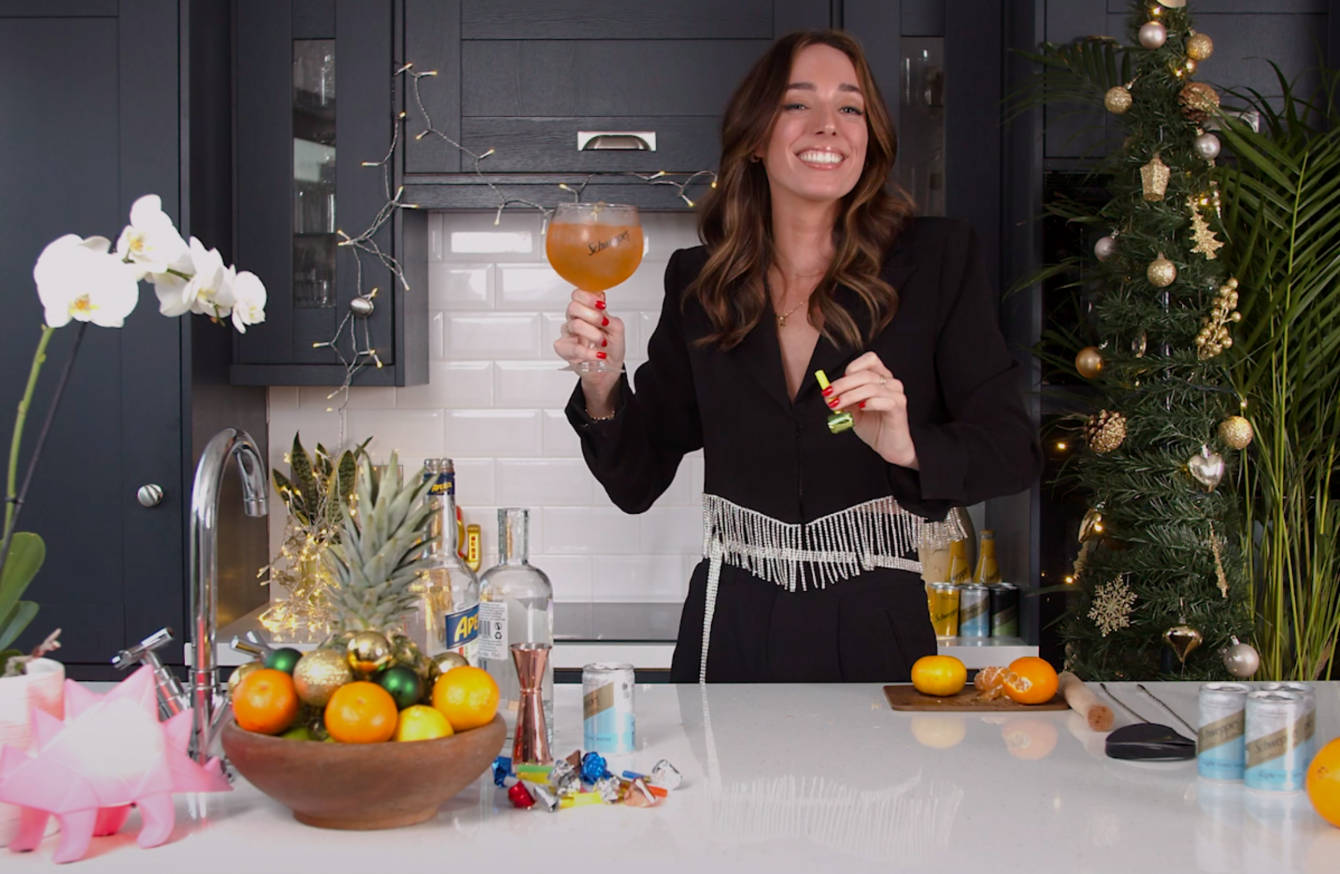 Source: Journal Media Studio/YouTube
IT'S ALMOST TIME to say 'sayonara' to the year that was 2020, and raise a glass to a fresh start in the first days of 2021. 
And if that isn't cause for celebration, well, what is? Of course this New Year's Eve will look quite different to most, but that's all the more reason to make it sparkle with an extra-special something to sip.
This December, we've teamed up with Schweppes and cocktail lover Ciara O'Doherty to bring you an anyone-can-do-it guide to drinks that will create a little magic at home. Our mission: to find the fizz in every festivity and add sparkles to every 'Sláinte', whether that's a night in by the fire or a Zoom catch-up with your crew.
Over the last few weeks, Ciara has been sharing some inspiration for every occasion – from a cosy night in, to an impromptu celebration. And today she's selecting some very special serves – "simple to whip up, and perfect for a New Year celebration" – to say an extra-cheerful 'cheers' to 2021. 
1. Mandarin Spritz
"This is the perfect serve to toast the new year with," says Ciara. "It's delicious and refreshing, and the mandarin juice gives a gorgeous pop of colour and flavour."
There are lots of different types of aperitivo out there, so just choose one you like – as you can see in the video above, Ciara uses Aperol.
35ml gin
10ml aperitivo
1 mandarin
150ml Schweppes Signature Light Tonic
Mandarin slice
Squeeze half a mandarin into the glass. Fill with ice, add all of the ingredients and stir gently. Garnish and enjoy.
2. Cranberry Fizz
Oranges and cranberries give an injection of fruity, festive flavours to the classic gin and tonic in this simple (but also quite swanky) serve.
150ml Schweppes Classic Slimline Tonic
35ml Irish gin
8 cranberries
2 orange peels
Muddle the cranberries and orange peels in the glass, then fill it to the top with ice. Pour the gin over, then top up with Schweppes Classic Slimline Tonic and feel the fizz!
3. Slim Santa
This sparkling serve gets its ruby-red colour from pomegranate juice and seeds – which also lend it a beautifully bittersweet tang. 
35ml vodka
130ml Schweppes Classic Slimline Tonic
35ml pomegranate juice
Pomegranate seeds
Fill the glass all the way to the top with ice, then add the pomegranate juice and seeds. Pour the vodka over. Finally, top up with Schweppes Classic Slimline Tonic, serve, and sparkle!
Whether you want to add fizz to a festivity or sprinkle some sparkles on a cosy night in, there's a Schweppes serve for you this New Year's Eve. We've got the tonic, you've got the spirit. For more inspiration check out our In The Mix cocktail hub, or visit instagram.com/SchweppesIreland.