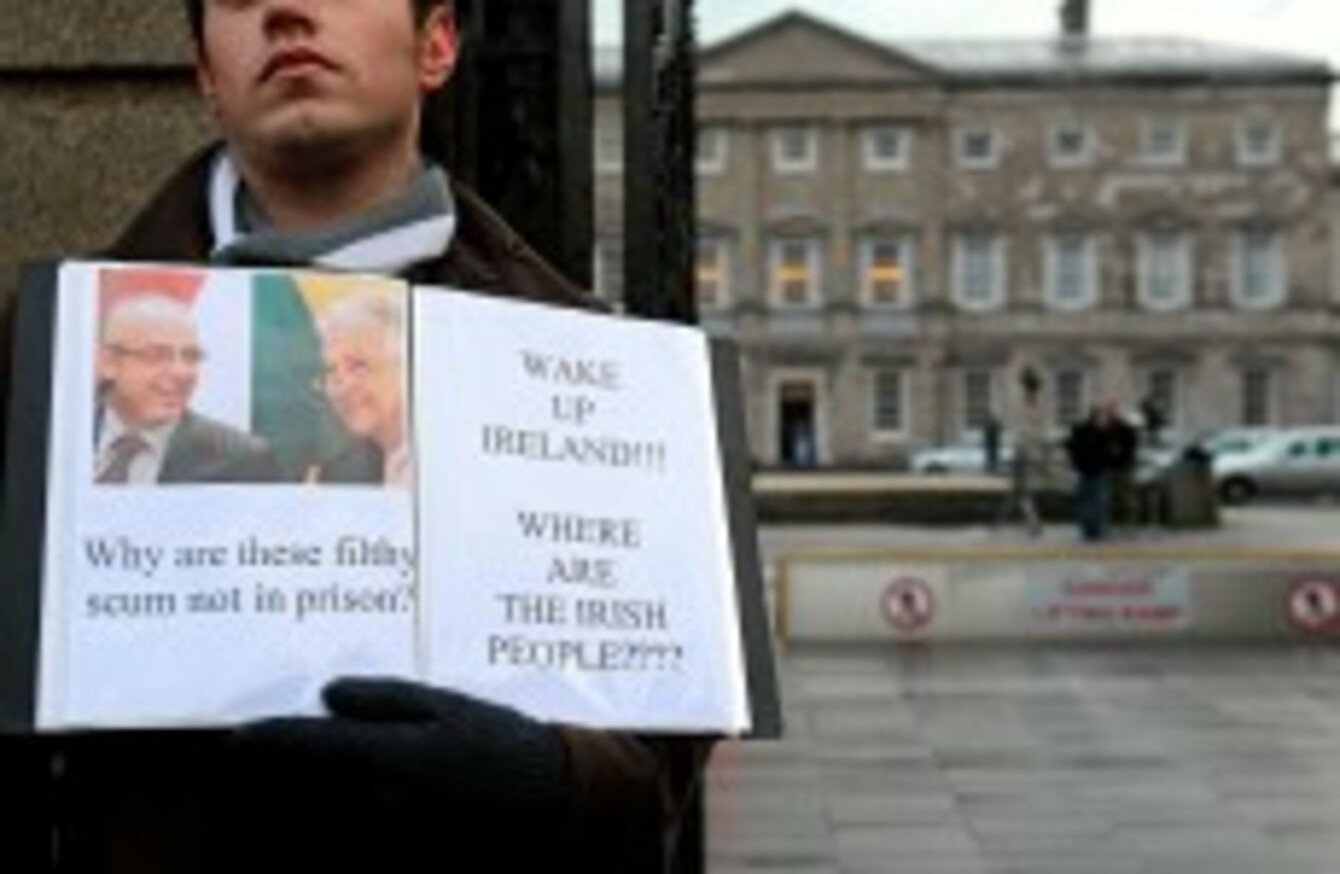 Image: Julien Behal/PA Archive
Image: Julien Behal/PA Archive
A NUMBER OF HIGH-PROFILE protests have emerged in the wake of the government's decision to apply for an International Monetary Fund and European Union-financed bailout of the banking sector.
Individual protests each involve taking to the streets to voice opposition to the government, silently standing outside Leinster House with placards, or – oddly – doing absolutely nothing at all for ten minutes.
Satirist and comedian Morgan C Jones, one half of the comedy duo Carmody & Jones and a member of the comedy team behind Newstalk's The Emergency, is organising a protest encouraging people seeking a change of government to travel to Leinster House at noon on Thursday and – in completely silence – stand displaying the placard reading 'You're Fired'.
In keeping with the message being displayed and the protest's desired goal, Jones is organising the protest through Twitter using the hashtag #youreFFired.
Jones told the Irish Times that he was keen for the protest not to turn violent, and that he did not want the demonstration to turn into a "large mob baying for blood".
The Irish Congress of Trade Unions, meanwhile, will hold what it calls a "major national demonstration" this Saturday, November 27, in support of its proposals on alternative ways of dealing with the national crisis.
Definition of 'stupidity'
The Union's general secretary David Begg said the protest was aimed at highlighting an alternative method to what ICTU perceives as a slash-and-burn budgetary strategy.
The protest is backed by author and Irish Times columnist Fintan O'Toole, who has argued that the government should not continue with its austerity budgets given how the economic situation has deteriorated after three such budgets.
O'Toole, writing in ICTU magazine The People's Voice, notes Roy Keane's definition of stupidity as "doing the same things and expecting different results", and said he believed the government was acting with such stupidity in its current track.
Barnardos chairman Fergus Finlay, meanwhile, is calling for a nationwide "silent treatment" protest on Budget day, December 7, calling for the "sort of message even a deaf, dumb and blind government can't ignore."
In his Irish Examiner column today, Finlay calls for everyone in Ireland to stop whatever they are doing for ten minutes at 2pm on December 7, saying he is "sick to the back teeth of listening to ministers announcing they've already taken the tough decisions, that the IMF entirely supports the measures in the budget and the four-year plan."
Finlay has considered a contender for the presidency of Ireland, and has declared his interest in the Labour Party's nomination in the election next autumn.