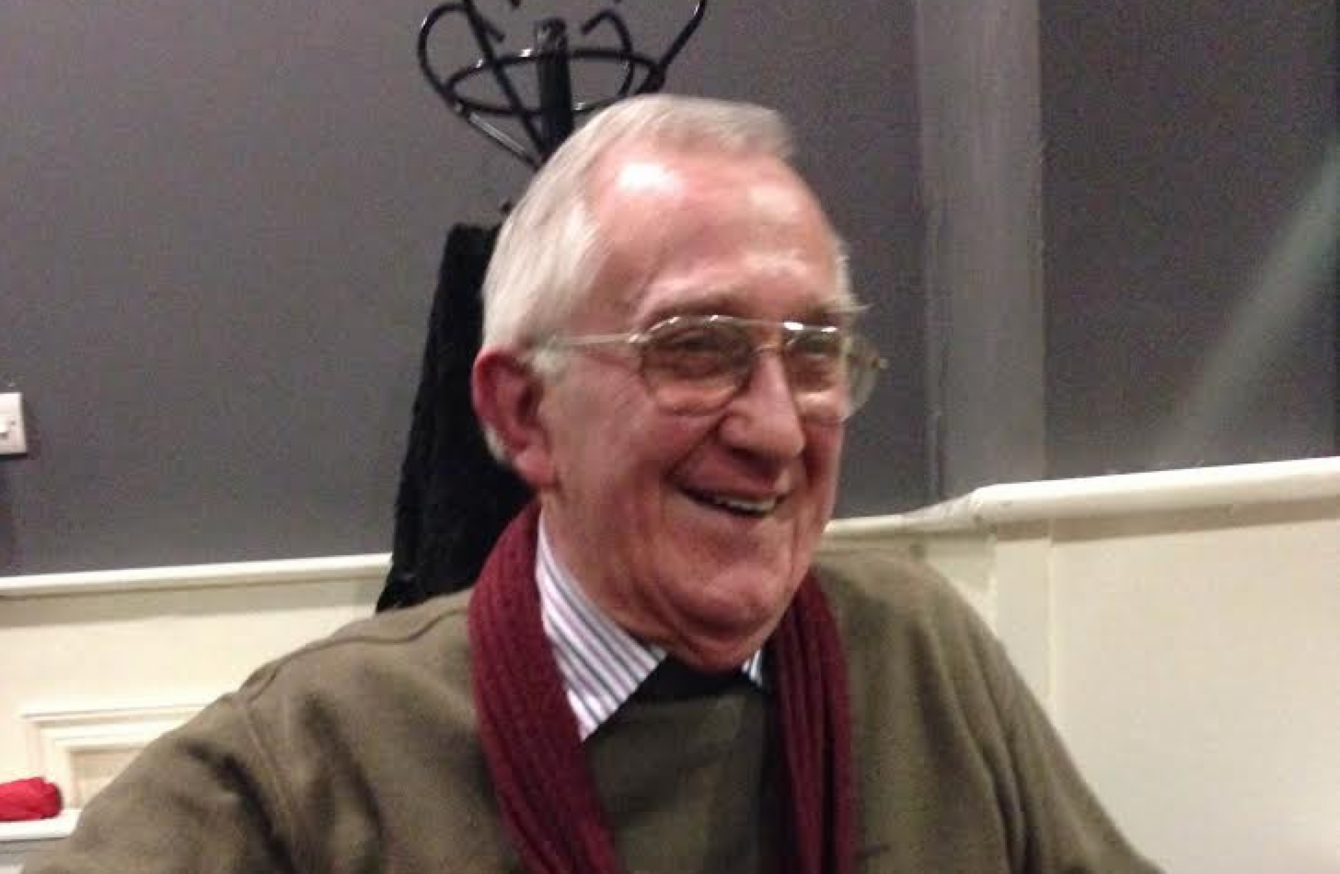 CHRISTMAS CAN BE a time for family and friends, but some people find the holiday season tough to handle.
Alone is a voluntary organisation that helps elderly people living in Dublin. From Christmas parties, to day trips away, to just having a friend to chat to, Alone helps the elderly in a number of ways.
Around the Christmas period, the charity's services are in high demand.
TheJournal.ie chatted to a volunteer and a friend of Alone to see how they help.
Michael Clasby (76) – Alone volunteer
Michael Clasby was looking for ways to stay involved with the community after retiring when he decided to become a volunteer with Alone.
The 76-year-old now visits a man, who is the same age as himself, every Monday afternoon.
Clasby put his name forward when he saw a plea from Alone at mass one Sunday morning. He told TheJournal.ie:
"I had models in my parents, they were always very good at looking out for those less fortunate than themselves."
Describing his working life, Clasby said, "I trained as a teacher but I didn't like the profession. Discipline was a big thing and I found it hard to be a disciplinarian so I qualified as a social worker instead."
Clasby was inducted with Alone last May and was matched up with a blind man in August.
"I phone him about 30 minutes beforehand so he knows I'm arriving. I speak through the door too to assure him.
He has asked me to close my eyes when I'm at home and try to experience his experience, it's a privilege to get some insight into what he's experiencing.
"For maybe a few minutes, you can see all the hazards the man has to face. It's really humbling in a sense and you benefit from the experience. He's very brave, he's a very good man."
Clasby added that the commitment isn't always easy, "It's certainly a challenge trying to go in. I live in north county Kildare and he lives over in south Dublin.
"You're there and you're trying to look at things from another person's viewpoint, put yourself in another person's shoes.
It's important to create a positive atmosphere. The visit is for them, it's not for you and they set the pace. We like to talk about old films we both know.
"Whatever subject they wish to bring up, you go with that. You respect them and respect their uniqueness and you respect their confidentiality."
Clasby added that working with Alone has also been a social outlet for him. Speaking about the recent Christmas party, the 76-year-old said:
"I met up with one or two people who were inducted with me, we were able to catch up and find out how each other were getting on.
"I was sitting across from a very engaging lady who proved to be a great dancer as well."
Marie Legget (72) – Friend of Alone
When Marie Legget's husband Brendan died it hit her hard. She had been married to him for 49 years and the silence in the house was difficult to handle after he had gone.
"I think I'm still in shock, I still think he's in the house sometimes," said Marie.
But I suppose when you're living with somebody for that length of time it's like that.
It's very hard because you still expect the person to be home at six o'clock.
 I often thought I heard him calling me… But it's just my imagine, I suppose.
#Open journalism No news is bad news Support The Journal

Your contributions will help us continue to deliver the stories that are important to you

Support us now
Marie has three daughters and one son, but she found that having no one outside of her family to talk to was difficult. Living with a bad back, she finds it difficult to go out on her own or be mobile.
It sort of knocks your confidence when you have a physical problem like that.
She made contact with Alone in the last year, and now gets weekly visits from volunteer Dónal. He also talks to her on the phone and helps her runs errands. She said that he was a good friend and a great help.
He's very obliging. If I need something done he has no problem doing it and he's a great help.
Marie also attended the Christmas party in December with Dónal, the first social event she had been to in awhile. She had a wonderful time.
I hadn't been out in so long. When I went to the party my sister said I sounded like a teenager going to a first disco.
It was great to see everybody and see how happy everybody was, because it can be very lonely.
Marie said that she thinks not enough people know of the good that Alone do and she will continue to be a part of their service next year and for years to come.
Alone has opened up another world for me. It's really great what they do.
Volunteers with Alone range in age from 21 – 85. For information on becoming a volunteer with Alone, check out alone.ie or email enquiries@alone.ie.
Alone stands for A Little Offering Never Ends. It was set up by Dublin firefighter, Willie Birmingham, in 1977 after he witnessed the isolation and appalling living standards of the elderly.
Image: PA WIRE/Niall Carson