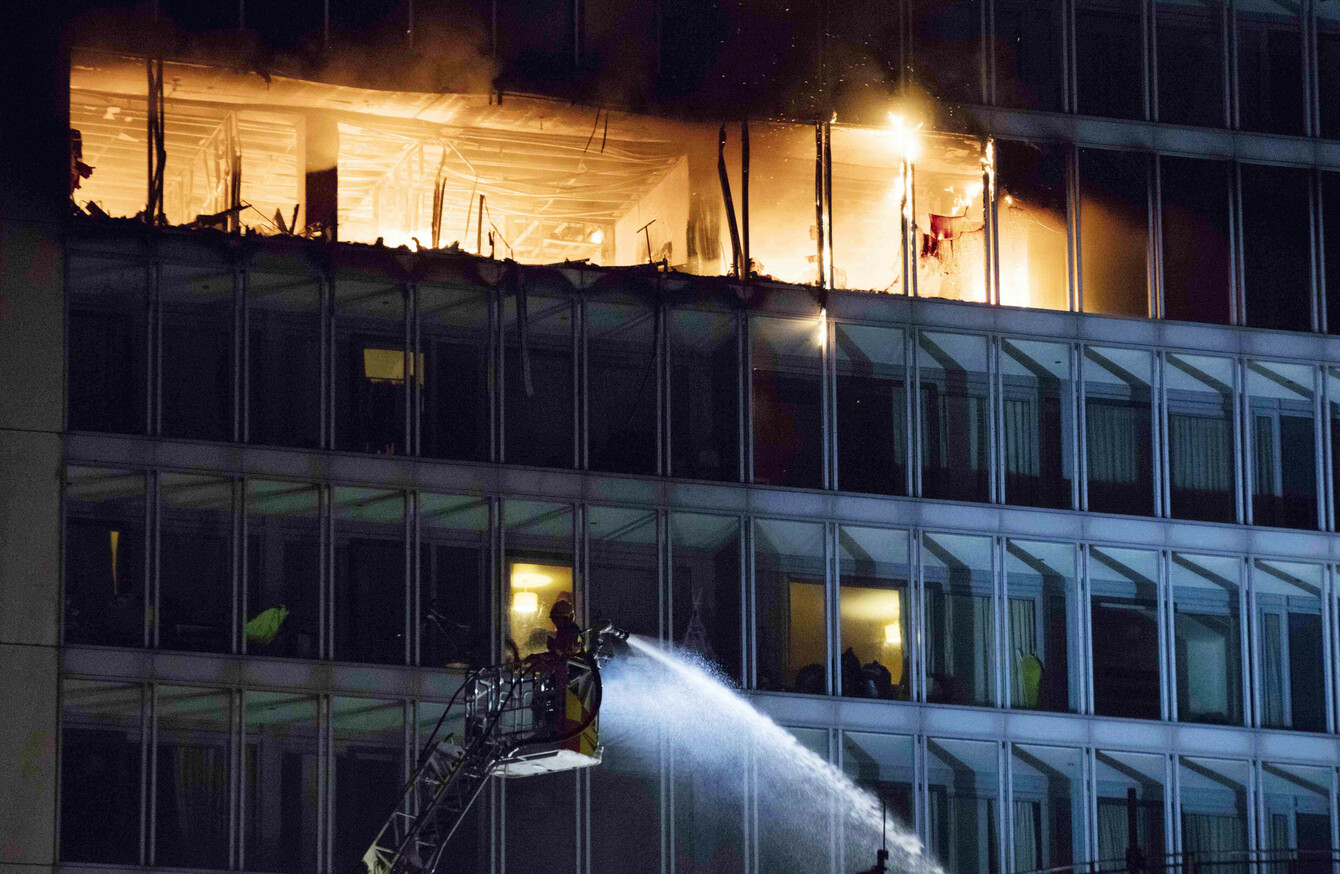 Image: Eamonn Farrell/RollingNews.ie
Image: Eamonn Farrell/RollingNews.ie
FIREFIGHTERS HAVE CALLED for an immediate risk assessment into the equipment available to them.
Last night, a huge fire ripped through the top part of a 16-floor building in Ballymun – which is made up of the 88 rooms of the Metro Hotel and 30 private apartments on the upper floors.
Dublin Fire Brigade were able to make the scene safe and there were no casualties, though homes were destroyed.
However SIPTU DFB Convenor Shane McGill told TheJournal.ie that the two turntable ladders available to the brigade were not of an adequate height if a rescue did have to be attempted.
If we had to rescue people from windows or balconies, we wouldn't have been able to reach them. The ladders we have are 33 metres tall, but you can buy ones up to 42 metres. Unfortunately, we haven't had investment in DFB ladders since 2006. The last unit we bought in December was a nine-year-old cast-off from the UK.
"The guys did us proud last night, but we have to learn."
McGill says that a risk assessment is needed across Dublin. Particularly as the two high-rise appliances are kept in Tara Street Station. This means that if a fire broke out in a high-rise building in Blanchardstown, Tallaght or Finglas, local crews would not be able to intervene.
If there's a fire ladder needed in Blanchardstown or Tallaght at 6pm in the height of traffic, there will be lives lost.
"We need to look at what we have and what we need urgently. Why don't we have turntable ladders around the county? Since 1981, there has been no increase in the provision of high reach fire appliances, despite the city having grown considerably since then. We have to keep up with what we're building."
Unions in DFB are seeking a meeting with Housing Minister Eoghan Murphy.
Fórsa Head of Communications, Bernard Harbor, said:
"The government's fire safety policy, called Keeping Communities Safe, has again been shown to be flawed as it fails to address the need for comprehensive risk assessments, training, and resources for high rise fires. We are calling for an urgent meeting with the Minister to discuss what action must be taken to ensure the safety of both the public and firefighters."
McGill said that DFB will be seeking input into any investigation into last night's fire, particularly due to the unusual spread of the blaze, going from the 13th to the 10th floor of the building.