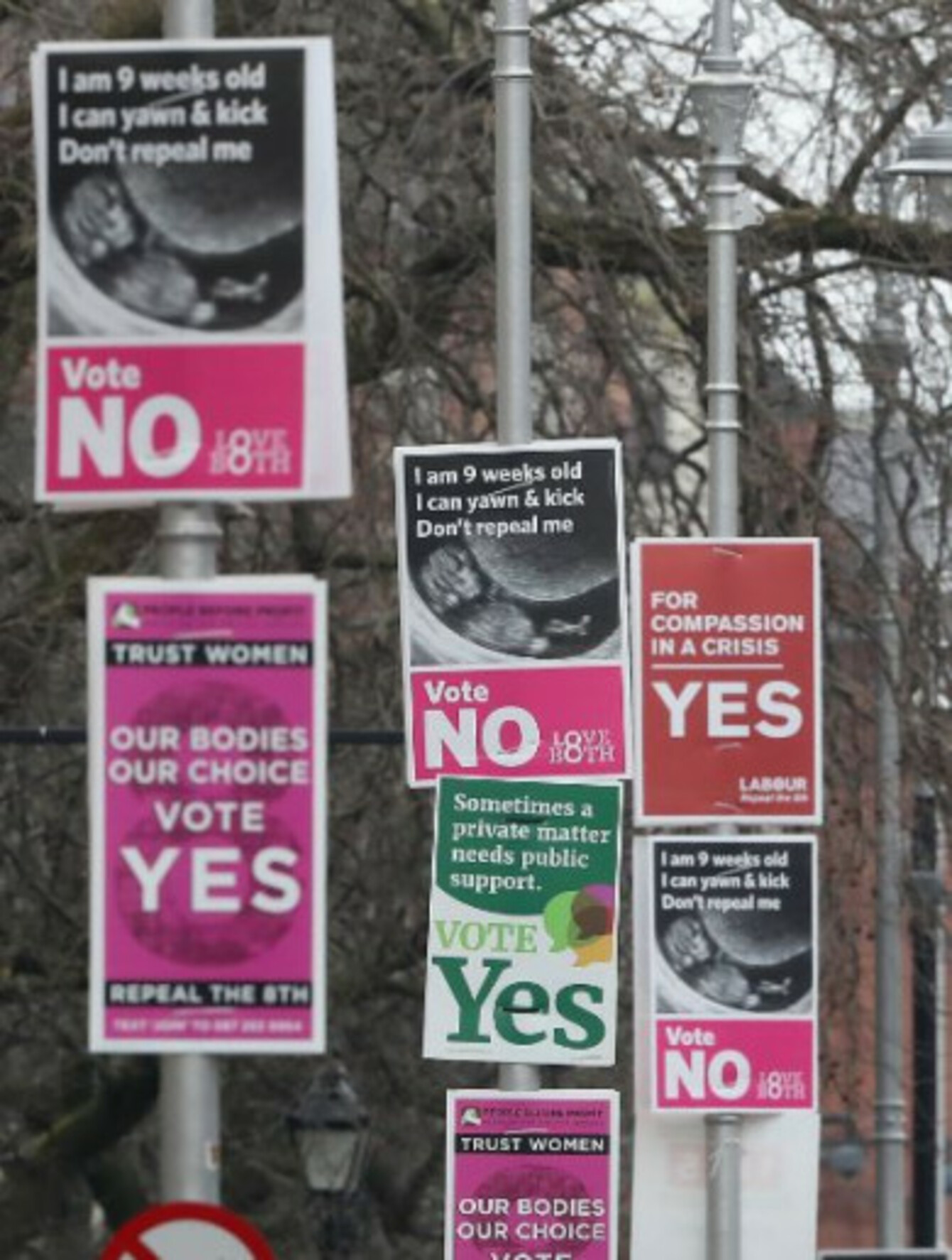 Posters in favour of and against repealing the Eighth Amendment outside Government Buildings in Dublin, ahead of the referendum on 25 May
Image: Niall Carson/PA Wire/PA Images
Posters in favour of and against repealing the Eighth Amendment outside Government Buildings in Dublin, ahead of the referendum on 25 May
Image: Niall Carson/PA Wire/PA Images
A CANADIAN-BASED NGO plans to send an 'observation team' to Ireland to monitor the upcoming referendum on the Eighth Amendment.
Sustainable Development Assistance International (SDAI) intends to send 20-24 people, working in teams of two, to several locations throughout Ireland both before and after the vote on 25 May.
Ireland nominates citizens for international election observation missions, as part of its commitment to human rights and democracy, but it's more unusual (although not unheard of) for an international group to observe an election or referendum here.
Observers are involved in overseeing and monitoring the election process to ensure that it is fair and impartial. In 2017 Ireland sent citizens on election observation missions, overseen by the European Union or the Organization for Security and Co-operation in Europe, in countries such as Armenia, Turkey, Kosovo and Kenya.
Karen Reinhardt, executive director of SDAI, said the organisation has received applications from about 40 interested people – from Europe, the US and Canada – for the Irish mission to date.
Speaking to TheJournal.ie, Reinhardt said: "We feel that 20-24 observers is a manageable number with which to work. Observers will be accredited by the appropriate electoral bodies in the areas they will observe."
She said the group doesn't have a preference for the outcome of the referendum.
Neither myself, nor our organisation, nor our observers, have a preference for the outcome of the referendum. We are concerned with the process, not the outcome, which is solely a matter for the Irish people.
When asked about ensuring the neutrality of the observers involved, Reinhardt said: "It would be hard to find a person who does not have an opinion on this issue … All our observers will sign and agree to adhere to a code of conduct regarding their behaviour during the mission."
The mission is expected to last five days – observers will receive a briefing and training on 23 May and stay in Ireland until 27 May.
"After the briefing and training, they will move to the areas of the country that they will observe in, to familiarise themselves with their area of observation. On referendum day they will spend the day in several polling stations, to observe and report on the activities there," she said.
SDAI has not finalised exactly where the observers will visit but Reinhardt said the group plans "to cover as wide an area as possible".
"Any election or referendum observation mission is only able cover a relatively small sample of the country. One important point is to cover as balanced a mix as possible of rural and urban areas," Reinhardt said, adding that SDAI has made "initial contact with relevant electoral bodies".
In a statement explaining the reasoning behind sending the observation team to Ireland, SDAI said: "Feelings on both sides of the question are fierce, and neither side trusts the other to 'play fair' … We are sending an international election observation team to Ireland to observe whether or not the two sides do 'play fair'."
When asked to elaborate on this, Reinhardt said: "In terms of 'playing fair', there are strong feelings on both sides, and previous votes and discussion have been bitter. The level of trust between pro-life and pro-choice seems to be very low."
She also noted certain media coverage about "one or the other side blaming each other of various infractions or unfair advantage" and "allegations from both sides about money from abroad trying to influence the vote".
Fundraising
SDAI is aiming to raise $7,000 (about €4,500) online to pay for elements of the initiative. At the time of publication, it had raised over $700 (about €450).
Individual observers are paying for their transportation to and from Ireland, accommodation and meals, Reinhardt said.
She told us: "The funds raised on GoFundMe will be used to pay various expenses associated with the mission, and to further support the observers in the field."
Some of the money will also be spent on organising presentations from "experts in areas relating to the referendum" as part of the observers' training, as well as venue costs and in-country transportation costs. No specific experts have been confirmed as of yet.
Reinhardt said SDAI is "hopeful" it will reach its fundraising goal but realistic that this may not happen given the limited timeframe. If the group doesn't raise the money, Reinhardt said: "We will look more closely at our costs to decide where we might be able to economise in order to complete the mission."
This is the first time SDAI has observed an election or referendum. Reinhardt said the organisation considered sending an observation team to Ireland at the time of the Marriage Equality Referendum in 2015, but "decided against it as there were already other groups committed".
'Increase confidence in the result' 
Reinhardt told us impartial election observation is "an internationally accepted method of measuring, against internationally accepted standards, the implementation of electoral legislation at an electoral event".
"One of the pillars of SDAI's mandate is that of democracy support. Democracy support can take many forms, one of which is the observation of elections.
This referendum is an important one for Ireland, and SDAI's presence as an impartial observation group will, hopefully, increase the confidence of the Irish people in the result.
"Oftentimes, simply the presence of an impartial group of international observers gives citizens a sense that the international community cares about what happens in the country.
"While Ireland does not have a history of fraudulent behaviour in polling stations, observation can be considered to be a positive reinforcement of the general principles of free, fair and transparent elections," she said.
A spokesperson for the Department of Housing, Planning and Local Government confirmed that SDAI "has been in touch with the Department recently in relation to sending observers to the referendum".
"Similar NGO groups have visited during elections and referendums in the past, and this is a normal part of the democratic process," they told us.
When asked about SDAI's plans, a spokesperson said the Referendum Commission "has no role in this".
"Our role is set out in law and is to explain a referendum proposal, to promote public awareness of a referendum and to encourage people to vote," they added.
A spokesperson for Save the 8th, which is in favour of retaining the Eighth Amendment, said the group "believes that the Irish electoral system is free, transparent, fair, and honest" and "there is no need for international observers".
Together for Yes, which is campaigning for the Eighth to be repealed, had not replied to a request for comment at the time of publication.