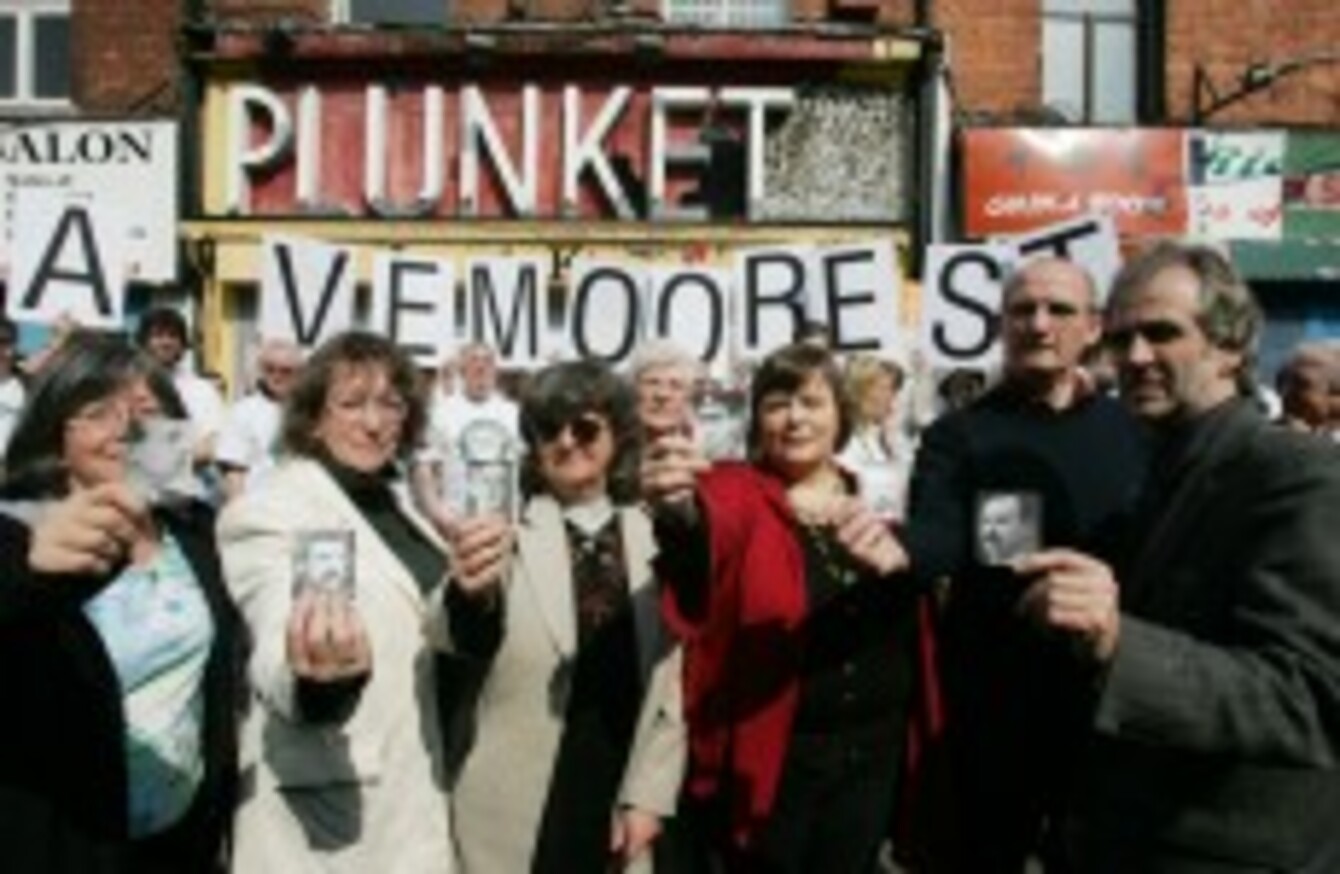 Families of members of the 1916 Rising leaders outside No 16 Moore Street,
Image: Leon Farrell/Photocall Ireland
Families of members of the 1916 Rising leaders outside No 16 Moore Street,
Image: Leon Farrell/Photocall Ireland
SINN FÉIN IS BRINGING a private members' motion before the Dáil calling for the protection of the buildings which served as the headquarters of the provisional government during the 1916 Rising.
The site at 14-17 Moore Street close to the GPO in Dublin city centre has already been designated a national monument due to the role of No 16 as the headquarters and last meeting place of the leaders of the Easter Rising.
Padraig Pearse, James Connolly, Michael Collins, Thomas Clarke and Joseph Plunkett offered their surrender from No 16 after pulling out of the GPO.
However, a new development on O'Connell Street which is awaiting ministerial approval would result in excavation on ground in or around the Moore Street site, raising concerns about the protection of the building.
Arts Minister Jimmy Deenihan recently said that he had received a submission from the National Museum of Ireland raising issues about the proposed development, and he would be announcing his decision on the project "as soon as possible".
The Dáil members' motion notes the deterioration of the monument "which has languished in a vacant and neglected state for many years" as well as the potential threat to the monument from the current planning application relating to the O'Connell Street development.
The motion "resolves to ensure that the 1916 National Monument at Nos 14-17 Moore Street is fully protected and preserved in its entirety as designated and that the surrounding buildings, streets and laneways are retained in such a manner that the potential to develop this area into a 1916 historic/cultural quarter can be fulfilled".
It calls on the Minister for Arts, Heritage and the Gaeltacht "to act without further delay" to ensure the monument's full preservation, and to:
develop a plan to transform the GPO/Moore Street area into an historic quarter and battlefield site so as to protect and preserve the 1916 National Monument and the associated streetscapes and laneways, thus greatly enhancing our national heritage and tourist potential in our capital city as we approach the centenary of the Easter Rising.
Sinn Féin says that descendants of the signatories of the 1916 Proclamation helped to draft the motion.
The motion will be taken during the party's private members' time in the Dáil on Tuesday and Wednesday.