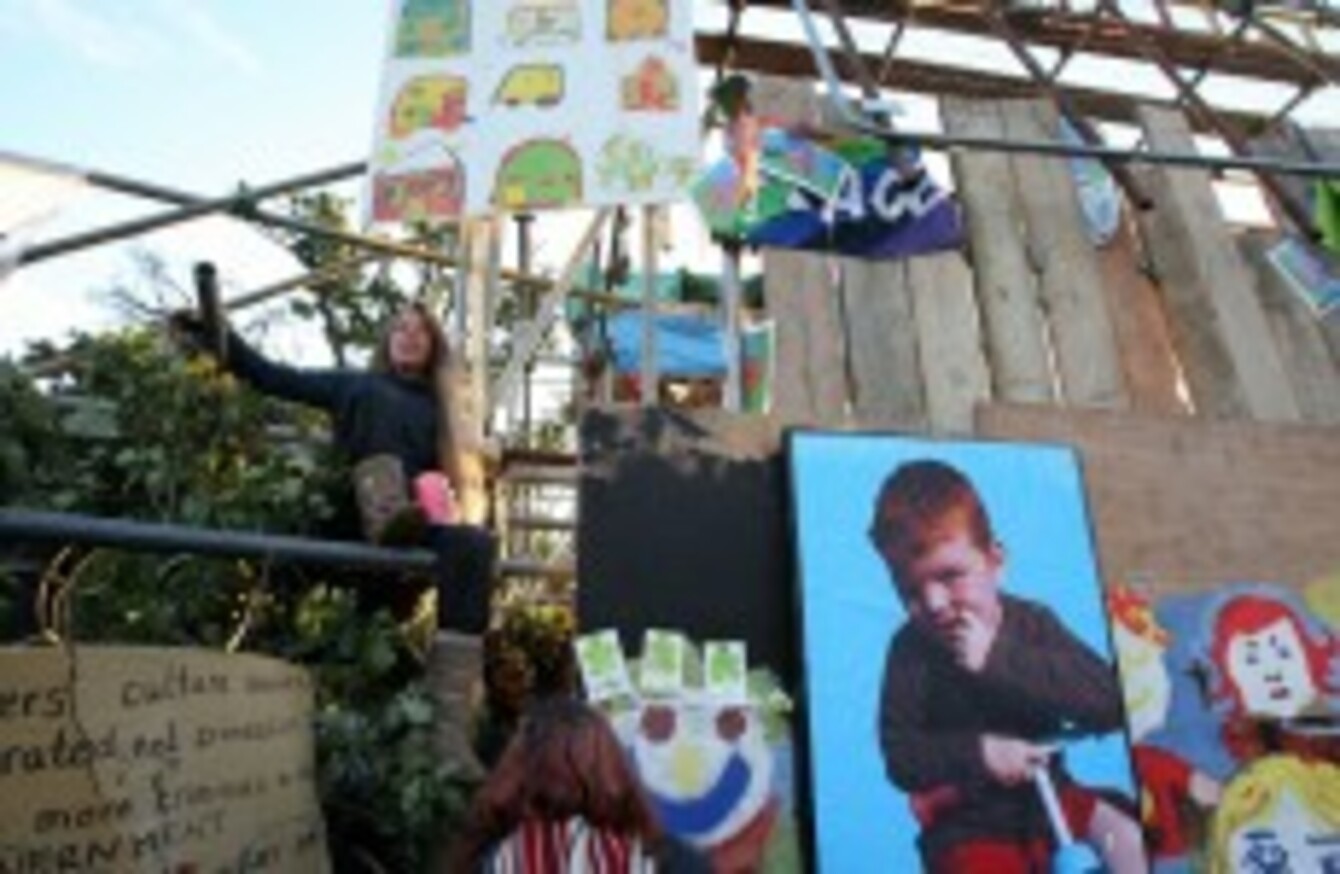 The entrance to the Dale Farm site yesterday
Image: Chris Radburn/PA Wire/Press Association Images
The entrance to the Dale Farm site yesterday
Image: Chris Radburn/PA Wire/Press Association Images
Updated 6.20pm
TRAVELLERS AT THE Dale Farm site in Essex have won a last minute court injunction delaying their planned eviction.
A restraining order has been granted by the UK High Court pending a further hearing this Friday. Basildown Council had earlier sent in bailiffs who were opposed by residents at the site and campaigners, BBC News reports.
Justice Edwards-Stuart granted the injunction at London's High Court on the basis that there was a realistic apprehension that the eviction measures to be taken "may go further" than the terms of the enforcement notices, even though they were genuinely believed in by the local authority.
"Having regard to the fact there is no fixed date for starting these – but they are imminent – I do not see that any serious injustice will be caused if the actual implementation of any measures will not take place before the end of this week," the judge added according to The Times (subscription required).
The Dale Farm Solidarity campaign Twitter account relayed the reaction of traveller Cathleen McCarthy who said: "We still need somewhere to go, if we have to leave here. Today is a great victory, but we still need Basildon Council to approve a legal site for us."
The council expressed its disappointment with the decision but its hope that the courts would ultimately back the local authority.
Earlier…
LAST-DITCH TALKS are in progress at the Dale Farm Traveller site in Essex, as local council officials search for a peaceful solution to the increasingly tense stand-off.
Bailiffs were expected to enter the site this morning, but have been delayed by the discussions. Council leader Tony Ball told the BBC: "We are talking to families in the hope that one or two will leave peacefully before we have to enter the site."
Some families are reported to have left the site before today's deadline for clearances, but others have barricaded themselves in. The bailiffs will be backed by riot-trained police as they move in this morning.
Makeshift walls of bricks, tyres and barbed wire have been set up around the camp by residents, along with a banner reading "No ethnic cleansing", the Guardian reports.
Today marks the culmination of a ten-year legal battle between residents of the site and local authorities in Basildon, north of London. The area was initially a legal site, but some 51 extra caravan plots have been set up without planning permission, housing around 400 people according to the BBC. These are the caravans bailiffs will attempt to clear today.
However, residents have vowed defiance. Dora McCarthy, 50, told the Daily Telegraph things were "going to get ugly", adding: "They are pretty rough, but we can be pretty rough too." She said cars would be set on fire and gas cylinders detonated if evictions were attempted.
BBC journalist Dominic Hurst has tweeted this picture of a sign at the camp, which says that anyone opening a gate will kill a woman chained by the neck behind it:
Mother of three Kathryn Flynn told Sky News she was moving her caravan to avoid any violence. She said: "I'm scared of what the bailiffs will do. They smash up our trailers – our homes. I don't want my children to be in danger, so we're moving them. We don't know what's going to happen to us."
More than a hundred protesters have set up a solidarity camp near Dale Farm, while the Daily Telegraph reports that the hundreds of bailiffs have constructed their own base of portable cabins and a watchtower in a neighbouring field.
Here's ITN's report on the Dale Farm residents' preparations for eviction:

- additional reporting from Hugh O'Connell