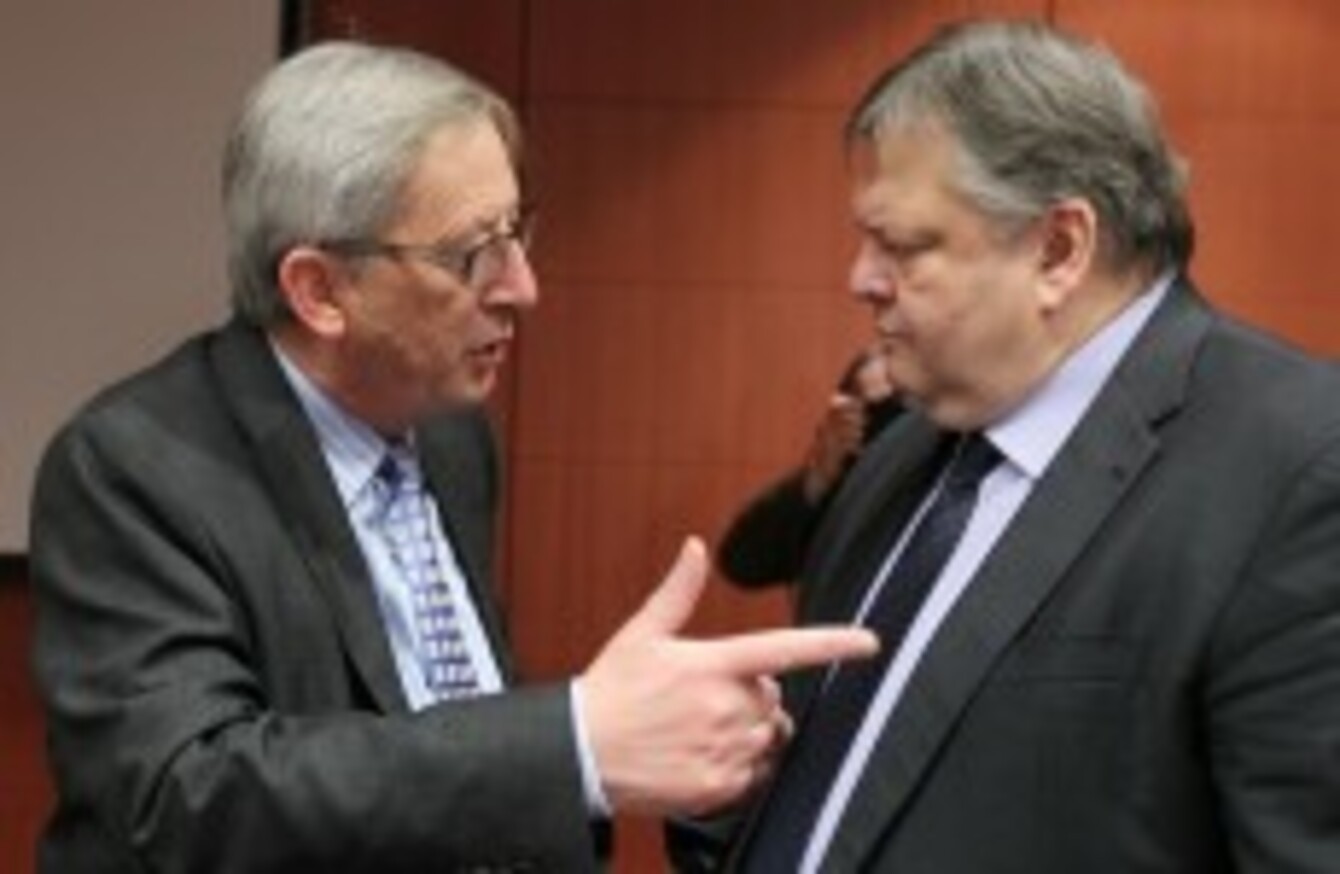 Jean Claude Juncker, left, talks to Greek finance finister Evangelos Venizelos.
Image: Yves Logghe/AP
Jean Claude Juncker, left, talks to Greek finance finister Evangelos Venizelos.
Image: Yves Logghe/AP
DOUBTS REMAIN over whether the austerity measures approved by the Greek parliament last Sunday night will be enough to ensure the beleaguered country can get its second EU-IMF bailout.
Eurozone finance ministers were originally due to meet today and give their formal approval to the second €130 billion assistance package, which Greece urgently requires in order to stave off default next month.
That meeting has now been downgraded to a mere teleconference, however, with ministers now preparing to meet next Monday – as they do not feel Greece has offered enough assurances that the austerity measures will be strictly enforced.
"It has appeared that further technical work between Greece and the Troika is needed in a number of areas," Eurogroup president Jean-Claude Juncker said in a statement.
Among those areas was the issue of Greek's debt sustainability – referring to the ongoing discussions between Greece and its private creditors, who are being asked to accept a €100 billion write-down of their investment – and a €325 million 'fiscal gap' in this year's Budget.
"Furthermore, I did not yet receive the required political assurances from the leaders of the Greekcoalition parties on the implementation of the programme," Juncker blasted.
"Against this background, I have decided to convene ministers to a conference call tomorrow in order to discuss the outstanding issues and prepare the ordinary meeting of the Eurogroup on Monday."
The statement followed budgetary data for January which showed that far from increasing by 8.9 per cent, as had been originally projected, Greece's tax revenues fell by 7 per cent compared to the same month of 2011.
That meant that Greece's budget deficit was already €1 billion wider than had been anticipated – and with the forthcoming austerity measures cutting the national minimum wage, the shortfall in VAT income is likely to become even wider.