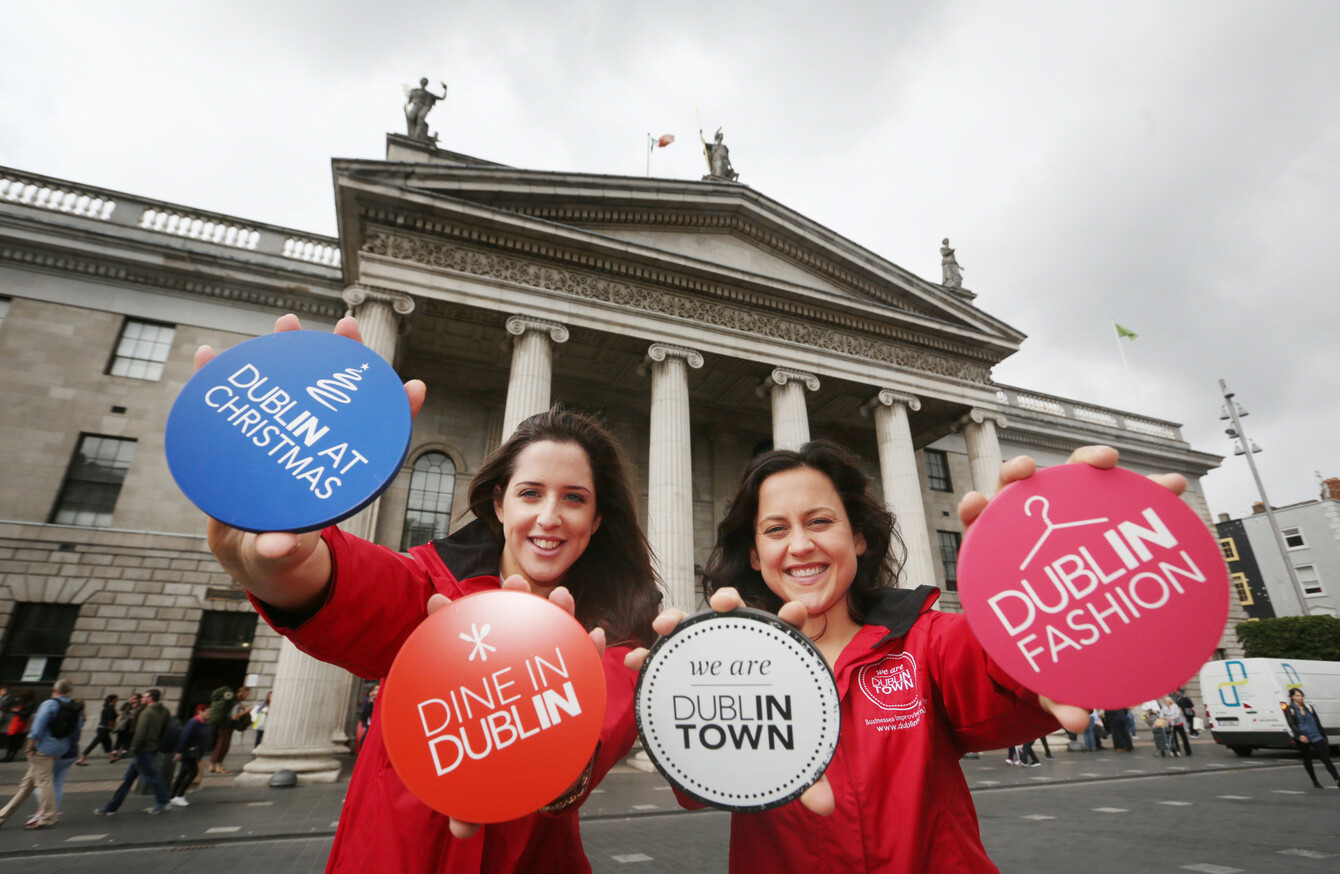 Image: Sam Boal/RollingNews.ie
Image: Sam Boal/RollingNews.ie
THE ORGANISATION THAT represents and promotes businesses in Dublin city centre threatened to take dozens of firms to court for failing to pay its compulsory membership fee in recent years.
According to data released through a Freedom of Information (FOI) request, the city council on behalf of the Dublin Business Improvement District (BID) – marketed as Dublin Town – issued legal proceedings against 60 firms between 2013 and 2016.
All businesses in the BID catchment area are automatic members of Dublin Town and must pay an annual levy equal to 5% of their commercial rates bill to support the running of the group.
In 2016, the most recent year for which figures are available, more than €2.8 million was collected through the levy.
A not-for-profit organisation, Dublin Town is run independently of Dublin City Council, although the local authority invoices firms on its behalf.
Data pursued by Restaurants Association of Ireland chief Adrian Cummins through the FOI process revealed that 22 businesses were issued with legal proceedings in 2013 for failing to settle their bills. Some 12 outfits were issued with legal proceedings the year after, while 13 were issued in 2015 and 2016 respectively.
Dublin Town did not respond to a request for comment at the time of publishing.
The information was sought by Cummins as part of a request for the breakdown of how many firms paid, partially paid or failed to pay their Dublin Town bills by the end of each year from 2008 to 2016.
As previously reported by Fora, up to one-third of all firms within the BID area haven't paid the mandatory Dublin Town fee by the end of each year.
However, the organisation's CEO, Richard Guiney, said in April that the figures do not take into account firms that later settled bills in arrears or entered into payment plans with the group. He said 95% of members eventually comply with the levy.
Renewal vote
Cummins' original request for information was refused by Dublin City Council in 2017, a decision that was later overturned by the Office of the Information Commissioner, Ireland's FOI appeals body.
In January of this year, Dublin Town launched High Court proceedings after taking issue with various statements within the commissioner's decision. The matter was settled out of court within a month.
Every five years, companies in the Dublin BID catchment area vote on whether or not to renew the scheme.
A group spearheaded by Adrian Cummins and independent councillor Mannix Flynn campaigned for the abolition of Dublin Town in 2017.
The so-called 'No to Bid' group branded the BID levy a form of "double taxation", a claim that Dublin Town strongly rejected.
The latest ballot was counted in July 2017. Some 843 businesses voted to renew the scheme while 715 called for its abolition. Around 3,000 firms were eligible to vote.
As previously explained by this website, a bitter public row broke out ahead of last year's vote, with claims and counter-claims flying between the two camps.
Sign up to our newsletter to receive a regular digest of Fora's top articles delivered to your inbox.
Written by Conor McMahon and posted on Fora.ie