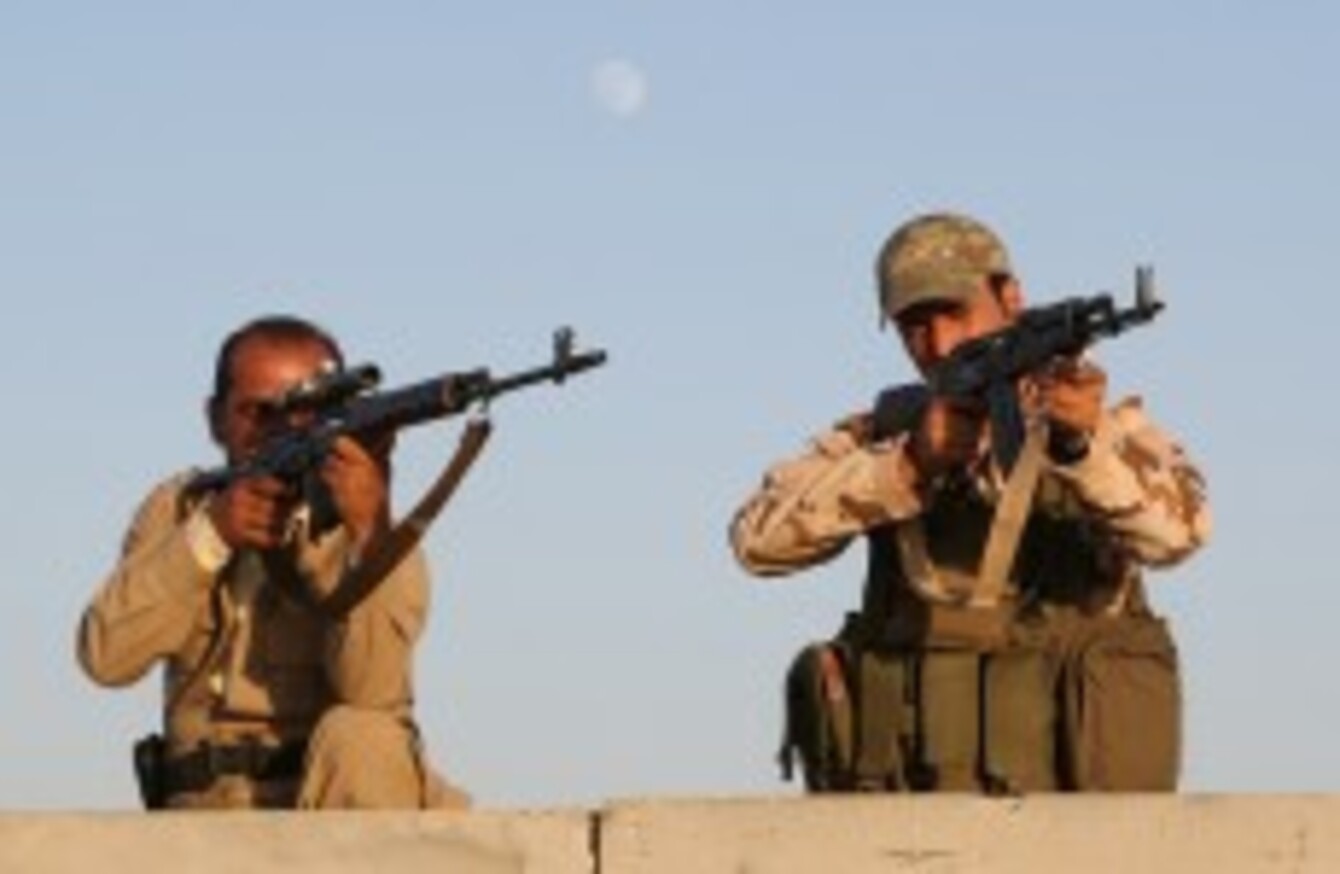 Kurdish Peshmerga fighters stand guard during airstrikes targeting Islamic State militants.
Image: AP/Press Association Images
Kurdish Peshmerga fighters stand guard during airstrikes targeting Islamic State militants.
Image: AP/Press Association Images
EUROPEAN UNION FOREIGN Ministers have agreed to back the arming of Kurdish fighters in north-western Iraq in the face of an onslaught from Islamic State jihadists.
The emergency meeting in Brussels came to no overall agreement that the EU should provide armed assistance to Iraq's Kurdish forces but said that individual states are free to do so.
France and the United States have already agreed to provide arms to forces in the region with Britain also prepared to do so as IS violence has driven over 1.2 million Iraqis, mostly minority Yazidis and Christians, from their home.
Ireland's Foreign Affairs Minister Charlie Flanagan said that he intervened to ensure that the European Council's conclusions today reflected the "individual legal and political positions of member states" in responding to requests for arms.
A Department of Foreign Affairs spokesperson confirmed that Ireland, which has adopted a long-held position of neutrality, will not be providing arms to Kurdish authorities.
Generally within the EU defence matters are strictly the purview of member states but European Council approval for member states to send arms to a conflict zone is rare.
Ireland has already indicated it will take in a small number of families who are fleeing the violence in the region.
Flanagan also said in a statement issued after the meeting: "Ireland is actively supporting the international relief effort currently underway, including through the provision of €500,000 in support of the work of UNICEF and the International Committee of the Red Cross in Iraq."
'True catastrophe'
Earlier, the German foreign minister Frank-Walter Steinmeier said Iraq is "on the brink of a true catastrophe.
"A million people in Iraq are fleeing their homes. In northern Iraq, in the Kurdish part, Yazidis and Christians are being persecuted and slaughtered," he said.
In their conclusions the ministers said they welcomed "the decision by individual member states to respond positively to the call by the Kurdish regional authorities to provide urgently military material".
"Such responses will be done according to the capabilities and national laws of the member states, and with the consent of the Iraqi national authorities," it said.
A diplomat told AFP the agreement was "strong and sends the desired political message" to the world.
Alarming images of Iraqi minorities, including Christians, under siege by jihadists have struck chords in European capitals.
Earlier this week, the European Commission announced it would boost humanitarian aid to Iraq to €17 million and gave the green light to special emergency measures to meet the crisis.
- with reporting from AFP