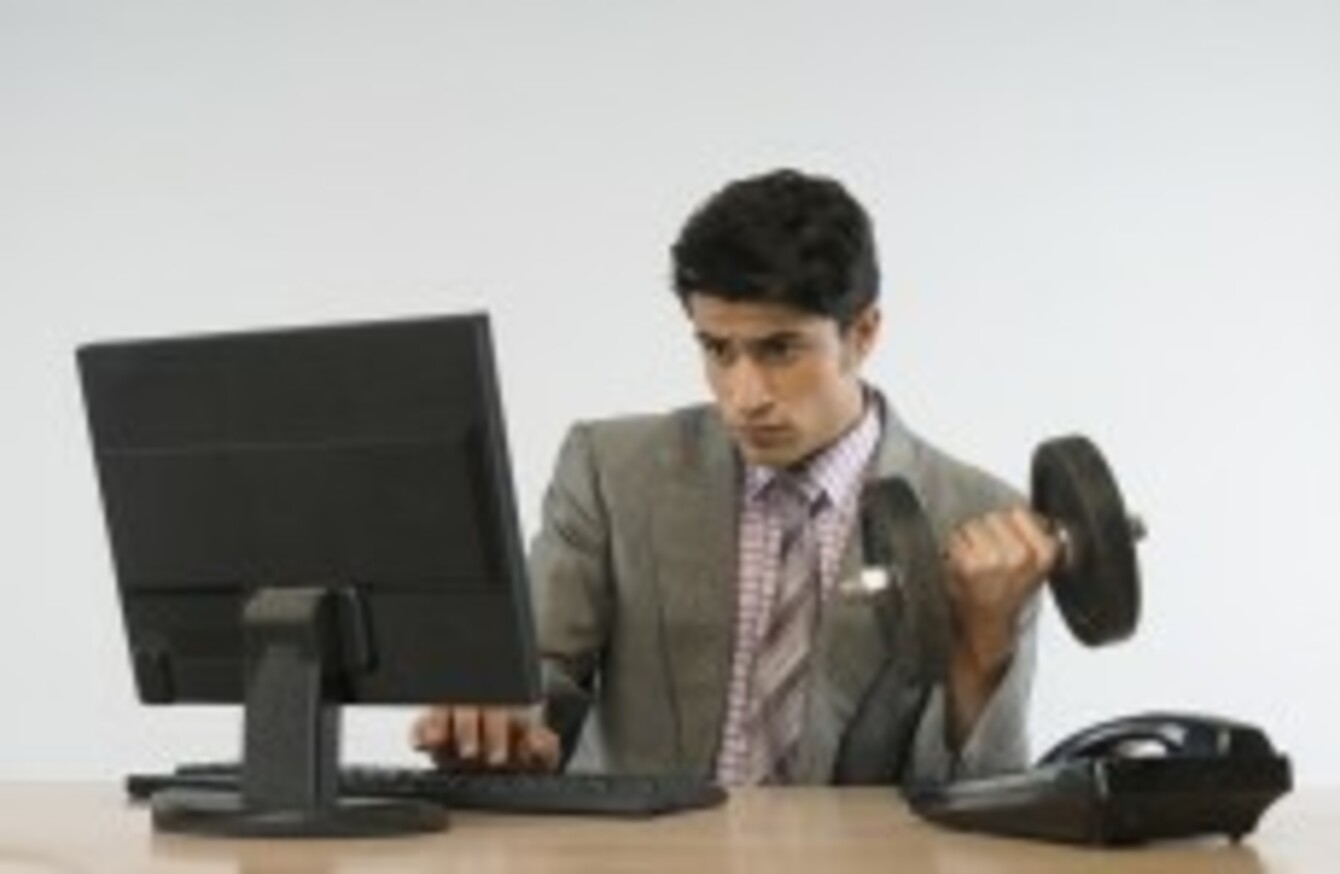 Image: Shutterstock
Image: Shutterstock
DO YOU SIT at a desk for most of your working day?
Well, making time for exercise needn't be as complicated as you think. We asked some top fitness experts to give us advice on staying active – without breaking into too much of a sweat.
Get up
Stand up, walk around – and repeat every half an hour. That's what Bruce Wardrop, a sports scientist at the Waterford Institute of Technology, says we should all be aiming for.
Every small movement counts, whether it's getting up from your seat for long meetings and phone calls, or even just walking over to a colleague's desk to speak to them.
You should be standing up for between two to three minutes every 30 minutes during the day. Set the timer on your phone to remind yourself.
It mightn't seem like a big deal, but you can burn up to 50% more calories than sitting when you stand up.
Work out at your desk
Exercise while sitting is a surprisingly effortless way to incorporate exercise into your day.
Raise one leg at a time as high as you can and let go after three seconds.
If it's your bum you want to work on, clench your cheeks as tightly as you can for three counts before relaxing.
For your upper back muscles, lift your arms up and interlace your fingers behind your neck, pulling your shoulder blades together.
These ones are subtle enough not to be noticed in a busy office.
Exercise while you commute
A trap people often fall into is that they plan to exercise after work, but find themselves too tired to work out once they get home, according to DCU lecturer Dr Giles Warrington, who is head sports physiologist with the Olympic Council of Ireland.
Working exercise into your daily commute is one way to avoid this pitfall, he says.
If you're not in a position to run or cycle to work, you can always just get off the train or bus a stop earlier and walk the rest of the distance to your office.
Those extra few minutes of effortless exercise can eventually build up to your recommended 30 minutes of exercise a day.
Start an exercise group
By applying that extra bit of peer pressure, work clubs or groups can be among the most effective ways to get into a regular exercise routine, exercise physiologist Dr John Bradley says.
Organise a weekly run or swim – or have meetings on the go during a daily office walk.
Have you found other ways to stay fit at work? Let us know in the comments below.