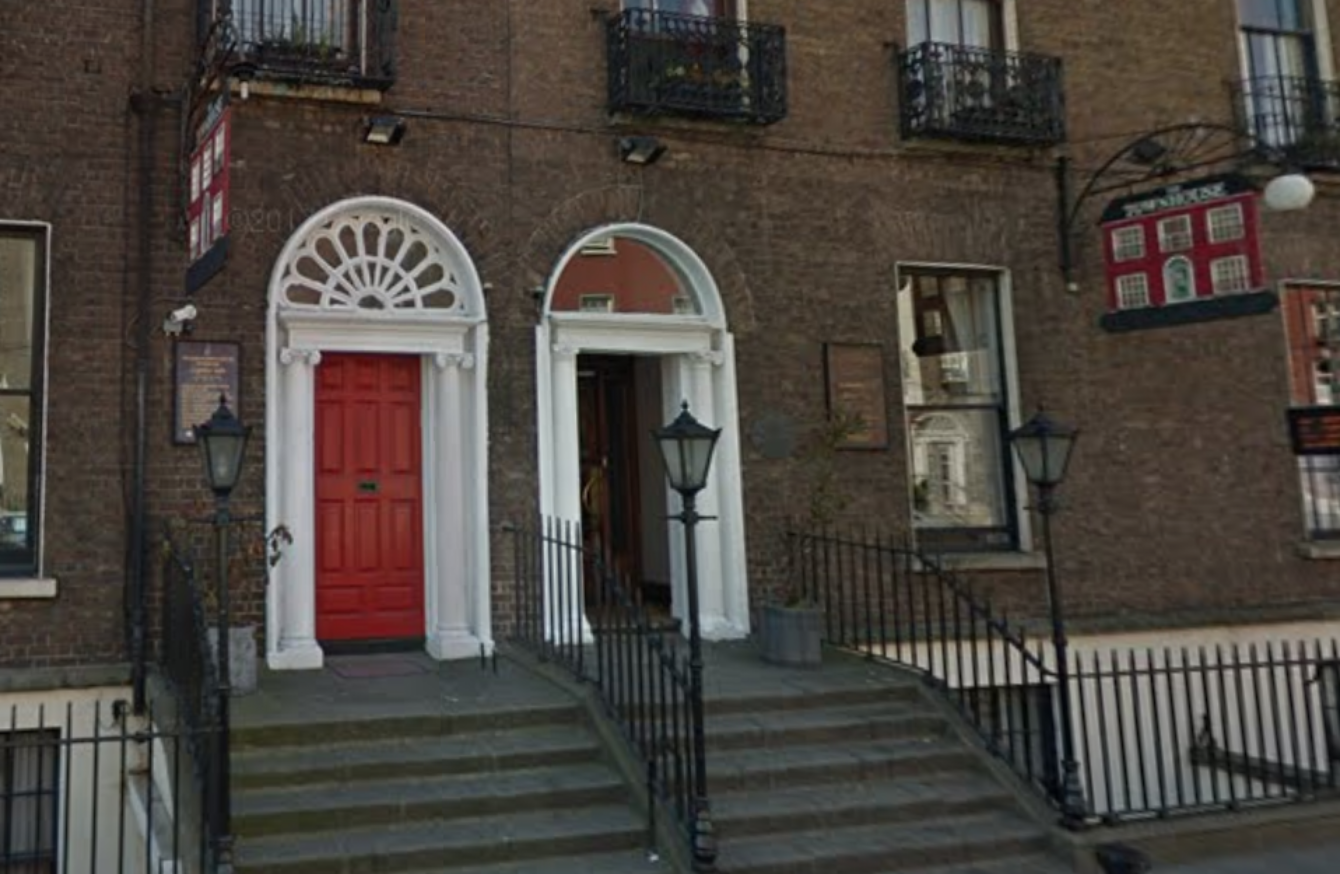 The Townhouse on Gardiner Street.
Image: Goole Maps
The Townhouse on Gardiner Street.
Image: Goole Maps
THE COMPANY BEHIND Ireland's largest homeless family hub was previously paid millions of euro to run a Direct Provision centre, TheJournal.ie can reveal.
The Townhouse on Gardiner Street in Dublin's north inner city opened in the second half of last year as a homeless family hub.
The former commercial hotel and guesthouse had previously been used as emergency accommodation for homeless families while it was still in operation as a hotel.
The hotel and B&B operation has since closed at the premises and Dublin City Council has entered into lease an agreement with the owners for the entire property to be converted into a homeless family hub.
Family hubs are group style homeless shelters for families. They have been rolled out over the past 15 months as a measure to reduce the number of families staying for long periods in hotels.
There are currently 17 hubs in operation in Dublin, with a combined capacity of 437 family units (hubs range in size from four up to 98 family units).
The majority of these hubs are run by housing and homeless charities; however a total of six are currently owned and operated by private companies (with more to open this year).
Sources working within homeless services have indicated that the capacity may not be within the not-for-profit sector to meet the demand to manage and staff all of the family hubs.
This – as well as the fact that some of the hubs are simply converted private hotels – led to private companies managing some of the hubs, while Focus Ireland is working with the families staying at the facilities.
This type of accommodation is known as PEA (Private Emergency Accommodation).
In cases where the Dublin Regional Homeless Executive (DRHE) enters into an agreement with the owner of a building, no tender is needed.
In light of the hubs opening, Dublin City Councillors, opposition politicians and community outreach workers have all raised concerns about the privatisation of essential state services.
The Townhouse
The Townhouse has a capacity of 98 family units, making it by far the largest family hub in operation.
The building is located at 47/48 Gardiner Street in the north inner city.
It was formerly run as the Townhouse B&B and the Globetrotters Hostel, before it ceased operations.
The building is owned by the company Absolute Accommodation Providers Limited – which is also managing the family hub there.
A spokesperson for the DRHE - which manages homeless services across the four Dublin local authorities – said that the company will be providing the staff to manage the hub.
Key workers from Focus Ireland will work with the families in the Townhouse to help them source permanent accommodation and ensure their needs are being met.
Absolute Accommodation Providers Ltd was set up in 2007. Latest company filings (from 2016) show that it is wholly owned by its parent company, Maurice O'Connor Investments Ltd.
Maurice O'Connor Investments Ltd was set up in 2000 and is owned by Maurice O'Connor (56), who has an address in Howth, north Dublin.
O'Connor owns a number of properties in different areas across Dublin, and is a co-director of Absolute Accommodation Providers and Maurice O'Connor Investments with Muriel O'Connor.
The address of both companies is 47/48 Gardiner Street – the location of the family hub.
Latest accounts filed for 2016 show that Absolute Accommodation Providers have just over €7.7 million worth of fixed assets (such as land, buildings or equipment).
It also has an unsatisfied bank loan of just over €8 million, the majority of which does not have to be paid back for five years or more.
Direct Provision 
Maurice O'Connor Investments Ltd and companies formerly owned by it have previously been paid sums by the Justice Department and the HSE to provide residential care services and facilities.
The company previously ran a Direct Provision Centre at Clare Lodge, Ennis, Co Clare.
The facility operated from 2000 to 2009 and catered for between 65 and 80 male refugees and asylum seekers.
Accounts from the Reception and Integration Agency (RIA) – which manages DP centres across Ireland – show that between 2000 and 2006 Maurice O'Connor Investments was paid over €4.9 million by the Justice Department for running the centre.
It was also paid just over €142,000 for briefly providing services at a number of smaller properties across Dublin in 2003.
From the end of 2006 to September 2009 (when the DP centre closed), the operation of the centre was taken over by another company – Misty Croft Ltd.
Misty Croft was paid close to €2 million to run the centre for this period.
A spokesperson for the Justice Department said that the centre was closed due to a reduction in the number of people needing accommodation.
At the time, Misty Croft was owned fully by Maurice O'Connor Investments. It had two directors – Maurice O'Connor and Theresa Fitzsimons.
Misty Croft
Job descriptions for Misty Croft describe it as a community-based childcare provider.
It provides community residential services for young people – including asylum seekers who may have been separated from parents – and is funded by the HSE to do so.
It provides services at a number of different small facilities across the country. In 2016, the company had 35 members of staff. In that year it had just over €475,000 in equity.
Accounts up to 2013 show that Misty Croft rented business premises from Maurice O'Connor. Misty Croft paid over €423,000 in rent to O'Connor in 2013 (amounts of rent paid are not available in accounts after this).
Up to 2013, accounts also show that it was owed over €3.6 million from Absolute Accommodation Providers.
While specific details of money owed are not available after 2013, accounts from 2015 show that Misty Croft was owed €4,767,672 from an unnamed source.
Accounts from this year from Absolute Accommodation Providers showed that it owed the exact same amount to a group company.
This debt was no longer present in either company's accounts in 2016.
In 2016, Maurice O'Connor stepped down as director of Misty Croft and ownership of the company was transferred from Maurice O'Connor Investments Ltd to Theresa Fitzsimons – who is now its sole director.
The company's address is listed at 47/48 Gardiner Street (the address of the Townhouse family hub).
Latest documents (up to May 2017) show that Theresa Fitzsimons is also the owner of another company – Graray Ltd. Graray owns and operates Dublin's newest family hub – the Anna Livia Hub - which opened late last month at the former Lynam's Hotel on O'Connell Street.
Graray also shares directors with a separate company – R&G Administration – which manages and oversees accommodation for homeless families at two separate locations in Dublin.
TheJournal.ie revealed last month that R&G Administration made profits of close to €3 million in 2016.
Privatisation of hubs
Dublin City Councillors and homelessness community activists have previously expressed reservations about the increasing privatisation of homelessness services.
"I have concerns that any homeless service is run by a profit-making company," said Sinn Féin councillor Daithi Doolan, chairman of the Housing Committee.
"For years services have been run by Dublin City Council and funded by central government," he said.
He said his worries were centred around private companies being "less accountable" to the homeless people and families involved, ideas echoed by party colleague Janice Boylan.
"My concern is [around the question] 'are private companies able to provide the care that families need?'," she said.
These concerns were echoed by Eilis Ryan of the Workers Party, Independent councillors Christy Burke and Cieran Perry, and Patrick Costello of the Green Party.
Also commenting last week, Anthony Flynn, head of homelessness community group Inner City Helping Homeless, said relying on private operators to run essential services was "totally unacceptable".
"The fact that we now have reliance on private operators to provide service provision to the homeless sector is totally unacceptable," he said.
TheJournal.ie contacted Misty Croft and representatives from Maurice O'Connor Investments Ltd for comment.
TheJournal.ie spoke to a representative for Maurice O'Connor Investments over the phone on Thursday. Despite questions, the representative said he would not be talking to the media.
As a reason for not commenting on the company's operations, the representative said he was concerned for the privacy and safety of the residents.
Misty Croft had not responded to email contact at the time of publication.