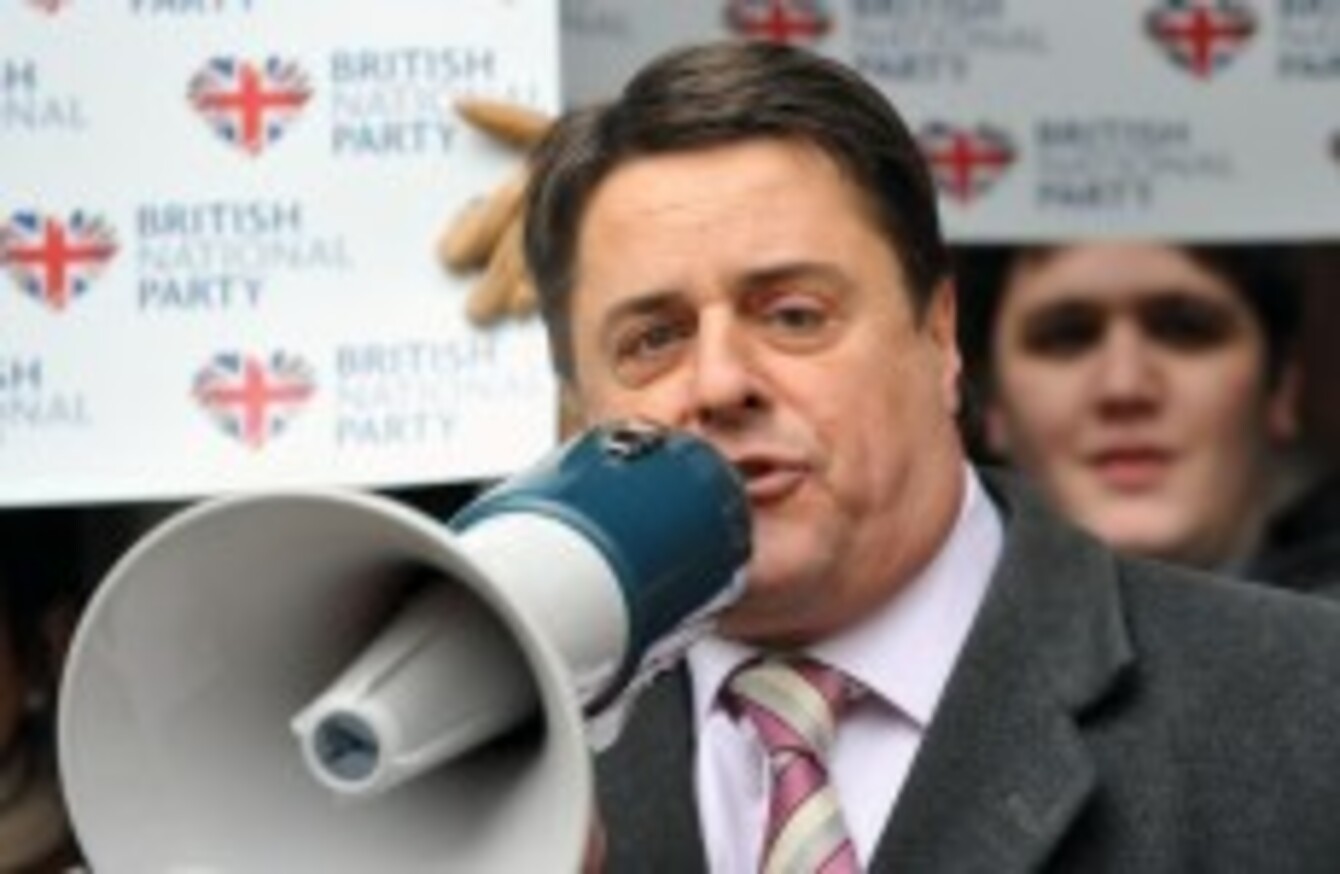 Nick Griffin in London last year
Image: Ian Nicholson/PA Archive/Press Association Images
Nick Griffin in London last year
Image: Ian Nicholson/PA Archive/Press Association Images
THE CONTROVERSIAL LEADER of the far-right British National Party, Nick Griffin, has been invited to address students at Trinity College Dublin in a discussion on immigration.
Griffin, an MEP for north-west England, will address the university's Philosophical Society next month as part of a debate entitled "This House Believe Immigration Has Gone Too Far". The BNP's media spokesman Simon Darby said Griffin planned to attend the debate on October 20, but added that such events are often called off.
Mr Darby told TheJournal.ie: "Generally what happens here is that the far left and other interested parties put pressure on the organisers, there's a huge debate, and free speech is the loser." He added:
Immigration is a very pertinent subject, and people have a right to listen to all different points of view. They don't have to agree with him.
Trinity College confirmed to TheJournal.ie that the invitation had been issued, and said the university "encourages balanced debate". In a statement, a spokesperson added: "In keeping with Trinity's tradition of educating its students to be independent thinkers, the college has no role in the selection of topics for debate by student societies or the selection of speakers."
Criticism
The Union of Jewish Students in Britain and Ireland has condemned the invitation and called on Trinity College "to deny the BNP a platform", saying that such events are publicity stunts which "tear apart student communities and contribute to a hostile environment for Jewish students".
Griffin has faced widespread criticism for his party's views on immigration. He once said that multiculturalism is turning the "once decent, stable country" of Britain into "a multicultural mess which looks increasingly like a future Bosnia."
A previous appearance by the BNP leader at an Oxford Union debate in 2007 was met by chaotic scenes as protesters entered the building, accusing organisers of "giving credibility to fascists", the BBC reported at the time.
In 2008, UCD's Law Society was forced to drop its invitation to French far-right politician Jean Marie Le Pen after university authorities intervened. Mr Darby wrote on his blog:
Let's all hope the students in Dublin hold their nerve against the inevitable, liberal fascist onslaught against free speech just like those who organised the Oxford event did.
The Philosophical Society could not be reached for comment at the time of writing.