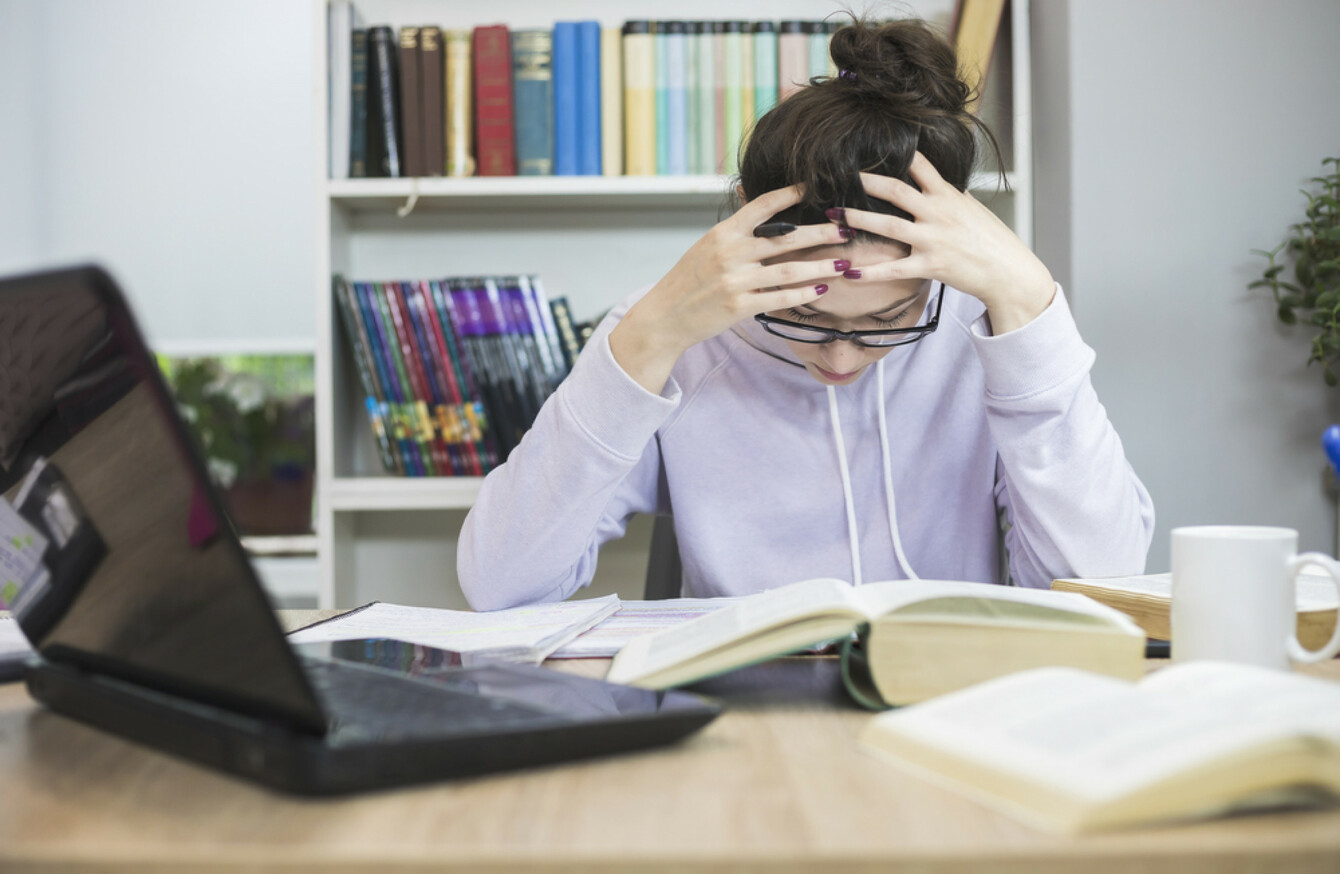 Student stressed out studying
Image: Shutterstock/Sladic
Student stressed out studying
Image: Shutterstock/Sladic
REDUCING STRESS ON school children, introducing mindfulness and rolling out counsellors in every school in Ireland.
These are just some of the things politicians sitting on the Oireachtas Education Committee think should happen in schools.
Though the Dáil is yet to resume again for the autumn, members of the committee gathered to launch its new report today, which has some interesting ideas about how to promote positive mental health in young people.
Whether there is too much of an emphasis being placed on the academic achievements of students was one of the main issues the committee wanted to investigate. It also wanted to find out if there was enough focus on self-development and coping strategies for the day-to-day challenges young people face.
So, what needs to happen?
Not all about points
The focus on achieving high points in State exams is too high, said the committee. It said other things should be taken into consideration, pointing out that education should not be wholly focused on the academic.
A review of the current college entry scheme – namely the CAO – should be undertaken, said the committee, which added that emphasis on academic achievement is resulting in additional stress on young people.
Similar to other countries, such as the US, the committee believes that non-academic achievements, such as taking part in youth theatre, sports and other extracurricular activities, should be taken into consideration when a student is applying for college.
Mindfulness
The rise in the sale of mindfulness books shows there is an interest in the movement – so why not have it in schools, said the committee.
Research has shown there are benefits of mindfulness in alleviating symptoms of mental illness, and it has already been integrated into schools in other countries.
The education committee wants an expert group to be set up to investigate "the appropriateness, feasibility and best practice approach" of introduction of mindfulness in primary schools, particularly with a view to creating a standardised system, if possible, for all teachers.
In addition, it is also recommending a review of the wellbeing curriculum, which is being rolled out to children in the junior cycle this year.
Counsellors for all schools
Today's report states that the government should investigate the introduction of school-based counselling nationwide.
School counsellors provide ongoing help for students with problems in many different countries, such as parts of the US, Canada and Australia. They provide support and early intervention for students on a daily basis.
This job was often taken up by guidance counsellors in Ireland, however, numbers were cut during the recession. It's included in the Programme for Government that numbers should be reinstated in schools, and the committee wants to explore the provision of psychotherapy training and other further professional development for guidance counsellors in secondary schools.
It's believed this may be the most cost-effective method to provide access to counselling in schools, said the report.
Anti-bullying programme in EVERY school
There is a real need to get real about bullying, said the committee, and it recommended an anti-bullying plan to be rolled out in every school, if one doesn't exist already.
The teacher training programme should also be revised to incorporate a module of resilience and promoting positive mental health in schools. Teachers also need to be given the time and resources to work on building such initiatives.
Every school in Ireland needs to introduce a strategy on how it is going to promote positive mental health for students, said the committee.
Chair of the committee, Fianna Fáil's Fiona O'Loughlin said the committee recognises that mental health issues are complex and there is no one-size-fits-all solution.
"We are aware however, that school and the interactions between teachers and students play a hugely important role in promoting positive mental health amongst young people. In issues regarding mental health, early intervention is critical," she said, adding:
The education system must support children to be confident and have the ability to achieve their full potential in whatever role they take. The mental health of children should be placed at the heart of the education system, but more needs to be done to support students and teachers both inside and outside the classroom and there needs to be greater integration between the whole community and schools in order to effectively promote positive mental health in schools.
Adopting the recommendations in this report would put the needs of both teachers and students first and allow teachers have the resources necessary to ensure that all interactions between teachers and students are constructive and promote positive mental health among the school community as a whole.