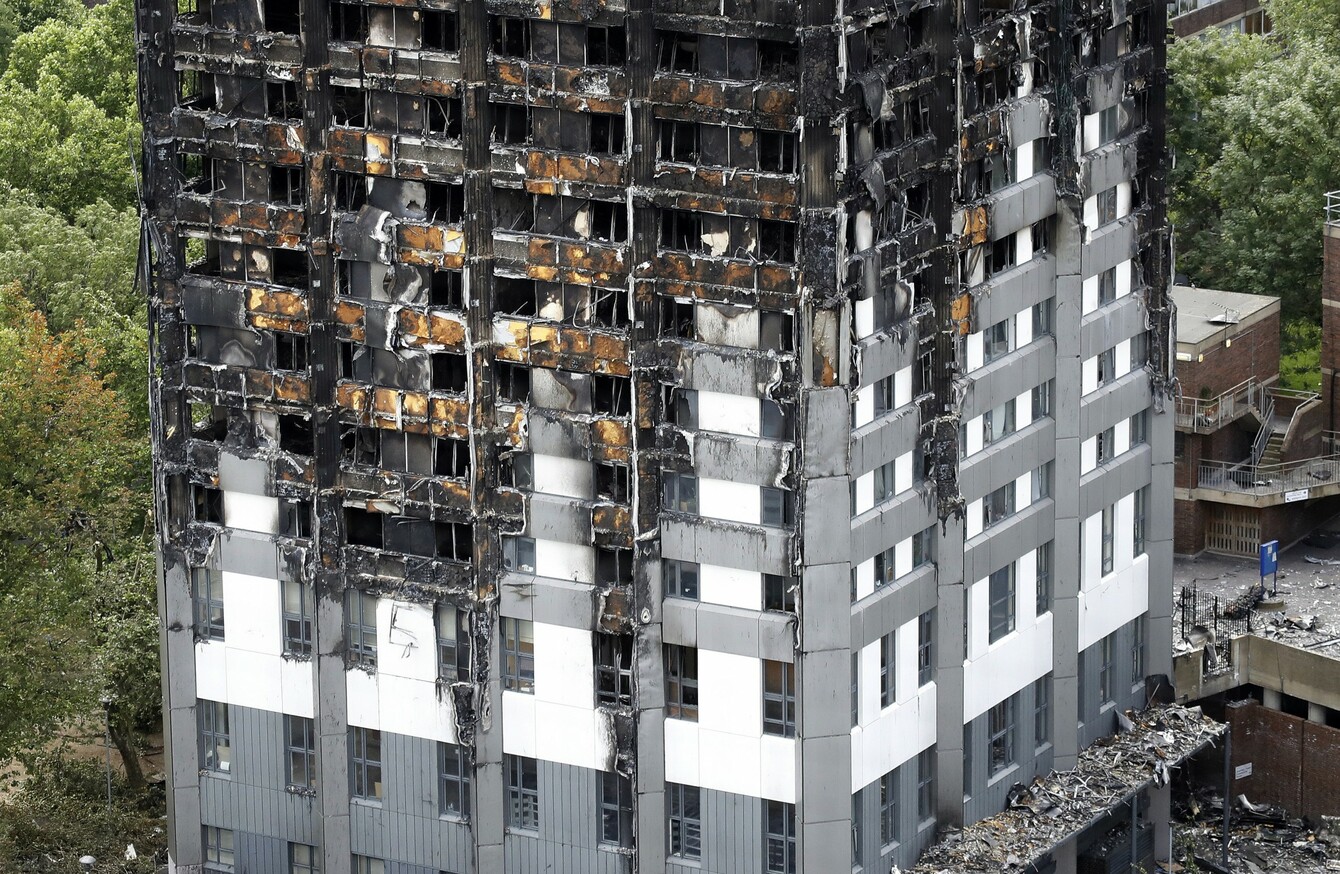 Image: Frank Augstein/PA
Image: Frank Augstein/PA
Updated 5.50pm
THE BRITISH GOVERNMENT has confirmed samples of cladding taken so far from 60 high-rise buildings across the UK have failed safety tests.
A number of areas are affected, with the 60 high rises spread out over 25 local authorities.
Tests were ordered to be carried out on over 600 buildings in the wake of the Grenfell Tower fire.
The Department of Communities and Local Government said in a statement that all high rises tested so far had failed fire safety tests.
Combustibility test
Earlier, Sajid Javid, Secretary of State for Communities and Local Government said the cladding from 34 high-rise buildings in 17 local authorities failed the combustibility test.
"All landlords and fire and rescue services for those local authorities have been alerted to the results and we are in touch with all 17 areas to support and monitor follow-up action," he said.
"The landlords for all the affected buildings are taking action to inform tenants and implement the interim safety measures needed. Areas affected include the city of Manchester, Camden, Plymouth, Hounslow, Portsmouth, Barnet and Brent.
The fact that all samples so far have failed the tests underlines the value of the testing programme we have set up with the Building Research Establishment to get samples checked properly in the laboratories.
Javid said it is very important for local authorities and housing associations to continue to submit such samples as a matter of urgency. The testing programme can test 100 samples a day and the government said further capacity could be provided.
Local authorities are contacting fire and rescue services to conduct fire safety inspections of the affected tower blocks. Javid said a failure in testing of the cladding does not necessarily mean that a building will have to be evacuated.
The decision to evacuate four towers in Camden was made because the failed cladding test was "compounded by multiple other fire safety failures which the fire inspection team found within the buildings".
He said the country should not be in the position where buildings have such cladding on them.
"How this occurred – and preventing this from happening again – is likely to be a key question for the public inquiry."
With reporting from Sean Murray