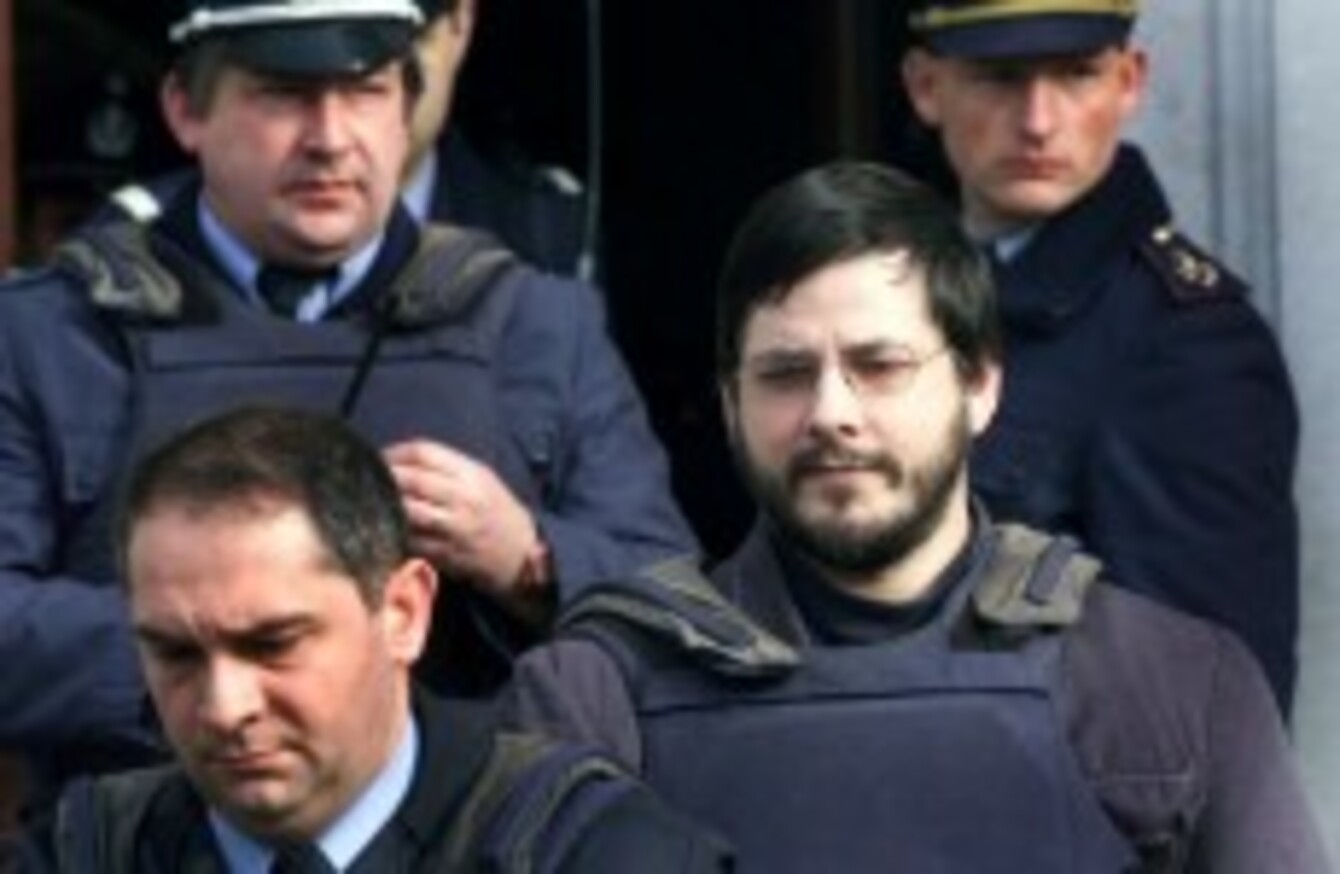 File photo from 2000 of Marc Dutroux (right) being led from a Belgian court.
Image: YVES LOGGHE/AP
File photo from 2000 of Marc Dutroux (right) being led from a Belgian court.
Image: YVES LOGGHE/AP
A BELGIAN COURT has rejected a request by notorious child sex killer Marc Dutroux for early release from prison, bringing relief to the families of his victims.
Belgium's "most hated man" wanted to serve out the rest of his sentence under electronic surveillance, after being jailed for life in 2004 for the kidnap and rape between June 1995 and August 1996 of six young and teenage girls, four of whom died.
Dutroux's request had horrified Belgium, reviving painful memories of its worst criminal case which put paedophilia firmly on the map, to the country's evident shame and deep unease.
"There are no grounds on which to base a [release] under surveillance by electronic bracelet," the court said, citing the "absence of any prospect that Dutroux" could be reintegrated into society.
Earlier this month Dutroux, 56, had asked a special court that he be released and placed under house arrest with an electronic tag to keep track of his movements.
The court reviewed psychiatric, prison and judicial reports about the former electrician who had claimed that he could find work as either a plumber or floor-layer.
The reports said this was not a realistic possibility, adding that where he would live was uncertain while there was also a risk that he might commit fresh crimes or harass his victims or their families.
The court said the key issue was that Dutroux had not made clear where "he planned to go, nor how he would find a place to live" and on that basis alone, the request was rejected.
His mother, who no longer has any contact with her son, insisted that he should not be released at any cost.
"I have not the slightest desire to see him free. He is a recidivist at heart and has proved that all his life," she told Le Soir Magazine in an interview.
"Marc is not ready to be freed because he still wants to make other people take responsibility for his actions. I am certain that he would start over again. He has no sense of reality," she said.
Dutroux had even said "that he was going to kill her and his father, so as to get his inheritance quicker", she added.
Victims 'relieved' at decision
The lawyer for one of the families whose lives were blighted by Dutroux said the outcome meant there was practically no chance now that he would be released "at least in the next few years."
"I am relieved at the outcome," said a father of one of Dutroux's victims.
Dutroux's approach to the courts followed a successful appeal in August by his wife and accomplice, Michelle Martin, whose release from prison to a convent in central Belgium caused an uproar.
The 52-year-old former schoolteacher, who herself is mother of three of Dutroux's own children, was granted release on parole after serving barely half of a 30-year sentence.
Martin was found guilty of helping Dutroux hold his victims prisoner and of complicity in the deaths of two eight-year-olds, found starved to death in a locked cellar.
Dutroux was arrested in August 1996 after a 14-year-old went missing. She was found alive two days later along with a girl of 12, cowering in the basement of one of his homes.
The case then took a gruesome turn when the bodies of the two eight-year-olds were found buried in the garden of his main residence. Less than a month later, the bodies of two more girls were found in another property owned by Dutroux.
Public shock turned to fury when it emerged not only that police had missed a string of clues but that Dutroux had been released from jail in 1992 after serving just three years of a 13-year sentence for the abduction and rape of five girls.