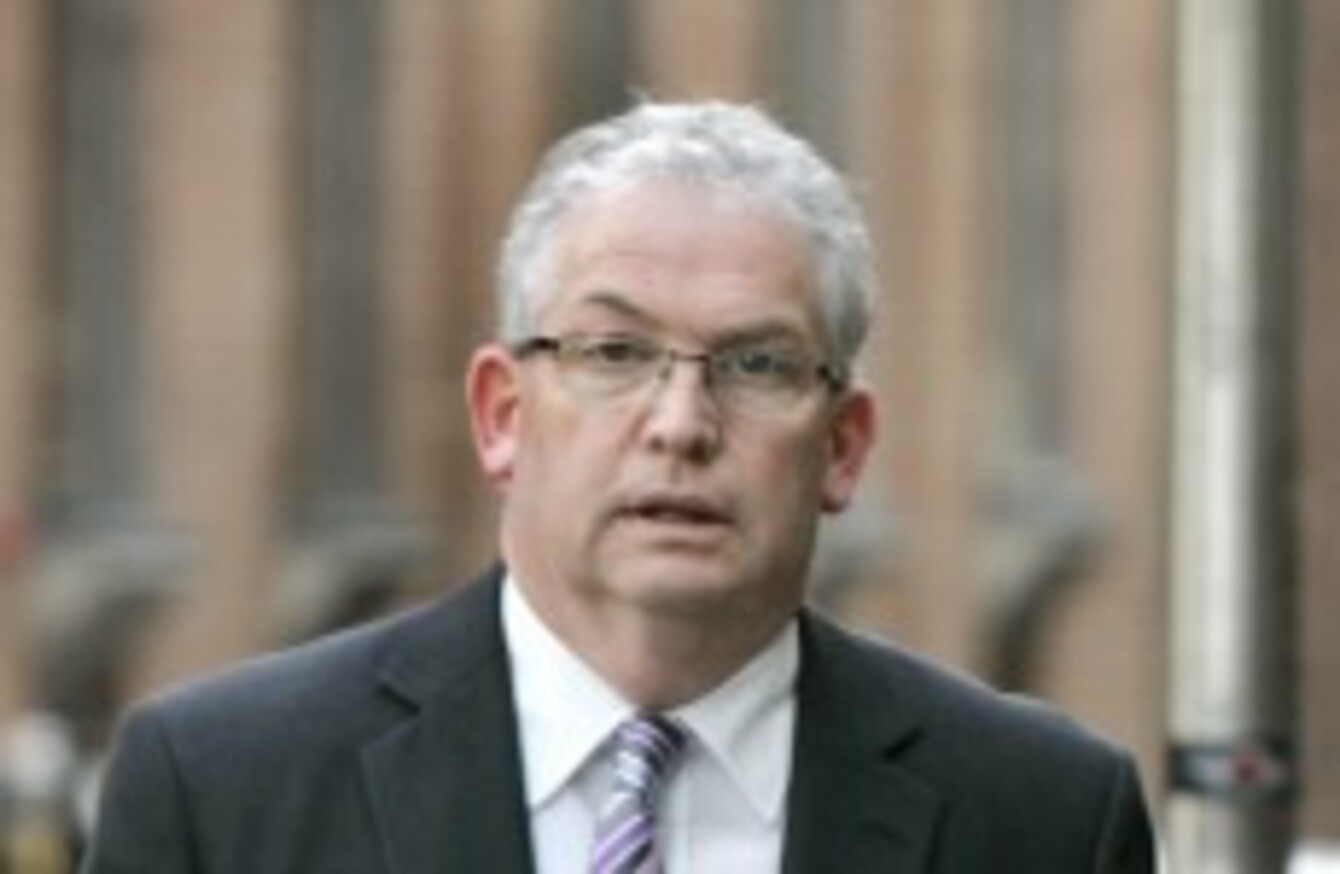 HSE director-general Tony O'Brien had a frosty reception when he last visited the Oireachtas.
Image: Mark Stedman/Photocall Ireland
HSE director-general Tony O'Brien had a frosty reception when he last visited the Oireachtas.
Image: Mark Stedman/Photocall Ireland
WHAT ARE OUR politicians doing in the halls of Leinster House?
TheJournal.ie lets you know with our guide to what's coming up to the Dáil, Seanad and various Oireachtas committees today.
DÁIL
Thursday morning means it will be Eamon Gilmore stepping in to take Leaders' Questions at 10:30am, with a brief discussion on the rest of the day's agenda when that's done at nearly 11am.
That means it'll be nearly 11:20am before discussion begins on the three Bills to be considered today; they're due up in the following order:
First up is the widely-despised Water Services Bill, which gives legal effect to the forthcoming system of water charges and sets up Irish Water to collect them. This is the final consideration of this Bill: a final vote will be held this morning.
Next up is the Child Care (Amendment) Bill, which relates to the time period for which the State can step in and remove a child from its parents without their consent. Currently, the HSE can only seek a court order to take a child into care for eight days at a time. This legislation would extend the period to 29 days. All stages of this brief Bill will be taken today.
Finally, it's the Criminal Justice (Spent Convictions) Bill - on which debate began yesterday. That's the one that allows minor criminal convictions to be removed from a person's criminal record if they have not reoffended within a particular period.
Four topical issues will be discussed at 3:42pm, before Ruairi Quinn ends the day with Questions to the Minister for Education and Skills at 4:30pm.
The day's Dáil business can all be viewed here.
SEANAD
The Seanad is getting into the habit of short Thursdays: after it spends 75 minutes discussing its agenda at 10:30am, the only item on the agenda itself is the Education and Training Boards Bill, which consolidates Ireland's network of VECs into a small number of larger groups.
The day's Seanad business can all be viewed here.
COMMITTEES
It's a busy day on the committee front, with five meetings up today. Here they are, in order of the time they start at:
It's an early start for the Health and Children committee at 9:30pm. The HSE director-general-designate Tony O'Brien (Cathal Magee is still in place as CEO, but has handed over effective responsibility) will appear to discuss the HSE's National Service Plan for 2013. (See 'One to Watch' below; watch here.)
Also beginning at 9:30am is the Transport and Communications committee, which continues the discussions on the abuse of social media (which began yesterday). Policy representatives from Twitter and Facebook will appear today. (Watch here.)
At 10am, the Public Accounts Committee has some real red meat on its table: it gets to examine the Department of Finance accounts for 2011, and to look more closely at government debt, Ireland's EU transactions and the bank recapitalisations that took place that year. John Moran, the secretary-general of the Department of Finance, will be present. (Watch here.)
Also at 10am, the Finance sub-committee will be continuing its exhaustive line-by-line examination of the Finance Bill 2013. One for policy wonks only. (Watch here.)
The EU Affairs committee meets with the three MEPs representing Dublin – FG's Gay Mitchell, Labour's Emer Costello and Socialist Paul Murphy – at 2pm. They'll be discussing the same three themes that have regularly popped up at committee meetings for the last few weeks: the effects of financial integration across the EU, the question of ensuring political legitimacy, and the potential effects to Ireland of a British exit from the EU. (Watch here.)
#Open journalism No news is bad news Support The Journal

Your contributions will help us continue to deliver the stories that are important to you

Support us now
TheJournal.ie's 'One to Watch'
Tony O'Brien's last visit to an Oireachtas committee didn't get off to the best of starts – Sean Fleming walked out of a Public Accounts Committee hearing, believing that the HSE representative was stonewalling questions put by TDs.
This morning he'll be discussing the HSE's National Service Plan, which has to include cutbacks to some services as a necessity of the cuts to the HSE's spiralling budget.
Last time O'Brien said he was precluded from discussing government policy, which meant he couldn't answer many questions – so it'll be interesting to see how many times the same excuse is cited today if there are more questions about James Reilly's performance.
(One might also wonder why the head of the HSE will be asked about the issue of medical cards, when the policy for distributing them is set by the Department…)