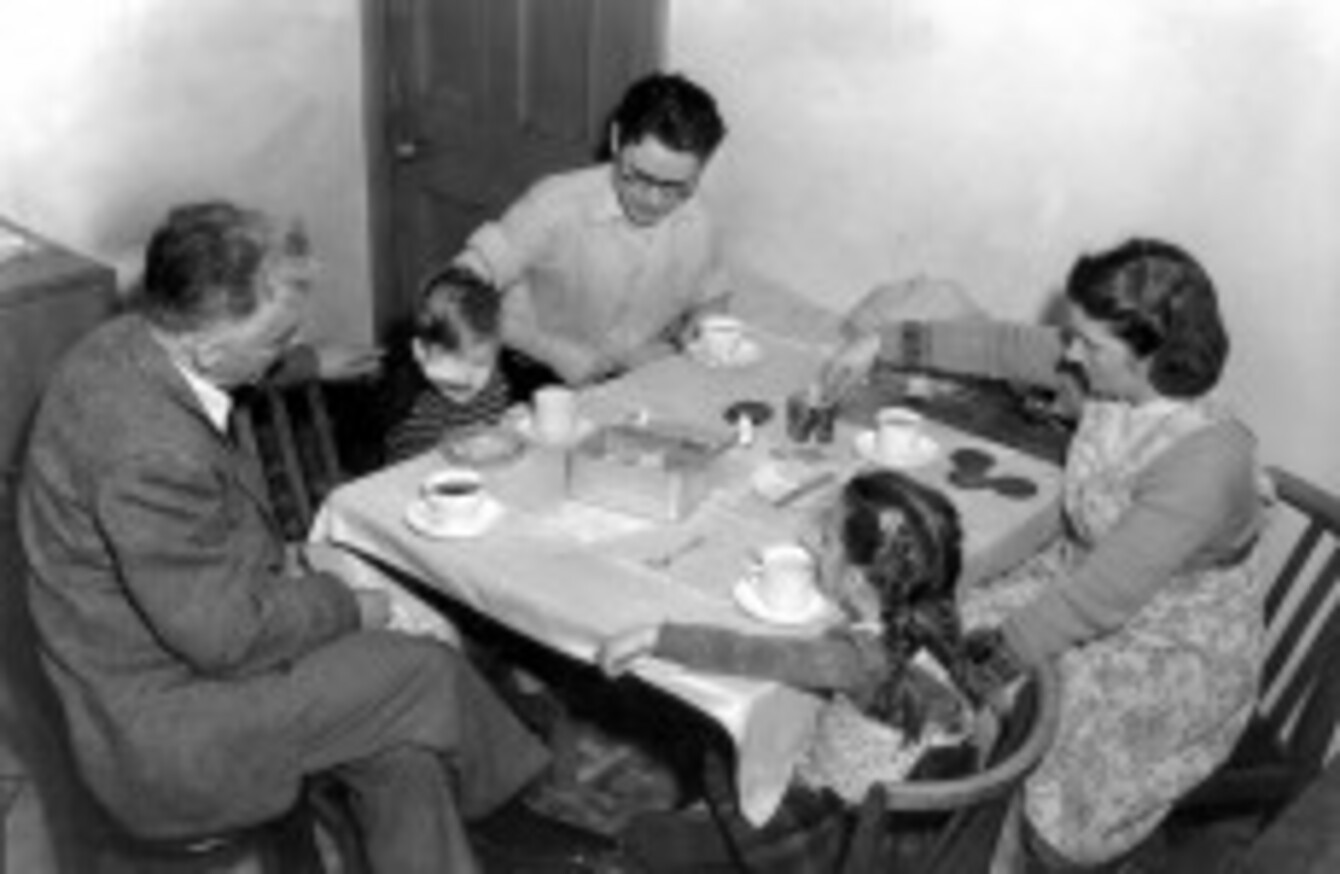 Image: Topham/Topham Picturepoint/Press Association Images
Image: Topham/Topham Picturepoint/Press Association Images
SINGLE MOTHER-OF-THREE Elizabeth Bollard, who lives in Cork, has brought out a book with the intriguing title of How to Feed your family on Less than €10 a Day.
The guide to frugal living, published by Orpen Press,  also has a number of sections on money-saving in other areas. Bollard gives information on things such as:
grants available to help you pay to upgrade your home's energy rating (it will save you money on heating and electricity bills in the long run), eg, attic insulation (€200); wall insulation – cavity (€320); wall insulation – external (€4,000); wall insulation – internal dry lining (€2,000); high-efficiency oil/gas boiler (€560); heating controls upgrade (€400)
cutting the costs associated with children, eg, not to be cautious about buying small children's clothes from charity shops – children grow out of clothes so quickly that much of the clothing that ends up in these shops has been worn for a short period of time, or not at all
making rich use of the internet to locate tools that help you DIY a number of otherwise expensive domestic issues, eg, the iWill app which "guides you through the process of making a will with the help of an easy-to-read glossary of terms.
The bulk of the book though is concerned with making a family's diet less expensive to maintain. To this end, Bollard explains that this was a skill she "developed through necessity". She recommends a great deal of forward planning and the use of the Tesco website, for example, to help her compile her shopping list using their prices as a rough guideline. She gives herself a self-imposed limit of €140 and then goes to her local supermarket and purchases her pre-planned list.
Bollard's general shopping guidelines:
Online grocery shopping can help control impulse buys
Stick to the store's own brand when it comes to tinned tomatoes and other staples
Buy fruit and veg in season, when they are cheaper
Buy vegetables loose, rather than pre-packed
Breakfast cereals tend to be loaded with sugar and are expensive; stick to oatmeal and fresh fruit
Choose food with the furthest away best-before or use-by date gives you more time in which to use it up and reduces the chance of waste (only buy reduced-price products with a close expiration date if you know you will use them or it is a false economy)
Very often, the most expensive products are kept at eye level on the supermarket shelves. Look low down and above for cheaper alternatives
Bollard plans menus in advance, including packed lunches. This is what a two-week menu looks like in her house (it should also work for a two adults, two children combination for less than €10 a day, she says):
Week 1
Day 1
Breakfast: sweet pancakes with fresh fruit
Lunch: creamy carrot soup with bread rolls
Dinner: roast chicken, cabbage and mash, stuffing
Day 2
Breakfast: porridge with chopped banana and syrup
Lunch: quiche and salad
Dinner: meat loaf with mashed potato and onion sauce
Day 3
Breakfast: boiled eggs with toast
Lunch: pasties
Dinner: vegetable curry with egg fried rice
Day 4
Breakfast: muffins – plain or apple
Lunch: potato cakes with coleslaw
Dinner: pork casserole
Day 5
Breakfast: savoury pancakes
Lunch: vegetable soup
Dinner: stewed chicken and vegetables with mashed potatoes
Day 6
Breakfast: flapjacks, toast and fresh fruit
Lunch: chicken soup with fresh rolls
Dinner: pasta with Bolognese sauce
Day 7
Breakfast: scrambled eggs on toast
Lunch: pizza, garlic bread and salad
Dinner: lamb stew on a bed of rice
Week 2
Day 1
Breakfast: porridge with syrup, chopped kiwi and apple
Lunch: quiche with coleslaw and lettuce, garnished with grated carrot
Dinner: burgers with chips and French fried onions
Day 2
Breakfast: savoury pancakes
Lunch: baked potatoes with chopped ham
Dinner: meat sauce with creamed mashed potatoes
#Open journalism No news is bad news Support The Journal

Your contributions will help us continue to deliver the stories that are important to you

Support us now
Day 3
Breakfast: muffins with apple or chocolate chips
Lunch: cabbage soup with garlic bread
Dinner: chicken curry with fried rice
Day 4
Breakfast: fried bacon with eggs
Lunch: chicken and ham Chinese fried rice
Dinner: pan fried pork chops with baked parsnips and sautéed potatoes
Day 5
Breakfast: fruit kebabs and toast
Lunch: potato and onion cakes with lettuce, tomato, red onion, coleslaw
Dinner: roast chicken with chips and French fried onion rings
Day 6
Breakfast: omelette
Lunch: vegetable soup with chicken rolls
Dinner: cottage pie with chips
Day 7
Breakfast: friend sausages, bacon, eggs, tomatoes, toast, fresh fruit
Lunch: pizza with garlic bread
Dinner: roast chicken, with roast potatoes, egg fried rice and creamed carrots
She also provides easy recipes for all of the above.
We'd like to hear from TheJournal.ie on their favourite, cost-efficient recipes. If we get enough together, we'll create a post made from your tried and trusted meals! Let us know your best inexpensive culinary delights in the comments section below…