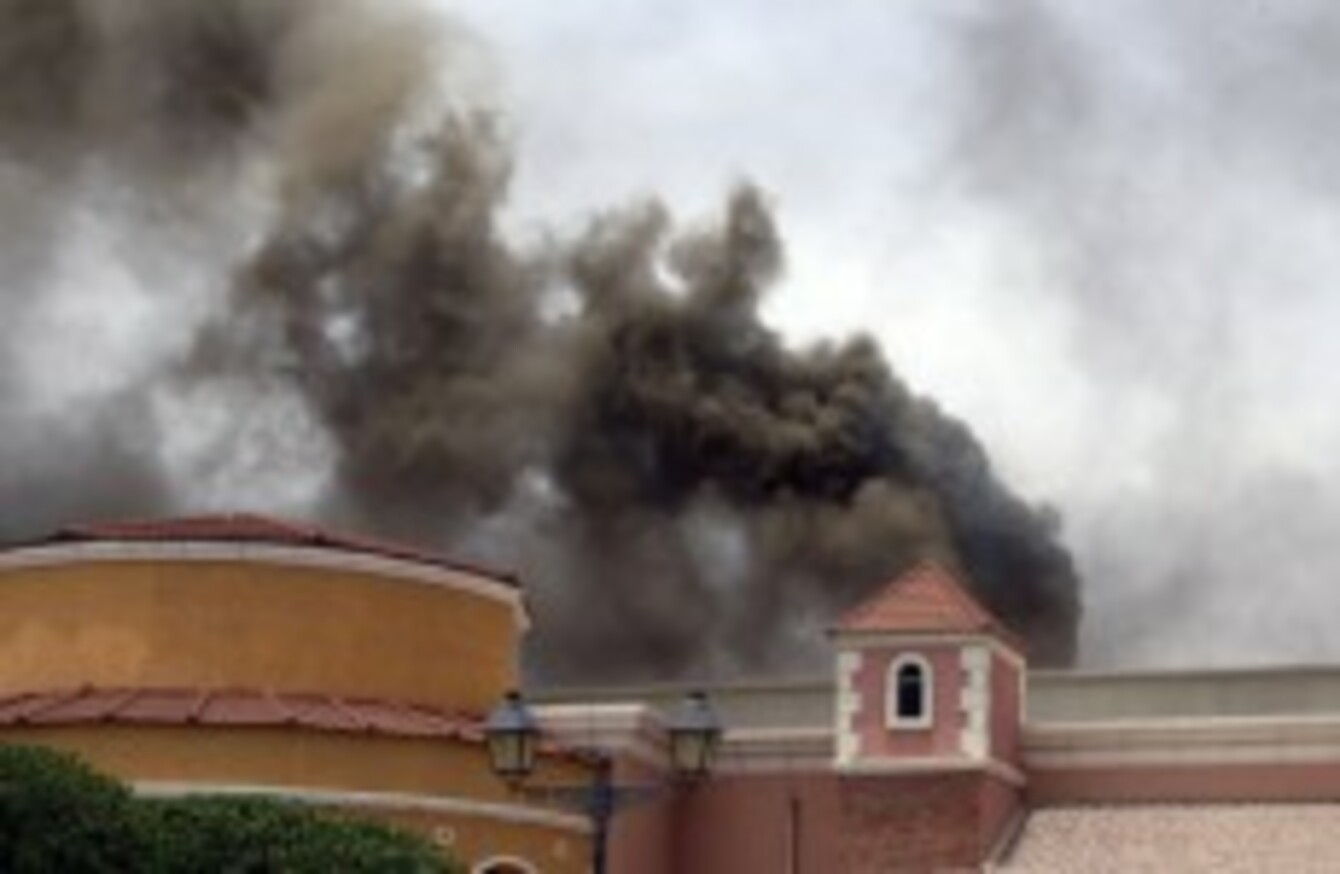 Smoke rising above the Villaggio Mall during yesterday's fire.
Image: AP Photo/Osama Faisal/PA
Smoke rising above the Villaggio Mall during yesterday's fire.
Image: AP Photo/Osama Faisal/PA
INVESTIGATORS IN QATAR carried out their first extensive probes through a fire-ravaged daycare centre and other charred areas inside the country's biggest mall today after a fire which killed 13 children and six adults.
The fire and the equipment failures that hampered firefighting raised questions about safety measures in the megastructures across the wealthy Gulf.
The findings from the state-ordered inquest are expected within a week, the official Qatar News Agency said. Commentators quickly called for extensive safety reviews after the sprinkler system malfunctioned during yesterday's fire.
The tragedy also is likely to push authorities across the Gulf to further examine fire safety rules in a region where the drive to build fast and big has brought concerns about the quality of emergency planning.
(Video uploaded by jephyao)
Safety
Rescue crews in Qatar's capital Doha had to hack through the roof of the mammoth Villaggio mall to reach the child care facility, where the victims included 2-year-old New Zealand triplets and three Spanish siblings. Two firefighters also were killed.
"What happened is similar to murder because of the lack of safety measures in such complexes," said wrote Saleh al-Kuwari, editor of the Al Raya newspaper in Doha.
An editorial in the newspaper Al Arab urged officials around the Gulf to consider creating special firefighting and civil defence units for the energy-rich region's huge malls. The Villaggio includes an ice skating rink, theme park, movie theater and indoor Venice-style gondola rides.
"Safety requirements must be stressed," said the editorial. "They also need regular review."
Qatar's Interior Ministry said the mall's sprinkler system malfunctioned, and rescue efforts were hampered by a lack of floor plans. Other Gulf nations also have confronted concerns about whether public safety planning can keep pace with the rapid construction.
In November, firefighters in Sharjah, north of Dubai, struggled to battle a blaze in a 25-story tower without equipment to reach the flames. The United Arab Emirates is considering bans on flammable panels in high-rise buildings after more recent back-to-back tower fires.
An Al Arab journalist, Marzouki Faisal, reported that the route to the Villaggio daycare centre wound through a "maze" of narrow halls and stairways. He and others questioned the rules that allow childcare sites inside commercial buildings.
"What happened is murder as a result of negligence and idleness," he wrote.
Victims
The full list of those killed has not been issued by Qatar officials, but most of the nationalities are known from statements by various countries and families. The young victims include a 3-year-old French child, four Spanish children, an 18-month-old South African toddler and the New Zealand triplets, Lillie, Jackson and Willsher Weekes.
"It's absolutely devastating," the triplets' grandmother, Jo Turner, told Fairfax Media in New Zealand.
A statement issued by the triplets' family said, "Lillie, Jackson and Willsher came into this world together and were inseparable as siblings, best friends and the joy of our life. Tragically, they left together after only two short years."
Spain's El Pais newspaper said the Spanish children killed included three siblings, aged 2 to 7, and a 7-year-old girl from another family. Another newspaper, El Mundo, said the Spanish mothers dropped off their children while they shopped.
Tennis star Rafael Nadal of Spain was among those expressing their condolences via Twitter to the "families and friends" of the victims. The world No 2 has appeared in a number of tournaments in the Gulf state.
At least three of the nursery teachers, women from the Philippines, died of smoke inhalation, Philippine Foreign Affairs spokesman Raul Hernandez said in Manila. A South African woman who worked at the centre also died, said a South African government statement.
Qatar Prime Minister Sheik Hamad bin Jassem bin Jabr Al Thani offered condolences to "all the parents and relatives of those killed in this horrible fire."
The Villaggio opened in 2006 and is one of Qatar's most popular shopping and amusement destinations in fast-growing Qatar, which will host football's 2022 World Cup. More than three-quarters of Qatar's population of 1.8 million residents are foreigners attracted to the tiny nation for jobs ranging from labourers to government advisers.
Sheik Abdullah bin Nasser Al Thani, Qatar's minister of state for interior affairs, said authorities carried out repeated search operations in the mall and confirmed that no one was still trapped inside, according to comments posted on the ministry's website.
Qatar's Interior Ministry said Tuesday that civil defence crews contained two "limited" fires at a school and the Qatar Aeronautics College. It said there were no casualties in either fire.