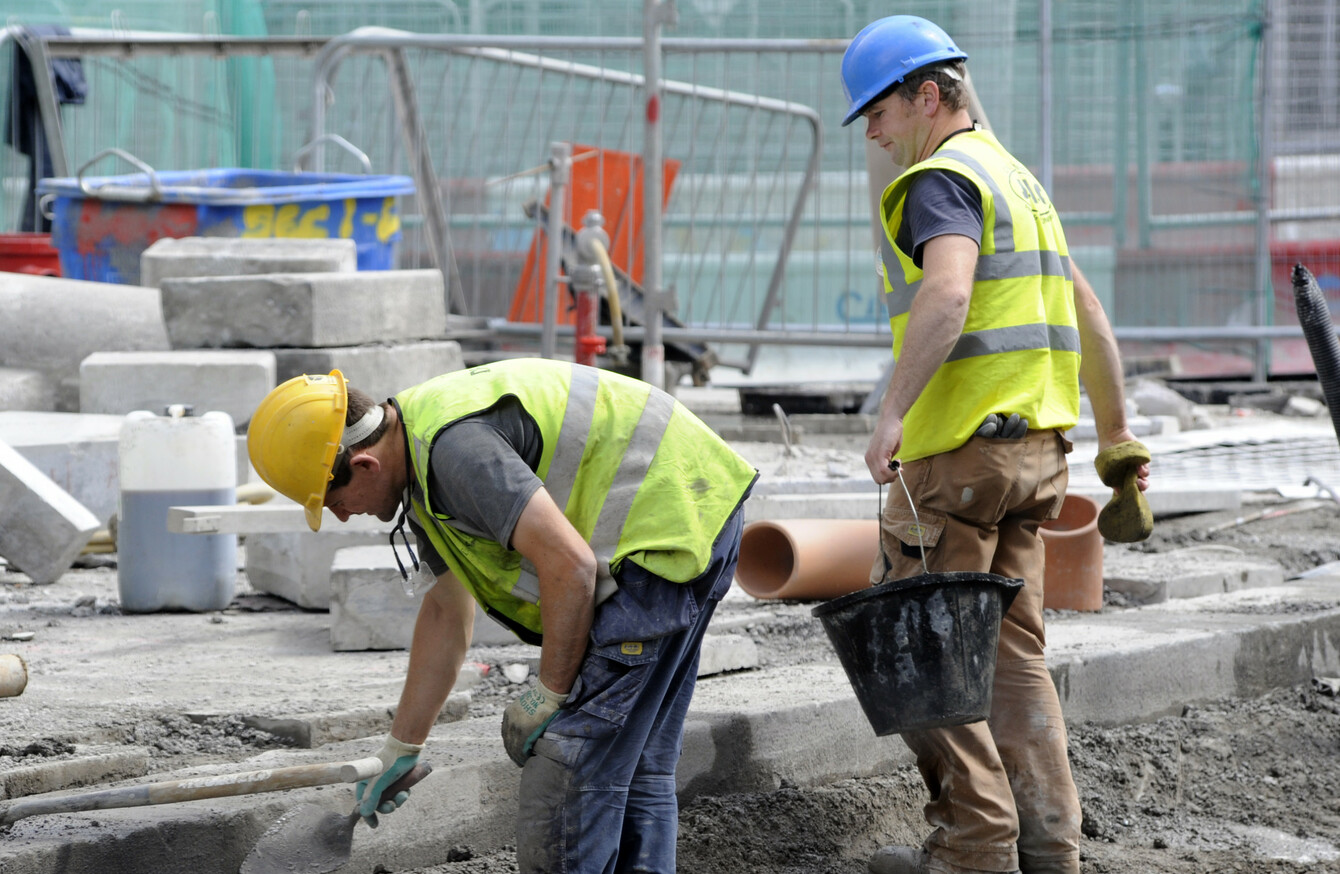 File photo
Image: Sasko Lazarov via RollingNews.ie
File photo
Image: Sasko Lazarov via RollingNews.ie
SUBCONTRACTORS AND SCHOOLS impacted by the collapse of construction firm Carillion have expressed further concerns and confusion over pay and construction completion following the news that building contractor Sammon has been sent into examinership.
Speaking to TheJournal.ie, Aileen O'Reilly, chair of the parents committee in Coláiste Ráithín in Bray, Co Wicklow, said that it has been an "exhausting" experience waiting for the construction work on the school to be completed.
"It's just here we go again. It is all thrown up in the air again now," she said.
In mid-January, it emerged that work had stalled on a number of schools after the UK-based firm Carillion went bust, with debts of £1.5 billion (about €1.7 billion).
Carillion was part of a consortium, Inspired Spaces, hired to build five schools and one further education college in Ireland.
Last Thursday, Justice Robert Haughton appointed an interim examiner to the Co Kildare-based Sammon Contracting Group and related companies Sammon Contracting Ireland Ltd and Miceál Sammon Woodcraft Ltd. This follows an application made at the company's own request.
The group, which employs more than 216 people, was hired by the consortium that included Carillion to build the education buildings in Ireland.
The affected school buildings are in Carlow, Meath, Wexford and Wicklow.
Examinership fears
In January, TheJournal.ie spoke to a number of subcontractors and schools in relation to the impact Carillion's collapse had on them.
A number of contractors expressed concerns about not getting paid as a result of the collapse. This week, TheJournal.ie caught up with one director of a company impacted by the controversy, who stated that they are still owed over €5,000. They wished to remain anonymous as they are a small business.
While the director hopes that they will get some of that money, now that Sammon is in interim examinership, they expect all subcontractors will have to knock a percentage off the final fee, meaning they will lose out financially.
"It is very difficult for smaller businesses like ourselves to carry over amounts like that for months," the director said.
We have our own people and subcontractors to pay and it's important we keep the books balanced.
The director added that while theirs is just a small company, there are much larger owned Irish businesses who are owed in excess of €100,000. They said many large companies would have insurance out against their losses, some might not, adding it is no way acceptable for a government contract to end up in such a mess.
School impact
Carillion, alongside the Netherlands-headquartered Dutch Infrastructure Fund (DIF), was hired under a Public Private Partnership (PPP) deal reached by the Department of Education and Skills and the National Development Finance Agency.
Immediately following the collapse of Carillion, Sammon entered into negotiations to find a way to complete the contracts and hand over the schools' buildings without any interruption to the works. Sammon said in a statement that a deal was rejected by funders and the company was instructed to withdraw from the sites involved.
The tender that Sammon held for the schools in question was placed for retendering.
The deadline for submission of tenders for completion works on the schools was last Thursday and the tender evaluation has to take place now, according to the Department of Education.
"In accordance with the terms of the PPP contract, it is the responsibility of the PPP company to put in place the necessary rectification measures to ensure delivery and operation of the school buildings," the Department of Education said in a statement to TheJournal.ie. 
The re-tendering process is being led by DIF on behalf of the PPP Company.
Because Sammon has entered examinership, schools have been left in a state of limbo, uncertain of who will obtain the tender, when the new tender will be announced, and how much longer construction work will be drawn out.
It remains unclear whether Sammon has applied for the new tender.
'It's pathetic'
One of the affected schools, Coláiste Ráithín in Bray in Co Wicklow, was due to receive the keys to its new building as far back as mid-January, after continuous delays. However, the Carillion collapse and re-tendering process pushed back the school's opening once again. The news that Sammon went into examinership sparked fear and confusion among the school's families.
Speaking to TheJournal.ie, Aileen O'Reilly, chair of the school's parents committee, said that the ongoing situation is "exhausting".
It's just here we go again. It is all thrown up in the air again now. We still thought Sammon would probably be the one to come out on top of the tender because it's the simplest solution, but obviously not now.
She spoke of how confusing the process has been for parents, saying that she "can't pretend to really understand" the ramifications of the Sammon examinership but that "it just doesn't feel good".
O'Reilly said it has been difficult to deal with the school's current state and facilities, and that this is just another setback.
She previously told TheJournal.ie that there are overcrowding issues on the current premises, which includes a number of prefabs, as well as heating and dampness issues, no wheelchair accessibility and "no sport facilities, no library, no canteen".
"[The school] is appalling, but it has been appalling for so long," she said. "It's pathetic, it really is, it's fairly shocking."
"I'm hoping they will just choose another building contractor and carry on," she said.
The list of schools affected are as follows:
Tyndall College Campus in Carlow, which will consist of a development that will provide accommodation for over 2,000 post-primary school and Further Institute of Education students
Eureka Secondary School in Kells, Co Meath – the project involves the replacement of the post-primary school and will provide 800 pupil places
Loreto College in Wexford, where the secondary school will provide 900 pupil places
Coláiste Ráithín in Bray in Co Wicklow, which is to be replaced with a new building that can cater for 450 pupils
St Philomena's National School in Bray, where 24 classrooms in the school are to be replaced (both Coláiste Ráithín and St Philomena's NS will be constructed on a single new site in Bray)
'We're in limbo'
Coláiste Ráithín's principal Gearóid Ó Ciaráin said that the announcement of examinership "didn't come as a real surprise".
"The developers had already put the completion of the six schools out to tender. They have left themselves with other options. When Carillion went into liquidation, Sammon seemed to withdraw from the completion of the jobs," Ó Ciaráin said.
Ó Ciaráin previously told TheJournal.ie that the current building opened in 1991 and four years later the then Education Minister Mary O'Rourke gave the then Bray VEC permission to identify a new site so the school building could be upgraded.
Speaking of the delays over the past number of months, Ó Ciaráin said: "We had expected last October, November, December, January… We were being strung along for months and months."
He said that the new school premises is virtually complete, fit with all practical equipment needed. However, until a new contractor can sign off on the deal, the keys cannot be handed over.
"We were promised that the middle of June would be their estimate that they could finally give it to us, but the middle of June for a second-level school is in effect 1 September," he added.
In contrast, a spokesperson for St Philomena's Primary School said that they have no major issues with the wait for a tender and the delays in the construction works, which they hope will be completed by September.
Similarly, Caroline O'Reilly, principal of Eureka Secondary School in Kells said that they are "disappointed that this is happening but we would be still optimistic that a solution will be found in the near future".
Meath TD Thomas Byrne has been following the general situation for a number of months.
Speaking of the news that Sammon has gone into examinership, Byrne said: "It's very worrying. Sammon has a lot of jobs in my area. I'm also worried about the subcontractors, many are small businesses in the area. Things are looking bleak for them."
Byrne said that Minister for Education Richard Bruton will have to "pull something together" to ensure that jobs and subcontractors are protected going forward.
He said because there is an ever-growing number of children enrolling in schools, Ireland cannot afford anymore delays on school construction works.
In a statement to TheJournal.ie, a spokesperson for Sammon said that the company cannot comment in detail on specific commercial or contractual matters, when asked about a potential tendering application.
However, the spokesperson said: "We are optimistic that the Schools Bundle 5 PPP project will be progressed in the coming months and that Sammon will be a part of that process.
"Sammon worked diligently, professionally and successfully on the Schools Bundle 5 PPP project and most of the facilities are near full completion or close to handover as a result.
"The collapse of Carillion is the direct cause for the difficulties currently being experienced by the PPP project and which have impacted on Sammon. Had Carillion not gone into liquidation, these issues would not have arisen.
Sammon is confident that it can restructure its business and emerge from the examinership process. The company has an existing strong pipeline of work in progress and is also involved in tendering for new business.
Department response
In a statement to TheJournal.ie, the Department of Education said it will "proactively engage" with Sammon and the examiner to discuss the impact on any individual projects.
It said:
The department has contacted management representatives of relevant schools and will keep them informed of developments. The department will continue to liaise closely with NDFA regarding the completion works for schools, which is a priority.
The department is monitoring the position closely. Our key focus is on ensuring school building projects are delivered as quickly as possible.
Upon request for a statement from TheJournal.ie, the NDFA said: "The NDFA is making no comment in respect to your query."
And so, for now, schools have no option but to sit tight and wait for the announcement of the new tender.
With reporting by Órla Ryan.