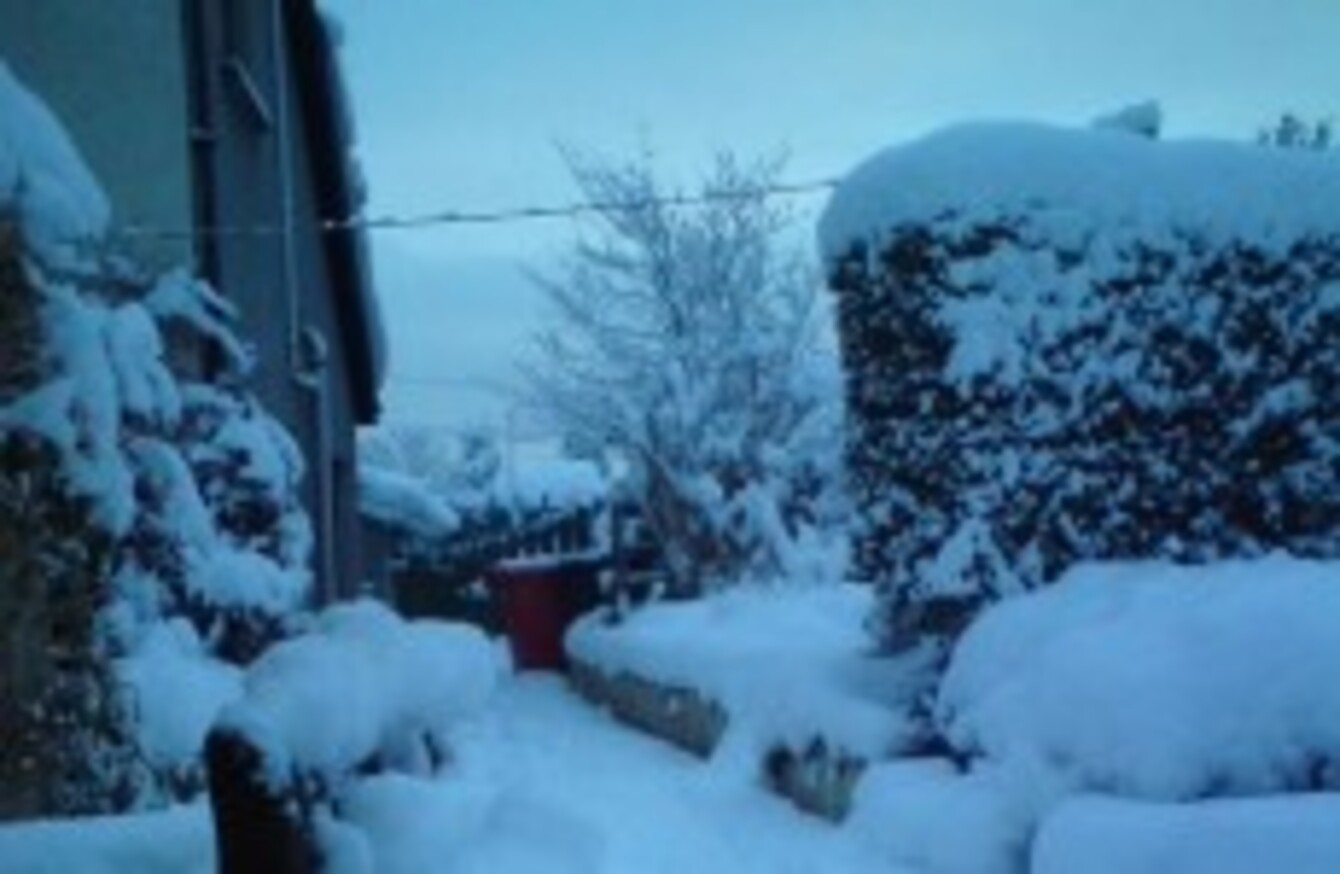 Snow in Letterkenny, Co Donegal.
Image: John Duffy
Snow in Letterkenny, Co Donegal.
Image: John Duffy
THIS LATEST COLD SNAP has seen heavy snow fall in parts of Donegal, while air travel continues to be disrupted across the UK and Europe today.
Met Éireann warns that this cold spell could last right up to Christmas Day.
AA Roadwatch says drivers should take extra care this morning on all routes as roads are icy.
In Donegal, gardaí are advising against any unnecessary journeys, particularly on secondary routes as compacted snow and ice are reported on roads across the county.
At the other end of the country, Kerry County Council tweeted this morning: "Weather not as bad as predicted last night. However all roads remain in extremely poor condition. Essential travel only". The AA says that in Cork, road conditions are very poor on all secondary routes.
A full list of AA Roadwatch updates can be found on their website throughout the day.
Irish Rail and the Luas are operating full services today, while there are some disruptions to Bus Éireann services.
Met Éireann says that isolated snow showers are expected over Munster and Ulster today, but most of the country will remain dry. Temperatures are expected to remain below zero throughout the week, which could cause problems for people planning to travel at Christmas.
Air travel issues
Dublin, Cork, Shannon and Belfast International airports are all open and operating this morning, but travellers may experience delays due to travel disruptions at a range of European airports. European air safety organisation Eurocontrol reports this morning that Frankfurt, Paris Orlay and Amsterdam Schipol have delays this morning, and says that all but several Heathrow flights have been cancelled.
A number of airports in France, Belgium, the Netherlands and Germany are closed but hope to reopen later today, such as Paris Charles de Gaulle.
UK flights are seriously disrupted as poor weather and heavy snow continue to affect airports across the UK, the BBC reports. Ryanair has already cancelled a number of its UK services this morning. Aer Lingus advises its customers to check the status of their flight before leaving for the airport.
Anyone due to fly today should contact their airline for details on delays and disruptions.
Twitter users can get weather and travel news throughout today via TheJournal.ie's curated 'Big Freeze' list.