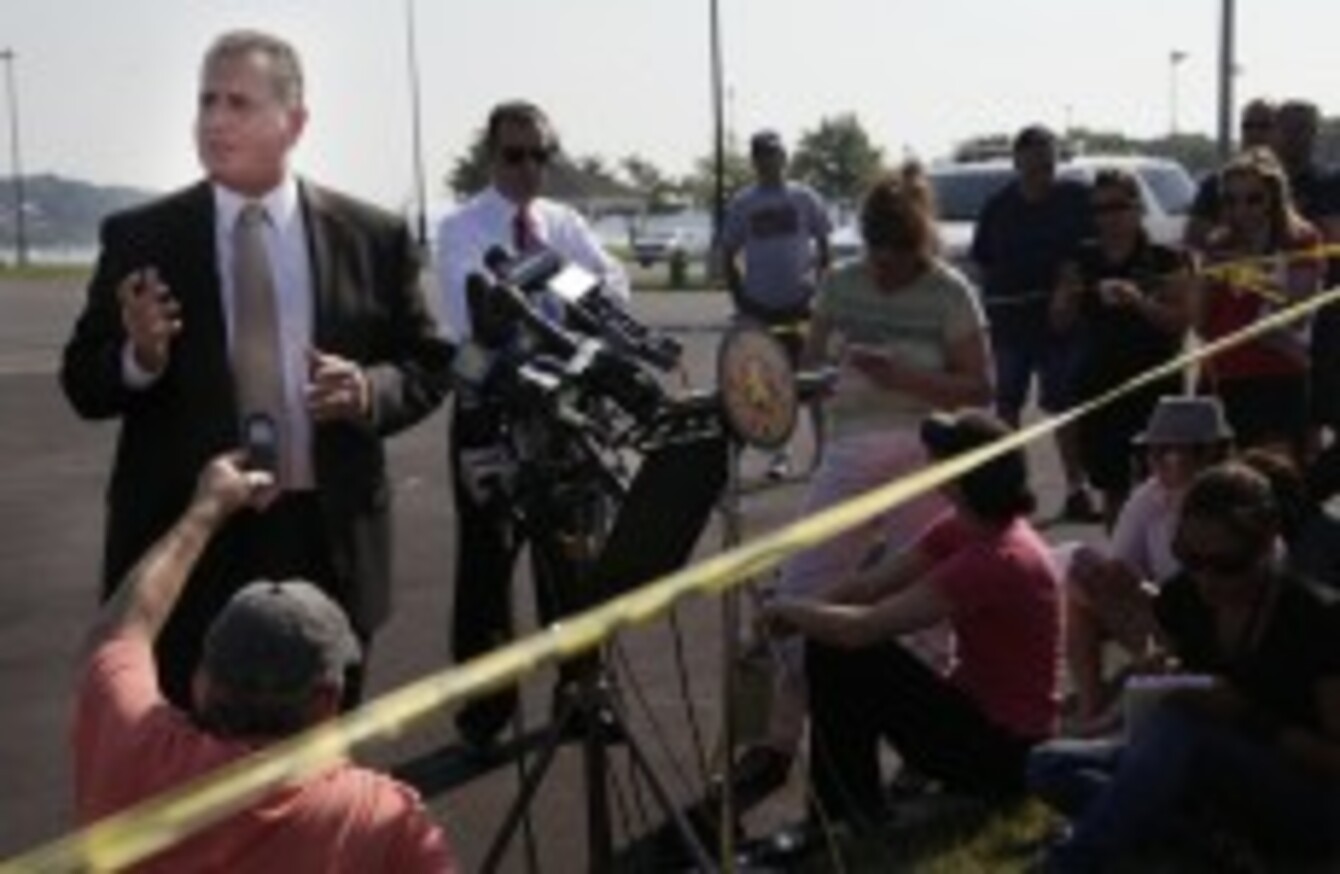 Nassau County Police Department Det. Lt. John Azzata, left, gives information about the fatal boating accident
Image: AP Photo/Seth Wenig
Nassau County Police Department Det. Lt. John Azzata, left, gives information about the fatal boating accident
Image: AP Photo/Seth Wenig
A YACHT FULL of fireworks watchers capsized off New York's Long Island on the Fourth of July, killing three children and sending 24 others into the Long Island Sound, where many were rescued by fellow boaters, police said today.
The bodies of a 12-year-old boy and two girls, ages 11 and 8, were recovered from the boat's cabin after a long overnight search in the waters near Oyster Bay. The remaining victims were a mix of adults and children.
Preliminary causes for the accident could be overcrowding, weather conditions, or being swamped by another vessel because the area was crowded with many boats all watching fireworks, said Nassau County Police Detective Lt John Azzata
He said alcohol was not believed to be a factor.
There is no evidence or suspicion of any type of intoxicants being utilised.
The 1984 Silverton yacht was "a very recent purchase," he said.
Azzata said the boat should have had a life jacket for each person on board. However, authorities could not determine if the boat had 27 life jackets because the vessel remained under water. Police said it sank in 20 feet of water but drifted southeast and was sitting in about 60 feet of water.
The first body was found shortly after the 911 call came in at 10.10pm on Wednesday, and the two others were found later inside the yacht, said Nassau County Deputy Inspector Kenneth Lack.
Many boaters in the area helped with the rescue effort.
He said the operation took a long time because "at night in an area like this, it is very dangerous."
It was a lot of people in the water. Most people were taken aboard other crafts very quickly.
Some survivors were taken to a yacht club. Police said those on board were watching a legal fireworks display.
The National Weather Service said a thunderstorm moved through the area of the boat accident at around 10.30pm, and winds never exceeded 10-15 mph.
A boater told Newsday he saw the yacht turn right and then tip over after it was hit by a wake. "It was like in slow motion," said Sammy Balasso of Oyster Bay.
All of a sudden, a lot of bodies were in the water.
His nephew, 15-year-old Frankie Barbone of Bayview, said the waves almost came up over the yacht.
Balasso said he put the spotlight of his 38-foot speedboat on the Silverton and then threw all the life jackets he had with him into the water. He said he rescued 20 people who were later taken to the shore in police boats.
Everybody was panicking. People were saying things like 'Why?'
- Frank Eltman