People queue at the GPO in Dublin to send Christmas mail earlier this week
Image: Mark Stedman/Photocall Ireland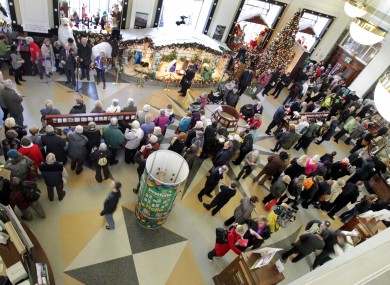 People queue at the GPO in Dublin to send Christmas mail earlier this week
Image: Mark Stedman/Photocall Ireland
EVERY SATURDAY MORNING we like to take a look at all the best comments left on the site by you lot over the past week.
The news over the past seven days has been dominated by one thing: Christmas. From the world not ending (despite what the Mayans said) to pointless Christmas gadgets, it has been a festive week. But aside from that, there's also been Catholic Bishops speaking out against X Case legislation, the ongoing clashes in Northern Ireland over flags, why Barack Obama is Time Person's of the Year, and
So here, in no particular order, are the standout comments from the week that was.
Ireland is the most charitable country in Europe, apparently. Nuns on Yokes commented that Irish people were getting their due reward:
There is a concert been held in Africa by pop stars dedicated to Ireland this weekend.
Thanks to Paddy Murphy for this disturbing comment about retro Christmas gifts we all wanted as kids:
I shifted my sisters Girls World head.
Moving swiftly on: is it ok to use your mobile in a restaurant? Readers were divided – and none more so than Aindreas Phelan:
I voted for "put the phone away" yet here I am in a restaurant on my phone, commenting on this article. D'oh.
There were a lot of really excellent comments on this article about unanswered questions from last Sunday's finale of Love/Hate – particularly an in-depth discussion about the symbolism in the programme. Maura Harkin had this great comment about hair, as well as this one about the meaning of birds (WARNING: spoiler alert):
Lets talk Michael! Birds. Budgies; Aido keeps caged birds just like he himself is caged/trapped in his horrible life as a junkie in a disgusting flat. Swans; in the previous series young Luke loved swans. Swans mate for life and live in family groups. Luke was always lonely and isolated and in a fit of rage killed a swan. Racing Pigeons; live in a group and their owner is like their leader. With Git gone Dano had no choice but to destroy the birds as they could no longer function without their leader. It also perhaps says something about how Dano feels leaderless without his Da. Seagulls; when Darren was lying dead the camera panned up to a shot of a seagull flying above the city, symbolic of Darren's soul flying free. But a seagull is not a dove, no one was trying to say that Darren was an innocent. A seagull, while it is white, is not pure. They feed on rubbish and are a common sight in Urban areas. I suppose they could have used a white pigeon, but that would be taking things too far, and pigeons are too disgusting!! Thats my thoughts anyway. x
We liked this exchange between Ted Power and Stray Mutt beneath an article about what to do before the world ends er, yesterday:
If I knew for sure that the world was ending on Friday, I would definitely kick my boss up the hole, bishop Brennan style, he's a dick.
Ted?….the world ain't going to end on friday.
But consider yourself fired next monday.
Sincerely
Your boss
What was Luke Ming Flanagan getting up to on Grafton Street on Wednesday? We ran a caption competition, and Roy Race's suggestion got the most thumbs up:
It was at that moment that Ming realised that the request for a photo shoot with someone wearing pink and long hair didn't mean Mick Wallace.
A group of golden retrievers have been sent to Newtown in Connecticut to comfort survivors of last week's school shooting. Phyllis Neiman empathised:
Dogs are such great comforters. The other night a neighbor came to call with news her husband's Cancer is now in it's last stages. Her sadness was palpable , so our 4 year old Airedale went to her, put his head in her lap and looked up at her. It changed her demeanor and you could see her relax a bit. Hoping this gestures helps to ease the grief in Newtown.
Mary McCarthy got a lot of thumbs up for this comment about what makes Christmas Day special - and why it's going to be different for her this year:
Christmas Day is always a magical time for me . There is little to beat the joy of watching the wonder and happiness of your child's face as they see what Santa has brought them . It always brings back memories of my own childhood when life was much more innocent and less complicated in a way that only a child knows .
It's the feeling you get from having plenty of food on the table and the company of those you love with you . It's the one day of the year when put your worries about mortgages , politics and money aside . It's the warm contented feeling that you get from having your family close and squabbles and fights forgotten even if it just for the day .
My daughter emigrated during the year and its the first time in 25 years she will not be with me . I am hoping that the memories of all those past Christmas 's will see me through .
This column by an ex-bully about why he did what he did generated a lot of discussion. Orela Krawczyk explained her own experience:
Well done on such an honest article. My secondary school years were made a misery by a gang of lads, funny thing was the gang leader left in 3rd yr but I was a pariah at that point and the bullying continued. I honestly think the people who did it didn't even know " why" they were doing it. It took many years to realise that it was nothing to do with me. I've since met the bullies out and about as adults and one lad apologised I just smiled and nodded and the other lad actually turned to him and said what are you saying sorry for sure it was only craic. Shoes you some people don't change. Good to see you did
What exactly was this er, crime-fighting vehicle doing parked outside Pearse Street Garda Station in Dublin on Thursday? No idea – but readers had lots of suggestions. Here's Cornelius Crow, Tom Leddy, Chris Massey and Mike Clinton:
Maybe we're all just far away
Maybe President Micheal D wanted to play guard for a day?
In fairness they should never have got rid of the height!
It's the new training vehicle for the latest recruits…. Kindergarden cops.
(Photo: Pat Reilly)
Spot any good comments? Let us know! Mail christine@thejournal.ie with any suggestions for Comments of the Week