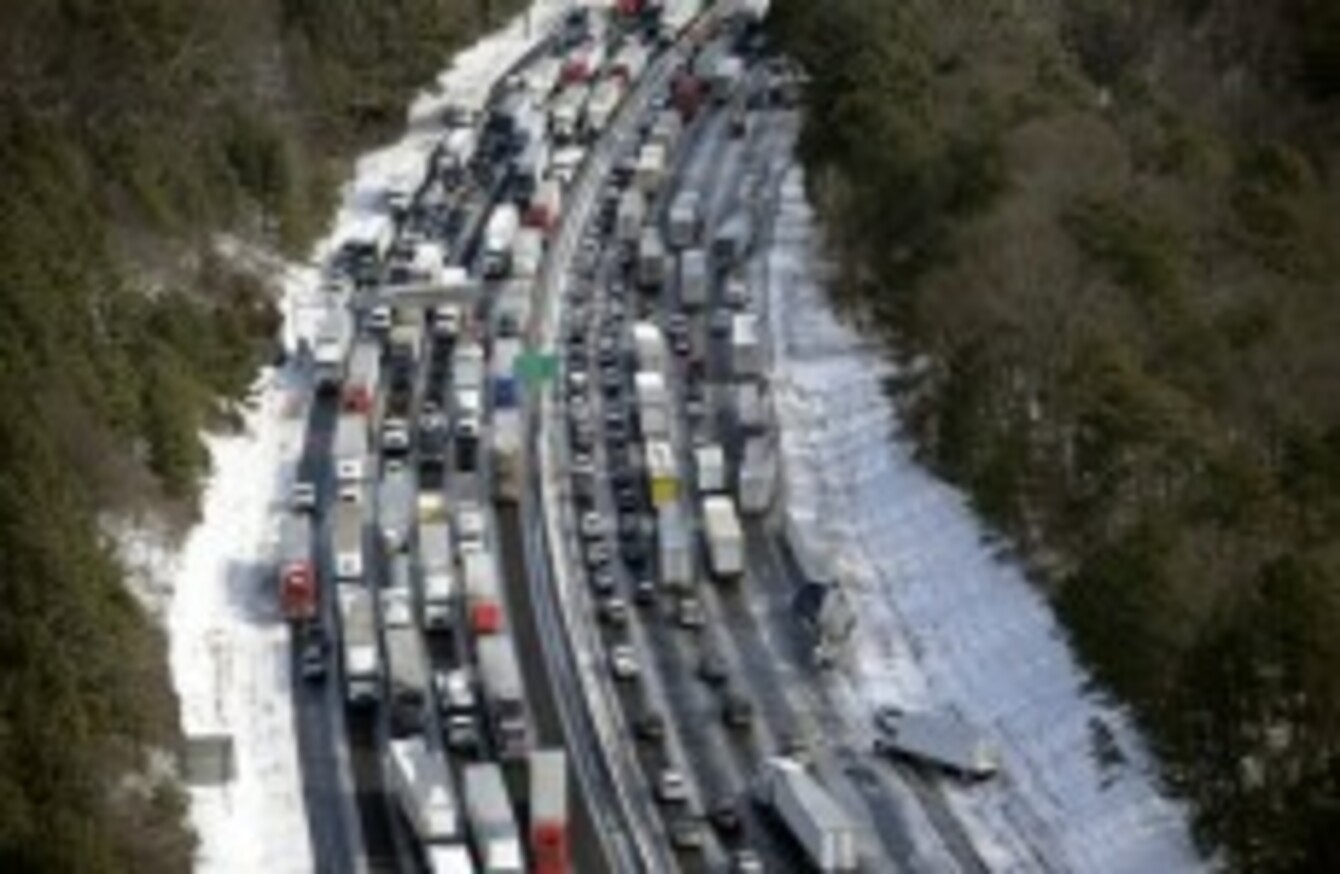 Traffic was gridlocked in the Atlanta metro area
Image: AP Photo/David Tulis
Traffic was gridlocked in the Atlanta metro area
Image: AP Photo/David Tulis
HELICOPTERS TOOK TO the skies today to search for stranded drivers while Humvees delivered food, water and gas — or a ride home — to people who were stuck on roads after a winter storm walloped the Deep South.
Students spent the night on buses or at schools, commuters abandoned their cars or slept in them and interstates turned into parking lots.
The problems started when schools, businesses and government offices all let out at the same time. As people waited in gridlock, snow accumulated, the roads froze, cars ran out of gas and tractor-trailers jackknifed, blocking equipment that could have treated the roads. In the chaos, though, there were stories of rescues and kindness.
(AP Photo/David Tulis)
It wasn't clear exactly how many people were still stranded on the roads a day after the storm paralysed the region. By Wednesday afternoon, traffic began moving around Atlanta, though it was still slow going in some areas. The timing of when things would clear and thaw was also uncertain because temperatures were not expected to be above freezing.
The rare snowstorm deposited mere inches of snow in Georgia and Alabama, but there were more than 1,000 fender-benders. At least six people died in traffic accidents, including five in Alabama, and four people were killed early Tuesday in a Mississippi mobile home fire blamed on a faulty space heater.
Elsewhere, Virginia's coast had up to 10 inches of snow, North Carolina had up to 8 inches on parts of the Outer Banks, South Carolina had about 4 inches and highways were shut down in Louisiana.
In Atlanta and Birmingham, thousands of cars lined interstate shoulders, abandoned at the height of the traffic jam. Some sat askew at odd angles, apparently left after crashes. Some commuters pleaded for help via cellphones while still holed up in their cars, while others trudged miles home, abandoning their vehicles outright.
(AP Photo/David Tulis)
Georgia leaders were aware of public angst and tried to mitigate it.
Atlanta Mayor Kasim Reed took some of the blame for schools, businesses and government all letting out at the same time, and he said they should have staggered their closings.
"I'm not thinking about a grade right now," Reed said when asked about the city's response. "I'm thinking about getting people out of their cars."
Heroes also had their day. Police in suburban Atlanta say one of their own helped assist the safe delivery of a baby girl on a gridlocked interstate Tuesday afternoon after snow and ice brought traffic to a crawl.