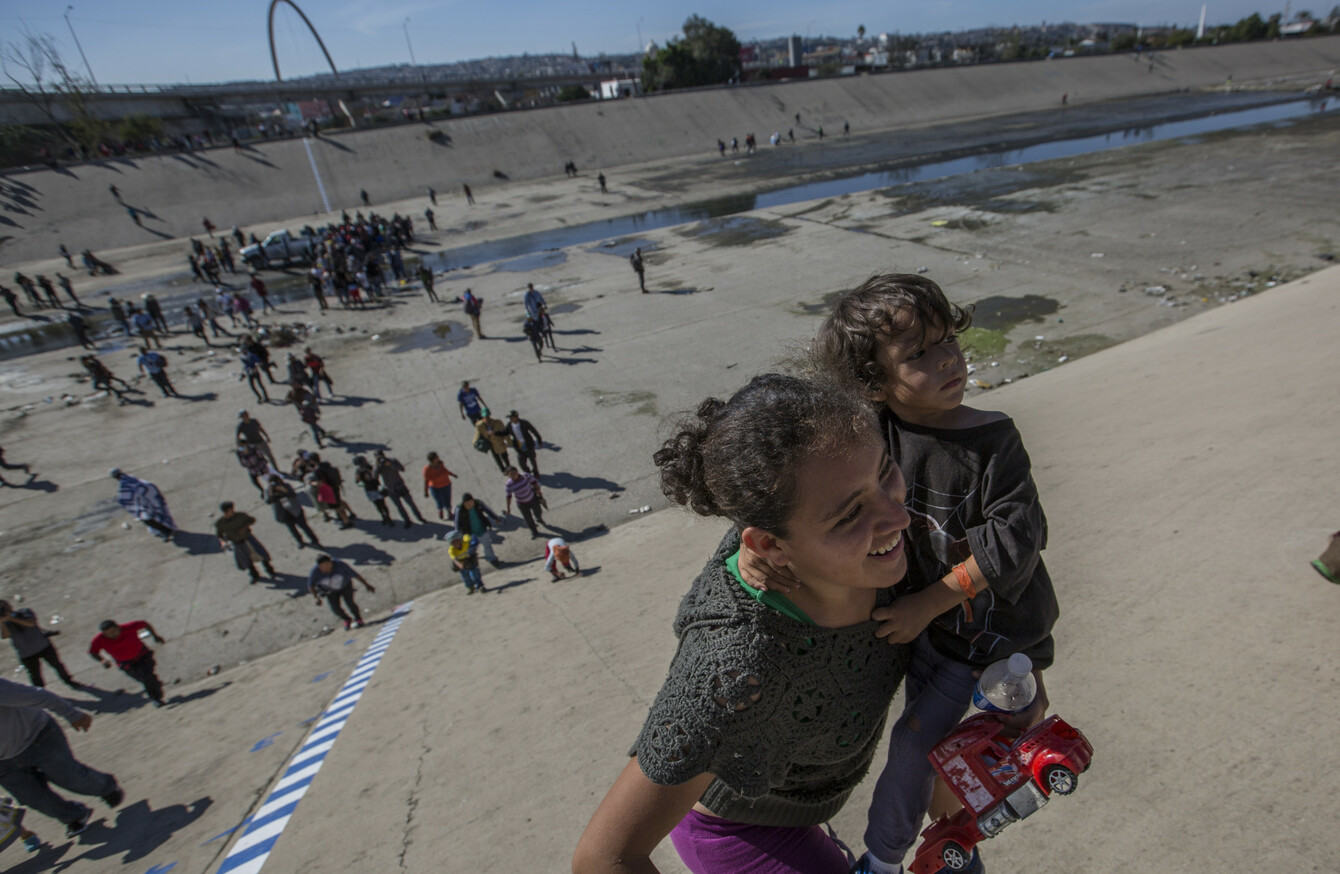 HUNDREDS OF CENTRAL American migrants who tried to force through a Mexican police blockade into the United States retreated to a nearby camp today after US border agents pushed them back with tear gas and rubber bullets.
Around 500 men, women and children, part of a caravan of roughly 5,000 mainly Hondurans who have been trekking towards the US for weeks, scrambled over a rusted metal fence and surged into a concrete riverbed towards San Diego on Sunday.
The group were stopped by a chain-link fence topped with barbed wire and repelled by US Border Patrol agents firing tear gas shells and rubber bullets, an AFP journalist on the scene saw.
At least one man was wounded, he told AFP.
Chief Patrol Agent Rodney Scott, of the San Diego Sector Border Patrol, told CNN "numerous" migrants – mainly men – had made it across, however, and 42 of them were arrested.
The incident was the most serious flashpoint in a weeks-long crisis that Donald Trump used to drum up support in this month's midterm elections. The president hit out again Monday by threatening a permanent shutdown of the frontier.
Most of the migrants stumbled back into camp in the northwestern Mexican city of Tijuana, dirty, scared and with ripped clothes.
"We're here with broken hearts and hopes," said Andy Colon, a 20-year-old woman who travelled from Honduras with her sister and two children.
"We were deluded into believing that we had already reached the United States, and that they would grant us asylum," Colon told AFP.
The San Ysidro border post across from Tijuana – the busiest crossing on the US-Mexico border – was closed to traffic and pedestrians for several hours following the incident.
Trump, who for weeks has been condemning the caravan, lashed out once more on Monday.
"Mexico should move the flag-waving migrants, many of whom are stone cold criminals, back to their countries," he tweeted.
"Do it by plane, do it by bus, do it any way you want, but they are NOT coming into the U.S.A. We will close the border permanently if need be. Congress, fund the WALL!" Trump said, referring to his central election pledge to build a wall across the US-Mexico border.
 'Lots of kids fainted' 
Many of the migrants say they are fleeing violence and poverty in Honduras in search of asylum north of the border.
After the unrest Mexico on Monday deported 98 Central Americans, following their arrest.
Around 1,000 migrants, including women and young children, had been holding a peaceful midday demonstration in Tijuana when half of the group bolted toward the border.
The sudden rush overwhelmed the Mexican police, who were deployed with full riot gear.
Several hundred made it over the first barrier, with video clips posted on Twitter showing crowds of people dashing across a shallow concrete riverbed toward the United States.
"Are we in the United States yet?" some asked in desperate tones.
When they neared the second fence US border agents fired tear gas and rubber bullets at them as helicopters buzzed overhead, an AFP journalist saw.
People covered their faces to protect themselves from the acrid gas, as mothers clutched their young children and fled back to Mexico for safety.
"We were told that if we crossed (the first barrier) they would give us asylum, because we were already in the United States," said Flor Jimenez, a 32-year-old Honduran woman who was among those who turned back along with her husband, sister and young daughter.
"But now it seems that they want to kill us, and we got very scared," said Jimenez.
US Homeland Security Secretary Kirstjen Nielsen accused the migrants of seeking to harm US border patrol personnel "by throwing projectiles at them."
But one Honduran man, who did not give his name, told AFP American officers had "got upset because we were close to the border." 
"The alarm went off and they began throwing tear gas at us. A lot of people started to go down. A person got hit and lots of kids fainted. So some people got rocks and threw them because many kids were fainting," he said.
Another Honduran who gave his name as Wilmer said "they started throwing tear gas and they hit a journalist in the head." 
A third man, who wished to remain unnamed, showed AFP what he described as injuries from rubber bullets. He had two fresh round bruises in his abdomen.
Asylum demands 
Trump has deployed nearly 6,000 troops, on top of more than 2,000 National Guardsmen, but Scott said the Department of Defense was not involved in Sunday's engagement.
To enter the US legally, migrants must apply for asylum, but the wait for those requests to be processed can last up to a year.
The Washington Post reported Saturday that the Trump administration had gained the support of Mexico's incoming government for a plan to require asylum seekers to wait in Mexico for their applications to be processed.
Mexico's incoming interior minister Olga Sanchez Cordero told the Post "we have agreed to this policy," but her office later denied it.