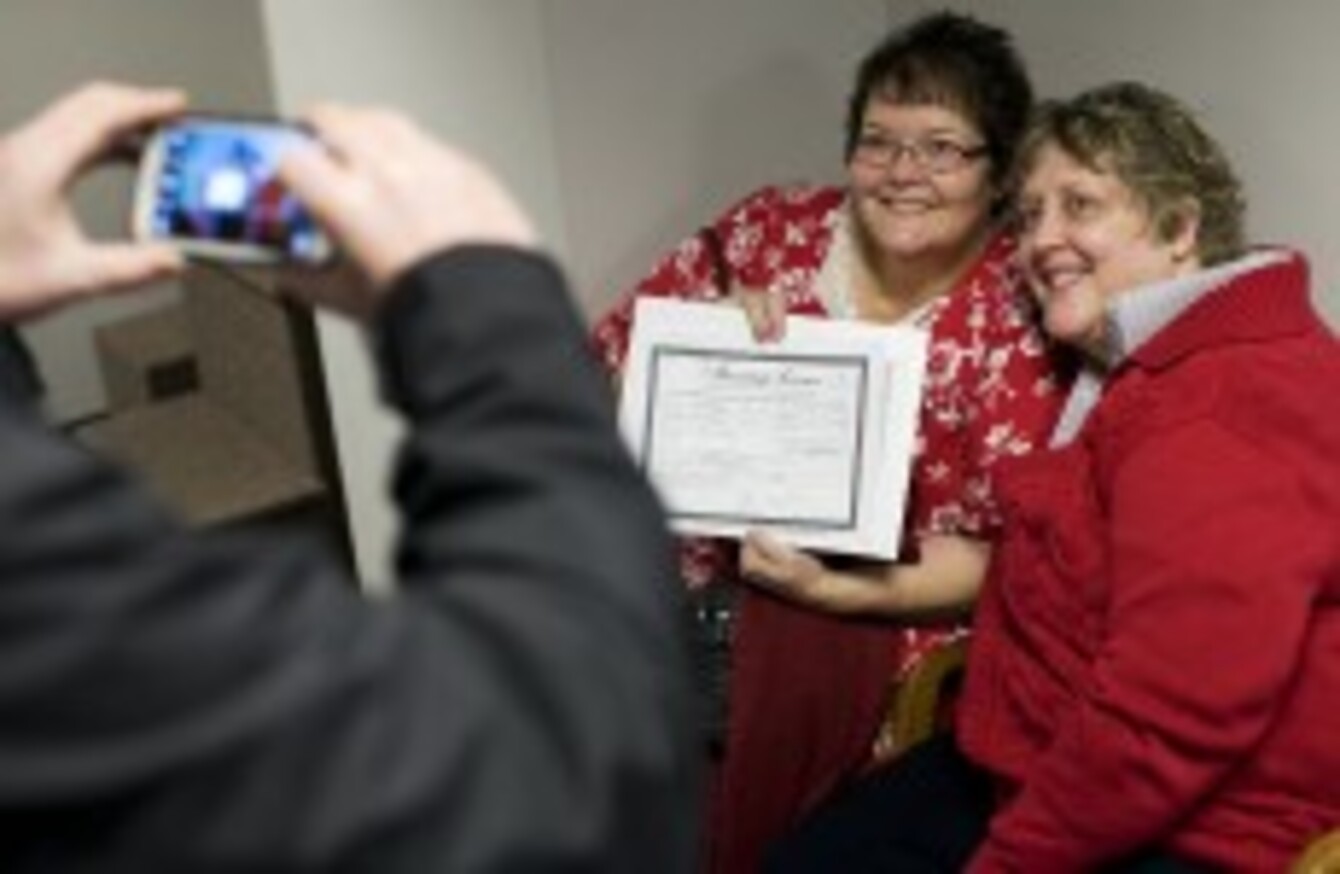 Cheryl Haws, right, and her partner Shelly Eyre have their photograph taken after receiving their marriage license at the Utah County Clerk's office in Provo, Utah
Image: (AP Photo/The Daily Herald, Mark Johnston, File)
Cheryl Haws, right, and her partner Shelly Eyre have their photograph taken after receiving their marriage license at the Utah County Clerk's office in Provo, Utah
Image: (AP Photo/The Daily Herald, Mark Johnston, File)
THE UNITED STATES Supreme Court has put same-sex marriages on hold in Utah while a federal appeals court more fully considers the issue.
The court issued a brief order this afternoon blocking any new same-sex unions in the state.
The order follows an emergency appeal by the state for a ban after the December 20 ruling by U.S. District Judge Robert Shelby that the state's ban on same-sex marriage violates gay and lesbian couples' constitutional rights.
More than 900 gay and lesbian couples have married since then.
The high court order will remain in effect until the Denver-based 10th U.S. Circuit Court of Appeals decides whether to uphold Shelby's ruling.
Immediate halt
Late last week, Supreme Court Justice Sonia Sotomayor was considering Utah's request to put an immediate halt on gay marriages in Utah.
It followed legal arguments before the U.S. Supreme Court about the state's previously overturned same-sex marriage ban have focused heavily on whether gay and lesbians can be suitable parents, provoking a debate on family values in the Mormon state.
#Open journalism No news is bad news Support The Journal

Your contributions will help us continue to deliver the stories that are important to you

Support us now
Lawyers for the state set the tone for the debate in a 100-page filing with the high court this week that made several references to their belief that children should be raised by straight couples.
An attorney for same-sex couples says the state's argument has no scientific backing and that denying gays and lesbians the right to marry actually causes severe harm to their children.